Three Reasons Why You Need Dessert With Your Tea…Your Bigelow Tea!
Friday, 19 May 2017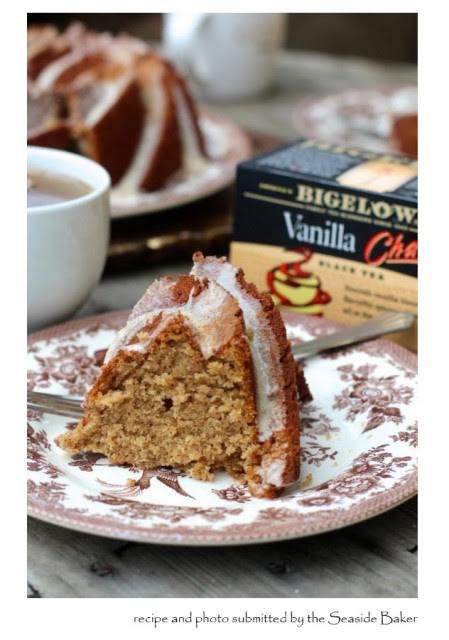 Want to know what two of our favorite things in the world are? Bigelow Tea (of course) and dessert! Sure, a steaming mug is good on its own, but admit it- you know you love a little something tasty to nibble on while drinking your favorite flavor! Currently, we are loving Vanilla Chai Bundt Cake – here's why you need to make this cake pronto!
It's a good excuse to have friends over.
Did someone say tea party? If you haven't seen your besties in awhile, gathering the gang and treating them to a home made slice of goodness while catching up on gossisp is as good a reason as any to eat cake and drink tea. C'mon, you know you need some girl time!
Because your tea is lonely.
As perfect as the Camellia Sinensis plant is on its own, it can be even better when it's a key player in a delicious mouthwatering recipe! There are so many unbelievable recipes that include tea that we could go on and on (on and on) singing their praises, but we suggest you find out for yourself!
It's So. Darn. GOOD.
Sweet vanilla: check. Cinnamon: check. Savory spices: check. All the sweet, luscious flavors you need to indulge your taste buds. Need we say more?
Vanilla Chai Bundt Cake
Ingredients
1 cup hot milk
3 Bigelow Vanilla Chai Tea Bags
1 cup unsalted butter, room temperature
3/4 cup brown sugar
3/4 cup white sugar
2 eggs
2 cups all-purpose flour
1 teaspoon baking powder
1 teaspoon salt
1/4 teaspoon baking soda
1/2 tablespoon cinnamon
1/2 teaspoon ginger
1/2 teaspoon cardamom
1/4 teaspoon nutmeg
1/4 teaspoon ground cloves
1/4 teaspoon coriander
For glaze:
1/4 cup hot milk
1 Bigelow Vanilla Chai Tea bags
1/4 cup unsalted butter, softened
1 teaspoon vanilla extract
2 to 2 1/2 cups powdered sugar
Cinnamon for sprinkling
Instructions
Preheat oven to 350 degrees.
Generously spray 9-10 cup bundt cake pan with non-stick cooking spray.
Steep 3 Bigelow Vanilla Chai tea bags in hot milk for 5-10 minutes, set aside.
Beat butter and sugar until light and fluffy.  Add eggs, one at a time, thoroughly mixing before each addition.
Combine flour, salt, baking powder, baking soda, and spices in a bowl.
Remove tea bags from milk.
Alternatively and gradually add flour and milk into the butter/egg mixture and mix until just combined. Pour batter into pan and tap gently to remove air bubbles.
Bake at 350 degrees for 45-50 minutes or until a knife is inserted and comes out clean.
Cool in pan for 5 minutes the invert onto a cooling rack to cool completely.
For glaze:
To make the glaze, steep one Bigelow Vanilla Chai tea bag in hot milk for 3-5 minutes then remove tea bag.
Beat butter, powdered sugar, vanilla, and milk until smooth.
Pour glaze over cooled cake.
Sprinkle with cinnamon (optional).
Slice and serve.
Let them eat cake! Show us dessert-friends some love by sharing your most favorite sweet recipes that you love to nibble with your tea. Be sure to tag #Teaproudly!