5 Reasons To Eat A Cupcake Right Now. (BTW: They Go Best With Tea!) 
Friday, 9 June 2017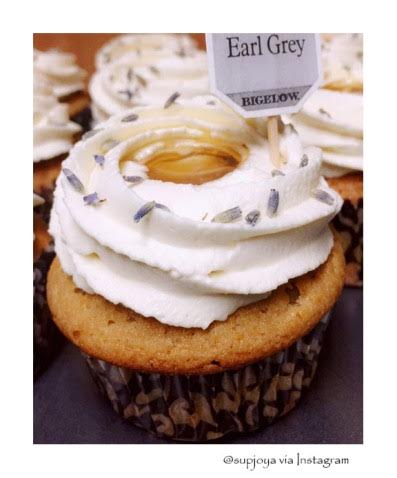 Calling all cupcake-lovers! Looking for a few good reasons to eat a cupcake right now? Look no further:
They go fabulously with a cup of your favorite Bigelow Tea.
They're amazing.
They're delicious.
They're SO MUCH FUN.
They're versatile.
BONUS: They're the perfect on-the-go snack. Just grab one and hit the road! (Napkins not required, but suggested… just in case the icing goes a bit rogue.)
Okay, okay, time out… There are more reasons than that—but, first, how about a history lesson? Did you know that cupcakes were mentioned as far back as 1796 when a recipe notation of "a light cake to bake in small cups" was written in American Cookery by Amelia Simmons? However, the earliest documentation of the term "cupcake" appeared in a cookbook in 1828. Yum! Someone was definitely on to something, because today, cupcakes are trendy with a capital "T." While a standard cupcake recipe uses the same basic ingredients (butter, sugar, eggs and flour—easy enough!), these days you can find unique cupcakeries and bakeries across the globe. There are countless flavors, designs and ingredients to choose from. And guess what?! You can make your own using Bigelow Tea! Here are several recipes to try. Tag #TeaProudly with your creations—you'll likely make everyone drool.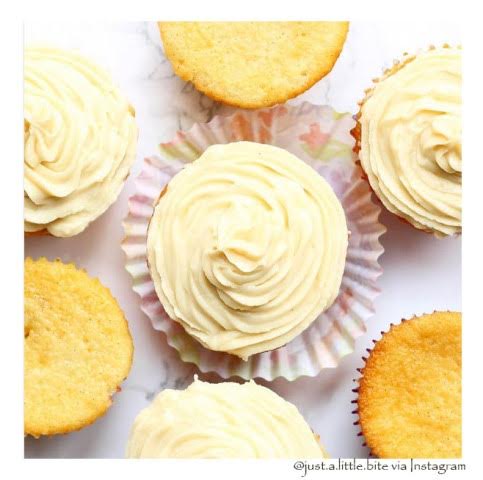 What could be better than a vanilla bean cupcake with Earl Grey buttercream frosting!
Recipes and photo submitted by Just a Little Bite
Ingredients
1/2 cup milk
3 egg whites
1 tsp vanilla
1 vanilla bean
1 cup flour
1/4 cup & 2 tbsp sugar
2 tsp baking soda
1/2 tsp salt
4 tbsp butter
2 tbsp vegetable oil
3 cup powdered sugar
1 cup butter
1 earl grey tea bag
1 tsp vanilla extract
2 tbsp Earl Grey tea
Instructions
Preheat oven to 350 degrees.
In a small bowl, combine the milk, egg whites, vanilla, and the scraped insides of the vanilla bean.
In a larger bowl, mix together the flour, sugar, baking soda and salt.
On low speed, add the butter and oil and mix until you have a crumb texture. On medium speed, add the milk mixture and mix for two minutes until light and fluffy. Scoop the mixture in to a muffin tin and fill each cup 3/4 of the way.
Bake for 12-15 minutes until a toothpick comes out clean.
While the cupcakes are baking, melt the butter in a small sauce pan. Add the Earl Grey tea bag and steep over low heat for five minutes.
Put the butter in the fridge for 20 minutes. When the butter has solidified, take it back out and mix it together on medium speed with the powdered sugar, and vanilla. Add the Earl Grey tea a little bit at a time until you have the consistency you like.
When the cupcakes are cool, frost them!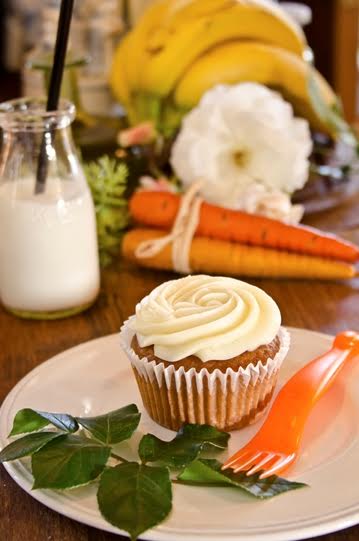 Ingredients
Tea Concentrate:
13 bags Bigelow Constant Comment Tea*
1 ¼ cups boiling water
Cupcakes:
1 ¾ cup sugar
¾ cup vegetable oil
3 eggs
1 (11-ounce) can mandarin oranges, drained, discard liquid
½ cup tea concentrate
2 teaspoons real vanilla extract
2 teaspoons freshly grated orange zest
2 ½ cups all-purpose flour
2 ½ teaspoons baking soda
2 teaspoons ground cinnamon
½ teaspoon salt
2 cups shredded carrots
Frosting:
1 (8-ounce) package cream cheese, slightly soft
1 tablespoon butter, softened
2 tablespoons tea concentrate
3 ½ cups confectioners' sugar
Instructions
Place tea bags in a 2-cup glass measure. Add 1 ¼ cups water. Steep tea for 10 minutes. Squeeze all liquid from tea bags into cup. Discard tea bags. (About 1 cup plus 2 tablespoons tea concentrate.) Heat oven to 350 F. Spray 2 (12-cup) muffin tins with baking spray; alternatively use paper liners set aside. In large mixing bowl add sugar, vegetable oil and eggs. Mix at high speed, scraping bowl often, until thick and creamy (1 to 2 minutes). Add mandarin oranges, ½ cup tea concentrate, vanilla, and orange zest. Continue mixing, scraping bowl often, until well mixed (1 minute). In medium bowl stir together flour, baking soda, cinnamon, and salt. Add flour mixture to tea mixture. Continue mixing, at low speed, until well mixed (1 to 2 minutes). Add carrots; mix well. Place batter in muffin cups filling about ½ to ¾ full. Bake for 18 to 20 minutes or until wooden pick inserted in center comes out clean. Remove from oven; cool. Meanwhile, in medium mixing bowl place cream cheese and butter. Mix at high speed, scraping bowl often, until light and creamy (1 minute). Add 2 tablespoons tea extract. Mix well. Add confectioners' sugar; continue mixing, scraping bowl often, until soft and creamy (1 to 2 minutes). Frost top of each cupcake with frosting. Garnish with orange zest.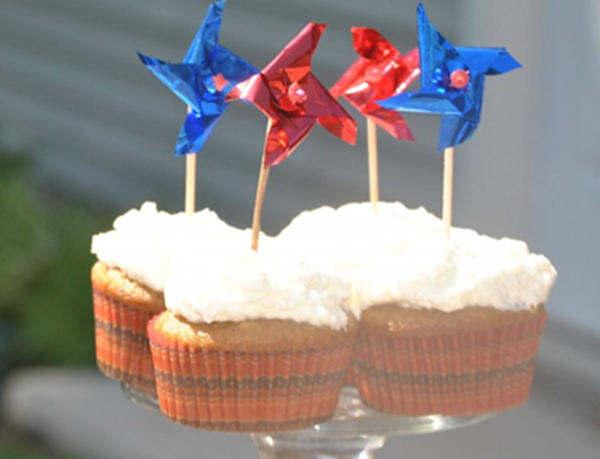 Ingredients
1 cup butter (2 sticks)
1 cup water
2 cups all-purpose flour
1.5 cups sugar
2 eggs, beaten
1 cup sour cream
1tablespoon vanilla extract
1 tsp. salt
1.5 tsp baking soda
Instructions
Preheat oven to 350 degrees.  Add butter and water to a large saucepan along with six tea bags.  Allow to melt. Once melted, strain butter/water mixture and remove tea bags.  Remove from the heat and add sugar until dissolved.  Add sour cream, eggs, and vanilla extract.  Pour into cupcake lined pan and cooked for 15 minutes or until done.  Top with homemade whipped cream topping* (see below*).
*These cupcakes pair perfectly with fresh whipped cream topping. Mix 1.5 cups of heavy whipping in a chilled bowl until it starts to slightly stiffen. Slowly add 2.5 tablespoons of granulated sugar and a splash of vanilla extract. Continue mixing until soft peaks start to show. Frost cupcakes, top with sprinkles, berries, or cutesy flags or candles and ENJOY!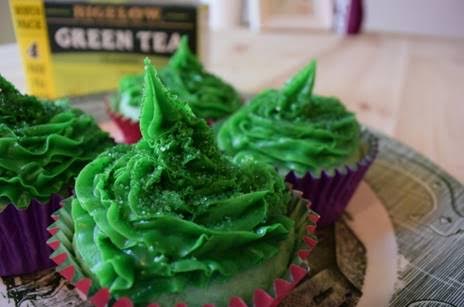 Ingredients
Instructions
Preheat Oven To 350.
Heat water and brew tea ( use 2 bags) – measure 12 oz of the tea and place in a mixing bowl.
Optional – add a few drops of food coloring ( green).
Slowly add the cake box mix – slowly mix together ( you do not need to add anything else – meaning NO EGGS OR OIL).
Place batter in the cupcake liners.
Bake for 20 minutes.
Let the cupcakes cool and decorate. Enjoy.
(pictured at top)
Ingredients
Cupcake Ingredients:
2/3 cup whole milk
4 Bigelow Earl Grey teabags
1 3/4 cups all-purpose flour
1 1/2 tsp baking powder
2 tsp dried lavender
1/2 tsp salt
1/2 cup butter at room temperature
1 cup granulated sugar
1/4 cup honey
1 tsp vanilla extract
1 tsp lavender paste or extract (optional)
2 eggs at room temperature
Honey and dried lavender to garnish (optional)
Frosting Ingredients:
8 oz. cream cheese
1/4 cup honey
1/2 tsp vanilla extract
2 cups heavy cream
Instructions
Warm 2/3 cup whole milk in the microwave, then let 4 Bigelow Earl Grey teabags steep in the milk for about 10 minutes. The milk will eventually resemble a caramel color. When the tea is done steeping, carefully squeeze the teabags to wring out milk. Before disposing of the teabags, snip off the Earl Grey tags if you wish to use them to decorate your finished cupcakes. Allow the milk to cool to room temperature.
In a medium bowl, combine flour, baking powder, dried lavender, and salt. Set aside.
In a separate mixing bowl, beat butter, sugar, honey, vanilla, and lavender paste using an electric mixer on medium-high speed for 30 seconds. Add eggs one at a time, beating until well incorporated. Finally, mix in the Earl Grey-infused milk.
Add flour mixture in small batches, beating on low speed until the batter is just combined.
Preheat oven to 350 degrees F. Line a muffin tin with paper liners, and spoon batter into each cup until three-fourths full. Bake for 20-24 minutes or until a toothpick inserted in the center of a cupcake comes out clean. Cool cupcakes completely.
To make frosting, beat cream cheese, honey, and vanilla extract with an electric mixer on medium speed until light and fluffy. In half-cup batches, slowly add the heavy cream, beating until each addition forms stiff peaks. This frosting recipe makes a pretty big batch. I don't mind because it's my favorite frosting recipe (so light, and not overly sweet) and I like to pile my cupcakes high with frosting. But if you have leftovers, know that it refrigerates well.
Pipe frosting onto cupcakes however you wish. I like to use a star tip to create a "nest" on top of the cupcake. Just before serving, I garnish with dried lavender and carefully pour a dollop of honey into the center of the nest. If you saved your Bigelow Earl Grey tags, tape them to toothpicks and use them to decorate a few of your cupcakes.