This Land Was Made For You And Tea
Monday, 3 July 2017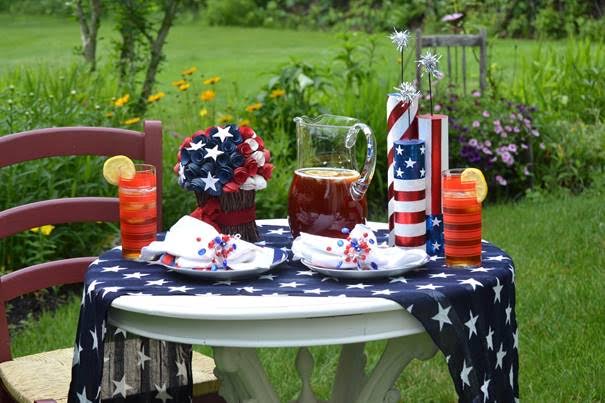 It's the start of July, and you know what that means – Independence Day, a time when families celebrate the great U.S. of A… and the Bigelow Tea family is no exception! In fact, before you start the grill, grab the fam to go watch fireworks, or run around with sparklers, hold on a sec… because in addition to celebrating the land of the free, let's give a shout-out to all the American-owned and operated companies, because, hey, yesterday was Made in the USA Day!
Seventy-two years and three generations ago, family-owned Bigelow Tea planted its roots in American soil. To this day, every batch of tea is still blended and packaged in the United States, and each Bigelow Tea employee is based here, too. Thanks to founder Ruth Campbell Bigelow, the company has found success as the first specialty tea packager in the United States, and has gone strong for more than seven decades. But Ruth Campbell Bigelow (thankfully!) isn't the only woman entrepreneur to establish a legacy in our country. So, as you grab that mason jar of iced tea, raise it to these fellow American gals with an entrepreneurial spirit, and let's celebrate this great land of opportunity.
Aviators (not just the sunglasses)
In 1932, Olive Ann Beech co-founded Beech Aircraft Corp. in Kansas, alongside her husband, Walter, at the height of the Depression. Within a decade, the business grew from 10 employees to 10,000, when 270 of their Beech Model 17 Staggerwings were manufactured for the U.S. Army during World War II. After Walter died, Olive Ann became president and CEO of the multimillion-dollar aerospace company. During its tenure, Beech Aircraft Corp. had a lasting impact on general aviation and, of course, it's pretty awesome that there was a woman leader at the helm!
Beautifully American, Gorgeously Global
Josephine Esther Mentzer – AKA Estée Lauder – was born and raised in Queens, New York, and gained merchandising experience working in her father's hardware store. In 1946, she founded the Estée Lauder Company and began selling skin-care products developed by her chemist uncle to beauty salons and hotels. Her talent for sales led her to her own counter at New York City's Saks Fifth Avenue in 1948, followed by Neiman Marcus in 1950. Before she knew it, Lauder's brand went global. And, today, the enterprise exceeds $11 billion in sales (!).
An Icon for Every Little Girl
Once Barbie was created, the world was never quite the same again. Ruth (yup, another great Ruth!) Handler came up with the idea of creating a doll that looked more grown-up after noticing that her daughter preferred to play with paper dolls that looked like adults. Although her husband didn't think the idea would sell, Handler brought Barbie (her daughter's nickname) to a New York toy fair in 1959. Handler and her husband, Elliot, were already selling dollhouse furniture and other toys through their company, Mattel, based out of their California garage. Within five years, Mattel became a Fortune 500 company, and continues to thrive today.
The United States is recognized across the world as a place of opportunity, for new beginnings and to start new ventures with the promise of great success. And it's all made possible by the freedoms we enjoy as a part of this great nation. So, take a moment to salute our country (or toast to it with tea in hand), and share what makes America special with those closest to you. Have a wonderful 4th this week!