This Is Why Bigelow Tea Is A True Blue Fan Of The Blueberry
Friday, 7 July 2017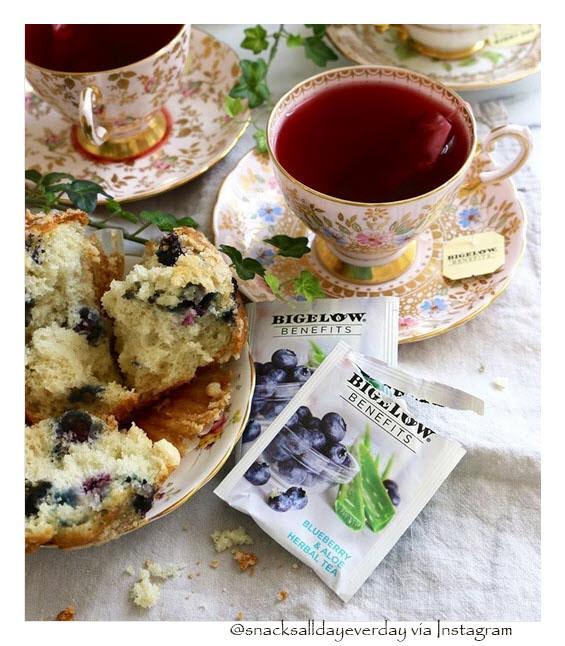 Warmer weather = blueberries. And when it comes to fresh, sun-ripened blueberries, absolutely nothin' compares to them – in your baked goods, drinks, salads or simply popped into your mouth by the handful! Yup, blueberries are totally amazing, which is EXACTLY why Bigelow Tea has captured their flavor in a few different teas, like Benefits Blueberry and Aloe Herbal Tea, Wild Blueberry with Acai Herbal Tea, and Green Tea with Blueberry. Because while these 'lil berries deserve their own month every July, you can still enjoy their deliciousness all year 'round.
So, what's the blueberry's story? Here are some facts about this little blue dynamo's journey from farm to table.
They're as (North) American as blueberry pie
According to folklore, blueberries are one of only a few fruits native to North America. However, it wasn't commercially grown until the 1900s. We know, we know… Apples tend to be more popular in American history and traditions, but really, it should be red, white and blueberry!
20-ish Shades of Blue
You may not realize it, but there are 19 varieties of blueberry that are grown around the world today. The most common is Vaccinium corymbosum, the northern highbush blueberry, which we all know, love and snack on.
A Cultural Phenomenon
In 1981, Ronald Reagan's inauguration sparked the creation of the blueberry-flavored Jelly Belly. In fact, more than 6,000 pounds of them were consumed throughout the festivities!
Offering a burst of flavor in every bite, blueberries are also fab in all types of dishes! Celebrate all month with these recipes for Fabulous Melon and Blueberry Fruit Salad, Blueberry Acai Vinaigrette, Raspberry Royale Tea Jelly with Blueberries, and Red, White and Blueberry Grilled Chicken Salad with Black Tea Raspberry Dressing. Or, relax poolside with a Pomegranate Blueberry Iced Tea or Wild Blueberry Delight. Is your mouth watering yet? Mmm…
Whether you're brewing or cooking, sipping or savoring, Bigelow Tea wants you to make the most of National Blueberry Month. Share your top blueberry moments with a #TeaProudly tag, and take a moment to enjoy the sweet, plump fruit. It's never been so fun to be blue!