Go Wild With Bigelow Wild Blueberry With Acai Herbal Tea
Wednesday, 26 July 2017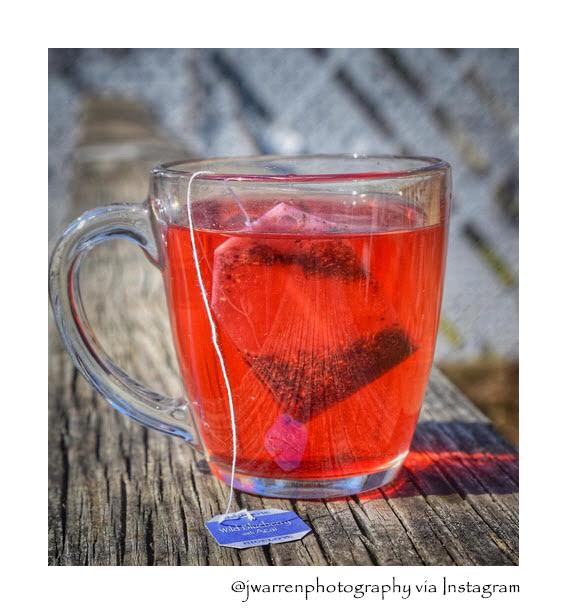 Sweet and tart, sweetheart. That's how best to describe a cup of Bigelow Tea's Wild Blueberry with Acai Herbal Tea. Yup, acai. But how the heck do you even pronounce it? Easy. AH-sigh-EE. "Ahhh….." (like the sound you let out when you've had a really long day and just got a minute to sit down and watch Netflix); "sigh," (like what you do when you realize you ran out of tea); and "Eeeee" (like the "Wheeee – without the "W" part – you make when you're on a roller coaster). See? Simple.
But what exactly is acai? And why does it pair so well with blueberry? And why will you absolutely love it if you don't already? Funny you should ask…
Deep in the Amazon
Açaí is a delicious black-purple berry that resembles a large grape and grows on tall, slender palm trees in the Amazon, where it has been consumed in the form of a pulp (purée) for centuries. So, yeah, it goes pretty far back.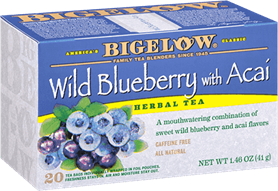 Here and there and everywhere
Acai has become pretty trendy these days. Look anywhere online or in popular juice bars or cafes, and you'll see gorgeous acai bowls or smoothies. However, in different parts of the world – take Brazil for example – acai is also used as a sauce for fish dishes. Looking for a more savory recipe? Try this Blueberry Acai Vinaigrette. It's great on a bed of greens or grilled chicken.
Oh, hi, blueberry and acas.
Acai is one of the ingredients in Bigelow's Wild Blueberry with Acai Herbal Tea. Along for the ride – err, in the bag – are real blueberry pieces, rose hips, hibiscus, sweet blackberry leaves, apple, cinnamon and orange peel. Talk about a fruit bouquet. Mmm… Yes, please! Try a cup (hot or iced, both are nice!) and see just why it's a fan favorite.
Have you tried Wild Blueberry with Acai yet? Love it? Tag #TeaProudly and share what you thought!