4 Times (Among Many) When Bigelow Tea Employees Made a Difference
Monday, 31 July 2017
Employees are the backbone of Bigelow Tea. As a family-owned company, Bigelow built its brand with its people – beginning with Ruth Campbell Bigelow – and that commitment gets repaid in kind with the dedication each employee shows in their work and within their communities. Simply said, Bigelow Tea employees are incredible. In fact, it's their efforts that make Bigelow Tea a more sustainable company and, frankly, a stronger corporate citizen.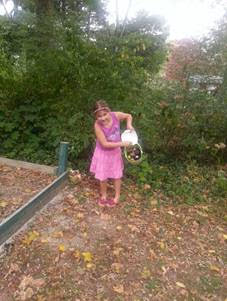 But, don't take it from us, hear from them with these inspiring stories:
Passing on sustainable practices to future generations.
"Inspired by the results of the composting program here at Bigelow Tea, our family also included composting into our weekly schedule at home. We have been separating out most of the kitchen waste, tea bags (a lot of those) and paper towels, etc. since the summer of 2013. Now that my children are older, the do-it yourself-style sand box has been 'up-cycled' to 'organically' create good soil over time… This is one way our children are learning that maintaining the cycle and balance in nature is possible even in a suburban environment and a small contribution like ours can make a difference." Gabe K, Fairfield, CT
Helping those in need.
"I was coming to work around 6:30 a.m. [one day] and… there was a soldier in full uniform with all his medals waiting by the side of the road. It was a rainy day and… he needed a ride to Boise. I stopped and offered to give him a ride to his destination. It turns out that he was going to a Wounded Warrior presentation… but his vehicle had a flat tire and he had to go on foot. He (Jim) told me his dilemma about being a forty-year veteran and how hard it is to get a job after being in the military that long; that the money just doesn't last as long and not having a job does not help either. He told me a story about applying for a security job at a computer company in Boise and that he was told that he did not have enough experience in security to be considered for the position. I dropped him off at his destination, gave him my gratitude for his service and some money… If that is impacting our community in a positive manner, then I do that every day by serving as a leader in my community." Javier Reyes, Boise, Idaho
Caring about the bees.
"I participated in a worthwhile community event, 'Bee Night,' which took place at the Medical University of South Carolina's Urban Garden located in downtown Charleston. Bee Night was an event hosted by the Bee Cause Project, an organization whose mission is to educate young people about the importance of honeybees and their wellbeing. They do this by installing beehives in area schools. In 2013, the USDA released a report with concern that the U.S. does not have enough honeybees to pollinate crops, which would impact our nation's food supply. Along with the many beehives that they have installed in area schools, they have installed an observation beehive at the MUSC Urban garden, a garden whose mission is to build a healthier community by growing crops and educating people with local, nutritious food. This Beehive was unveiled at 'Bee Night' and the community was invited to attend the special event. I took several gallons of unsweetened tea to the event. We sweetened the tea at the event with the honey produced by the bees and attendees enjoyed Charleston Tea Plantation tea sweetened with local honey."  Jane Knight, Charleston, SC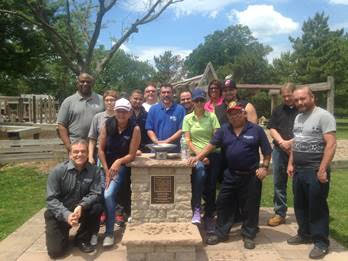 Maintaining a Local Playground
A Bigelow Tea team spent the day weeding, mulching, sweeping the sand up, repairing the walkway and more which is part of an annual tradition in providing upkeep at the Sandcastle playground in Fairfield, CT.  The picture was taken by the memorial to Beth Davis, playground organizer (with president and CEO Cindi Bigelow).  Pictured are Jim Gildea, Richard Queen, Sandra Thompson, Frances Garcia, Alcides Turcios, Tomas Rivera, Ramon Figueroa, Anais Cuevas, Marcel Welfare, Manny Leon, Alberto Calzada, Eddy  Cotter, and Victor Gonzalez.
As you can see, our employees take pride in their contributions – both within their community and in creating great quality tea. That's why the names of each tea packer are visible on every box of Bigelow Tea. It's their personal seal of quality and our way to show off the great work our people do every day.
So, tell us, how are you giving back to your community? Don't forget to tag #TeaProudly because that is what we are, proud to make your tea!