Get A Ticket To The Hydration Station With Bigelow Tea!
Monday, 7 August 2017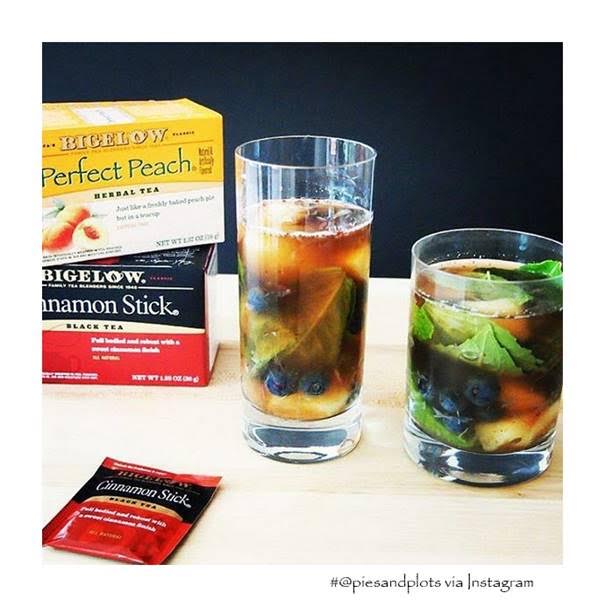 As the mercury rises this month, you're gonna want to stay hydrated! This is soooo important – not only when it's hot outside, but all the time! And what better way to stay refreshed and hydrated than with some iced Bigelow Tea?! Yup, everyone agrees. But, why exactly is it so important to drink up?
Take a look:
Why hydrate?
According to the American Heart Association, keeping the body hydrated helps the heart more easily pump blood through the blood vessels to the muscles. And, it helps the muscles work efficiently.
And why summer?
During the summer months, your body requires more replacement fluids and cooling methods than at other times throughout the year.
What are you waiting for?
Time to drink up! Try a nice tall glass of iced tea. Just note that decaffeinated tea will be more hydrating that caffeinated. Of course, Bigelow offers plenty of herbal teas to choose from. And there are loads of awesome iced tea combos to get you going – don't stop 'til you get enough! Perfect Peach and Pomegranate Pizzazz is a fan favorite, and so are Pomegranate Blueberry Iced Tea, and Cranberry Hibiscus and Orange & Spice® Iced Tea.
Don't forget to make it fun!
Add an extra layer of fabulous (and fun!) with a twist – literally! Once you make your tea, try adding fruit and herbs, like lemon, berries and mint.
Anything else?
Other great selections are water or sparkling water, milk, and sugar-free beverages in moderation. Smoothies are also a great alternative! Like a Blueberry Green Tea Protein Smoothie, Perfectly Peachy Pineapple Smoothie, or Bigelow® Herbal Tea Smoothie. Mmmm…. Enjoy!
If you come up with a super cool way to hydrate this summer (Iced tea combo! Infusion ideas! Smoothie recipes!), tag #TeaProudly and let us know!