Just In Time For Dinner: Pair Bigelow Tea With Late Summer Recipes
Monday, 21 August 2017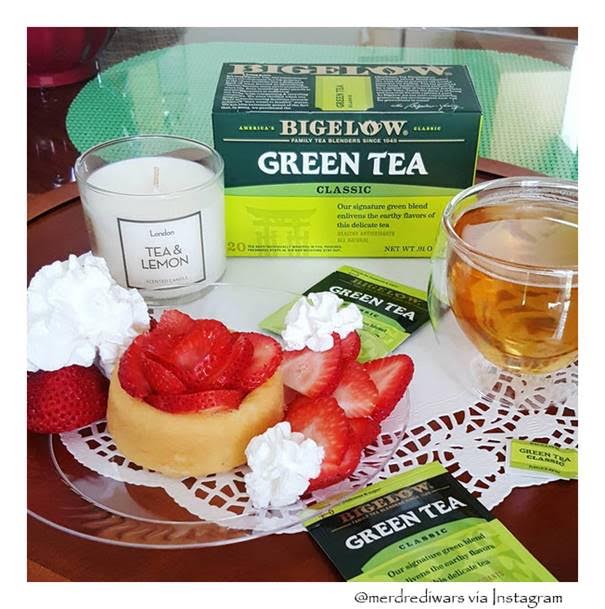 Your kids may be stocking up on school supplies and it's getting dark earlier, but it's not fall yet! And while that sunshine is still shinin' and your iced Bigelow Tea is overflowin', don't forget that late summer produce is at its peak awesomeness. A few favorites are tomatoes, sweet corn, peaches, peppers, melons, zucchini, strawberries and blueberries. Mmm… so fresh and delicious! And, hey, guess what?! They – naturally – go well with tea, and they also make for some amazing dishes. Here are a few recipes where the spotlight is on fresh produce. Enjoy!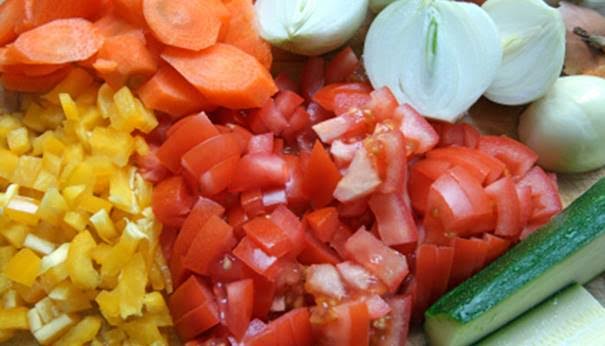 Ingredients
½-1 cup each:
Cucumber (scoop out seeds) diced
Tomatoes (scoop out seeds) diced
Green yellow and red peppers diced
Carrots diced
Zucchini diced
3 tablespoons Scallions diced
3 tablespoons fresh dill
2 tablespoons fresh parsley
½ cup of fresh lemon juice
1 tablespoon Lemon Zest
Instructions
Cut up all veggies and place in a bowl. Mix. Add dill, parsley, lemon juice and lemon zest. Dress with any Bigelow Tea Vinaigrette.
Ingredients
4 Cucumber, English, cut into long noodles
2 Red Bell peppers, long julienne
2 Yellow Bell peppers, long julienne
4 Scallion, long bias cut
2 ounces Rice vinegar
1 ounces Sesame oil
1 teaspoon Kosher Salt
1/4 Teaspoon White Pepper
Instructions
Cut cucumber on mandolin into long julienne.
Cut peppers into long julienne and scallion into long bias cut.
Toss with rice vinegar, sesame oil and salt and pepper.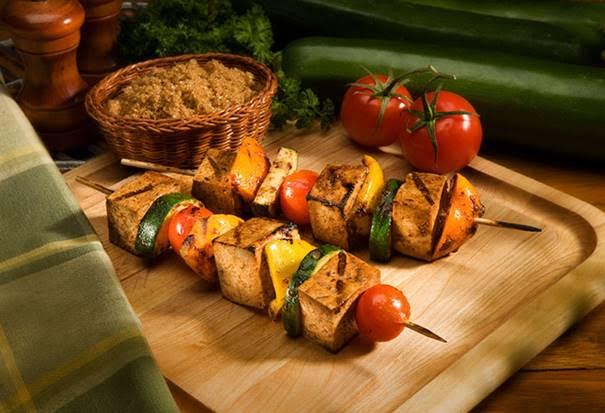 Ingredients
8 – 6 inch wooden skewers
1 – 14 oz. package extra firm tofu
2 cups hot water
½ teaspoon salt, plus additional for sprinkling
1 tablespoon honey
1 medium zucchini, cut into 1 inch rounds
8 Baby Bella mushrooms, cleaned (about 8 oz.)
2 tablespoons canola oil (for brushing)
Non-stick grill spray
Instructions
Tofu is a great vegetarian, low-calorie alternative for your grill, and marinating it in tea gives it great flavor and color. A touch of honey adds sweetness and helps to create a beautiful grill marks as it caramelizes. First, set wooden skewers in water and allow to soak for approximately 30 minutes. Next, sandwich the block of tofu between two plates lined with a few layers of paper towels. Place something heavy on top plate (like a can) so tofu can drain for 10-15 minutes. In large bowl, combine hot water and tea bags and steep for 5-7 minutes. Squeeze out tea bags into bowl, remove, and add salt and honey to tea. Stir until honey is dissolved. Cut tofu into 1 inch cubes, and add to bowl. Set aside to marinate for 15 minutes. Thread 2-3 cubes of tofu and 2-3 pieces of vegetables onto each soaked skewer, being careful not to pack the skewers too tightly. Brush each skewer with canola oil and season with a pinch of salt. Spray a gas grill with non-stick grill spray and preheat to medium-high. Place skewers on grill, and cook for approximately 2-3 minutes per side, until grill marks appear and tofu begins to form a nicely colored crust. Note: be very gentle when turning skewers (use a grill spatula), as the tofu is delicate. Remove from grill and serve hot.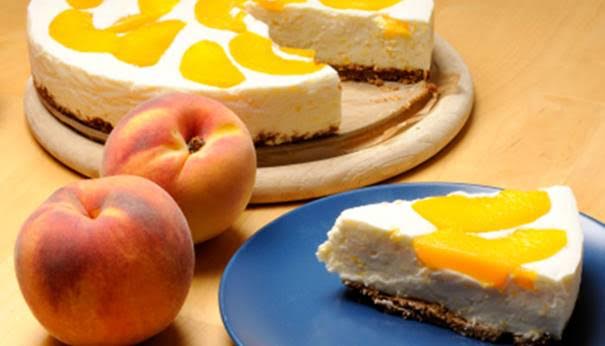 Ingredients
1 box No-Bake Cheesecake Mix
Box-stated milk amount
Sliced peaches (optional)
Instructions
Slightly ahead of time, place milk and tea bags in a saucepan. Heat over medium heat until bubbles just start to form on sides, stirring constantly. Remove pan from heat. Let steep 10 minutes. Remove tea bags. Either refrigerate until cool or quick cool in the freezer. (Do not leave in freezer longer than 30 minutes.) Prepare cheesecake according to package directions using tea and milk mixture instead of milk. Garnish with sliced peaches, if desired.