5 Reasons To Rise And Shine To Breakfast (And Bigelow Tea!)
Wednesday, 20 September 2017
Did someone say breakfast of champions? Because if that's the case, then that could include just about anything as long as its coupled with a cup of Bigelow Tea, right?! No, but, really… Breakfast is such an important meal – a hearty breakfast gives you energy and fuel to get through your crazy busy day. Actually, some research even suggests that breakfast is linked to several health benefits, including weight management and improved mental performance. So, during National All-American Breakfast Month (and what's more American than Bigelow Tea??), here are five reasons to rise and shine to a healthy meal.
Weight, weight, don't tell me.
Many studies, in both adults and children, have shown that those who eat breakfast tend to weigh less than breakfast skippers. One theory suggests that eating a healthy breakfast can reduce hunger throughout the day. Less hunger may promote healthier food choices at other meals.
Healthy Breakfast = Possible Improved Mental Performance
Research involving adults and children has indicated that breakfast might enhance memory, attention, the speed of processing information, reasoning, creativity, learning, and verbal abilities. Plus, according to a study published in the journal Archives of Pediatrics and Adolescent Medicine, eating breakfast may improve cognitive performance, test scores and achievement scores in students, especially in younger children. Start the school day off on the right foot with a vegetable omelet, whole-wheat toast and a cup of Bigelow Tea. After all, a study published in Psychopharmacology, suggests that tea may also lead to improved cognitive functioning, including better working memory.
Oats and tea, please! 
Research done by the Harvard School of Public Health suggests that people who skip breakfast gain weight, which can lead to diabetes as well as high cholesterol and blood pressure—all of which can raise your risk of heart disease. How about a heart-healthy bowl of Cinnamon Spice Oatmeal coupled with a mug of Bigelow Tea green tea? According to research done by the American Dietetic Association, green tea may also lower cholesterol levels.
Wake up, eat breakfast, drink tea, work out, repeat
In a study published in the American Journal of Clinical Nutrition (AJCN), people who ate breakfast were more physically active during the morning than those who didn't. That might be because a temporary increase in blood sugar gave them more energy.
Turn that frown upside down
In addition to cognitive benefits, studies also report that those who eat breakfast start their day in a better mood. And we don't know about you, but a cup of tea always puts us in a better mood! Bigelow's black teas, like American Breakfast, English Teatime and Spiced Chai, have a boost of caffeine that will kick start your day. (Don't forget: A cup of Bigelow American Breakfast has 50% More Caffeine in every tea bag!)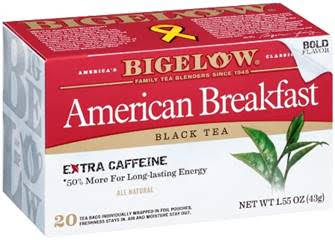 So, go on. Grab your breakfast of choice, a mug of tea, and get this day started. Because with Bigelow for breakfast, you can't go wrong! What's your favorite thing to eat with your morning tea? Tag #TeaProudly and share!