This is Why You Should Celebrate National Apple Month with Bigelow Tea
Monday, 2 October 2017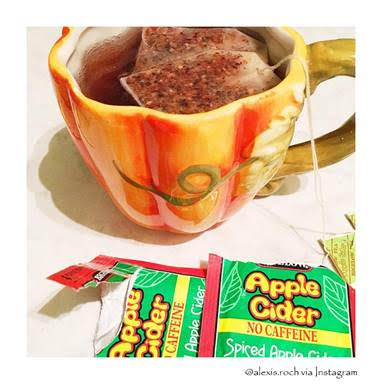 Fall has arrived and Bigelow Tea fans are ready to celebrate National Apple Month with a variety of scrumptious apple blend teas. Apples are one of America's favorite fruits—American consumers ate on average over 19 pounds of whole apples per year, and over 50 pounds of a combination of fresh apples and apple products such as juice, applesauce and of course, tea! (how 'bout them apples?)
Here's another fun fact–If you've ever bobbed for apples at a Halloween party, you may be wondering why they rise to the top of the water. Well, get this……..apples are 25 percent air! That's why they float.
Naturally caffeine-free, Bigelow Tea's tasty apple herbal blends are made with real apple bits.  Sweet and delicious Cinnamon Apple Tea's subtle tartness and fruity notes of hibiscus and apple pieces combine with flavorful cinnamon and licorice to create a mouthwatering aroma that will have you yearning for a slice of warm apple pie. (Yummy!) Robust Cranberry Apple Tea boasts a rich crimson color and a full-bodied character that combines the tang of cranberry and hibiscus with the sweet notes of apple pieces and chamomile.  A perfect way to unwind on cool fall nights. (or anytime!)
A seasonal favorite of Bigelow Tea lovers, the crisp, tart flavor of apples with sweet spices in all-natural Apple Cider Tea delights the senses and the palate. This delicious brew can be made with a few ounces of water, versus the 36 apples it takes to create one gallon of apple cider. (wow, that's a lot of apples!)
Says @lifesabeacham on Instagram, "Bigelow Apple Cider tea- probably my favorite way to enjoy fall flavor daily without feeling too naughty," (hmmmmm.)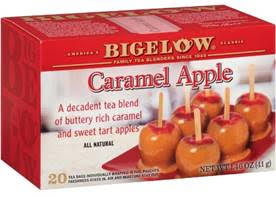 Speaking of decadent, Bigelow Tea's brand-new Caramel Apple Tea will satisfy your sweet tooth with no sticky fingers! This luscious blend of buttery caramel, sweet-tart apples, and bold black tea brings the taste of the harvest to you, so go ahead and indulge. (yeah!)
Show your appreciation for National Apple Month with a cup of your favorite apple blend tea, and tag #TeaProudly to share your favorite flavors!