4 Muffin Recipes To Fall For This Season
Wednesday, 4 October 2017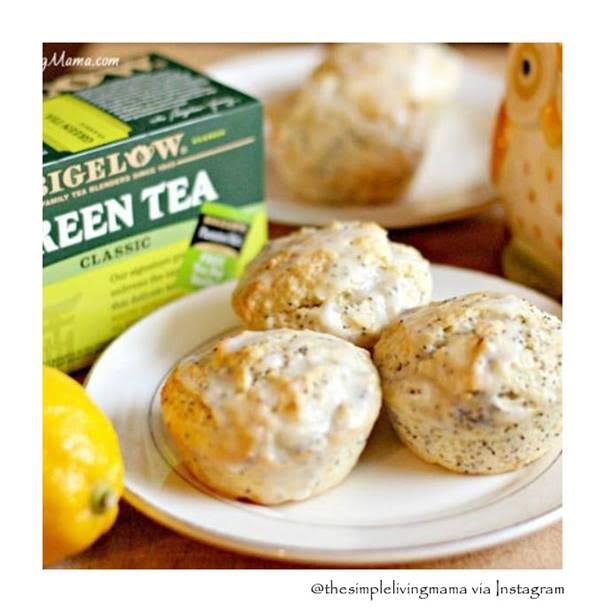 Muffins!  Tasty treats that are always great to eat, muffins are super yum and versatile… practically any flavor can be enjoyed in muffin form.  Did you know the word muffin is thought to originate in Germany, where muffen, is plural of muffe, which means 'small cake'.  And, Americans and the English have had a centuries-old feud about exactly what is a muffin; the cake like version enjoyed in the US or the flat, yeast bread favored on the other side of the pond.
Bigelow Tea knows a thing or two about muffins. The #TeaProudly  community has been sharing muffin ideas and recipes for a long time, many of which have been featured in the Bigelow Tea blog. Plus, everyone agrees that tea and muffins are a match made in snack heaven.
Make muffins especially memorable by adding Fall tea flavors like Vanilla Caramel, Apple Cider and Spiced Orange (and more) into recipes. Get brewing and baking and enjoying the sweet rewards all season long!

Ingredients
1 cup boiling water
1¾ cups unbleached all-purpose flour
½ cup sugar
3 tsp. baking powder
½ tsp. salt
½ tsp. freshly grated nutmeg
1 cup grated tart apple
½ cup melted butter
1 egg (beaten)
½ cup apple sauce or apple butter
Light or dark brown sugar
Instructions
Preheat oven to 375°F. Grease muffin tin or line with paper cups. Place 6 Bigelow Vanilla Caramel Tea Bags in a heat proof measuring cup. Add freshly boiled water to the 1 cup line. Place a lid or plate on top of the cup to hold in the heat while the tea steeps for 3 minutes. Remove lid and tea bags – resist urge to squeeze the bags! Set aside the tea concentrate to cool. Combine in large bowl flour, sugar, baking powder, salt and nutmeg. Peel and grate 1 large firm tart apple to make one cup of grated apple. Add to flour mixture and stir to break up clusters of apple. Set aside. Combine melted butter, egg, tea concentrate and apple sauce OR apple butter. Make a well in the dry ingredients and add wet ingredients. Stir just until everything is moistened but don't over mix. Fill muffin cups ¾ full. Sprinkle each muffin before baking with a pinch of light or dark brown sugar for the ""crunch"". Bake for 20-22 minutes. Remove to rack and allow to cool for a few minutes before removing from pan.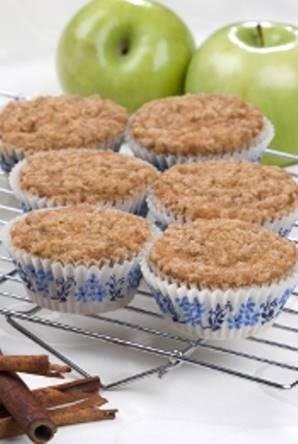 Ingredients
¾ cup milk
1 to 2 Granny Smith apples, peeled, cored, grated (1 cup)
2 cups all-purpose flour
½ teaspoon cinnamon
2 teaspoons baking soda
½ teaspoon nutmeg
⅛ teaspoon salt
¼ cup walnuts, chopped (optional)
½ cup vegetable oil
½ cup granulated sugar
¼ cup light brown sugar
1 large egg
½ teaspoon vanilla
Instructions
Preheat oven to 400° F. Grease muffin cups or use muffin liners. Combine milk and tea bags in a small saucepan. Heat over medium/low heat until bubbles form around the edge, stirring occasionally. (DO NOT BOIL.) Remove from heat and let cool (15-20 minutes); remove tea bags, squeezing out liquid. Set aside. Grate apples in food processor with a shredding blade or by hand with a cheese grater. Set aside. In large bowl, combine flour, cinnamon, baking soda, nutmeg and salt. Add apples and nuts; mix well. In separate bowl, whisk together oil, sugars, egg and vanilla until smooth. Add tea-infused milk; stir until well blended. Add dry ingredients all at once and stir until moist. Do not over-mix. Batter will be loose. Fill muffin cups ⅔ full. Bake 18-20 minutes, until a toothpick inserted in center comes out clean. Remove from pan and cool on wire rack.

Ingredients
For the Muffins:
1 cup milk
2 cups (plus 1 tablespoon) unbleached all-purpose flour, divided
¼ cup (plus 2 tablespoons) granulated sugar, divided
3 ½ teaspoons baking powder
½ teaspoon salt
¾ teaspoon cinnamon
¼ teaspoon ground cloves
¼ teaspoon ground nutmeg
½ cup butter, softened
¼ cup brown sugar
1 egg
½ teaspoon vanilla
1 orange, juiced and zested
1 ½ cup chopped cranberries
For the Topping:
1/3 cup sugar
¼ cup butter, melted
1 orange, juiced and zested
Instructions
For the Muffins:
Preheat oven to 375 degrees. Grease muffin tins or line with paper muffin cups.
Place milk in a small sauce pan. Bring milk to a simmer and add tea bags, Remove from heat and set aside, allowing tea to steep in milk for at least 10-15 minutes.
Meanwhile, stir together 2 cups flour, ¼ cup granulated sugar, baking powder, salt and spices in a large bowl. Set aside.
Using an electric mixer, beat butter in large bowl until light and fluffy. Gradually add brown sugar, beating until blended. Beat in egg, vanilla, orange zest and juice. Remove tea bags from milk. Gradually mix dry ingredients and infused milk into the butter mixture, alternating between milk and dry ingredients. Continue mixing in milk and dry ingredients until combined.
In a small bowl, stir together chopped cranberries and remaining 1 tablespoon flour and 2 tablespoons sugar. Gently fold cranberries into prepared batter.
Using a scoop or spoon, fill greased or paper-lined muffin cups two-thirds full with muffin batter. Bake in preheated oven for 18-22 minutes or until a toothpick inserted into center muffin comes out clean and muffins begin to brown on top. Let muffins cool in muffin tins for 3-5 minutes then remove to a wire rack to cool completely.
For the Topping:
Place sugar in a small bowl. In a separate bowl, stir together melted butter, orange juice and zest. After muffins have cooled slightly in muffin tins, but while they are still slightly warm; dip the muffin tops in the butter/lemon juice and then dip into sugar.

Ingredients
For the Muffins:
2 cups old fashioned oats
1/2 cup brewed Bigelow Orange and Spice Herbal Tea (two bags)
1 3/4 cups milk
zest from one orange
1 cup fresh or frozen cranberries, sliced
2/3 cup granulated sugar + 1 tablespoon, divided
2 cups all-purpose flour
4 teaspoons baking powder
1 teaspoon baking soda
1/4 teaspoon salt
2 large eggs, slightly beaten
1/2 cup vegetable oil
For the Glaze:
3 ounce cream cheese, softened
2 tablespoons butter, softened
1 teaspoon vanilla extract
1 1/4 cups confectioners' sugar
5 to 6 tablespoons brewed Bigelow Orange and Spice Herbal Tea (1 tea bag)
Instructions
For the Muffins:
Preheat oven to 375 degrees.
Line muffin pans with 24 cupcake liners OR 11 2 3/4-inch x 2-inch cupcake molds
In a medium bowl add the oats, brewed tea, milk and orange zest.
Stir to combine and set aside for 20 minutes.
Place sliced cranberries in a small bowl, sprinkle 1 tablespoon sugar over cranberries and set aside.
In a large bowl whisk together the sugar, flour, baking powder, baking soda and salt.
Add the eggs and oil to the oatmeal mixture; stir to combine.
Add the oatmeal mixture to the flour mixture; stir until combined.
Fold in cranberries.
Scoop into prepared muffin pans.
TIP: For regular size muffins use an ice cream scoop. For the larger size cupcake molds use 2 ice cream scoops.
Bake regular size 20 to 25 minutes AND large 30 to 35 minutes.
Cool on rack.
For the Glaze:
Cream together the cream cheese and butter.
Mix in vanilla.
Blend in the sugar.
Add the tea 1 tablespoon at a time until it reaches a drizzle consistency.
Use a large spoon and drizzle over muffins.