Ready…Set… Pumpkin!
Monday, 9 October 2017
With crisp in the air coming soon and the hint of turning leaves signals the return of two of fall's most anticipated traditions… pumpkin mania and time to enjoy Bigelow Pumpkin Spice Tea!
A total standout in this season of everything pumpkin, Bigelow Pumpkin Spice Tea combines tasty flakes of real pumpkin, warm, delicate spices and hearty black tea to create a flavorful hint of holidays to come.  Often trending as a #TeaProudly fan flavor favorite, Bigelow Pumpkin Spice Tea's taste and smell is literally cozy pumpkin pie – minus the calories and resulting guilt! So delicious any time of day, as an all-natural ( did we mention the pumpkin flakes, cinnamon and nutmeg?) pick-me-up that's good for you too.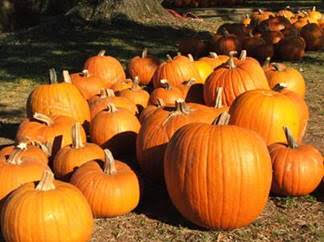 But all this pumpkin talk begs the question, why the national obsession with this much beloved titian-tinged gourd that is actually a fruit?  While there is no one answer to why people crave pumpkin spice flavor so much, theories abound including that it is a welcome signal to the start of a new season, it recalls the tastes and smells of holiday memories and even that the combo of  pumpkin, spice and sugar may be downright addictive.  Whatever the reason the reason for a passion for pumpkin, the craze continues strong.  According to Nielson Data, pumpkin spice flavoring is a $361 million dollar market and between 2011 and 2015, sales of pumpkin spiced food grew 79% in the US… 79%!  The  Bigelow Tea family got the pumpkin vibe right in tea form, that's for sure!
Luckily, there is plenty of pumpkin to be enjoyed throughout this pumpkin season, or any other time of year, with Bigelow Pumpkin Spice Tea. Enjoy hot, cold or even added to favorite pumpkin recipes. Tell us about your pumpkin dreams and tag #TeaProudly!