Bigelow Tea's First Social Craze: "Constant Comment" Tea
Wednesday, 18 October 2017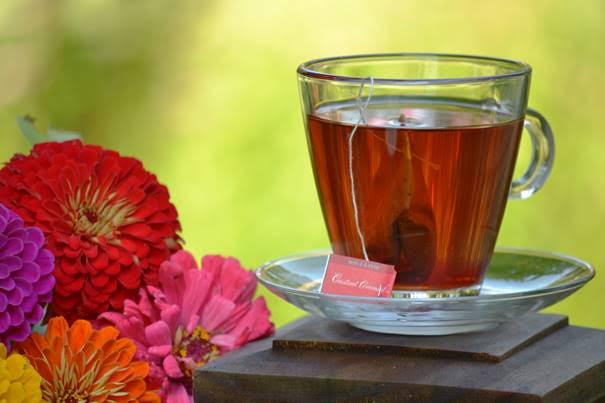 Isn't it awesome to see a post or a photo from a year or two or five ago? It puts all the craziness of life in perspective, right? Well, let's rewind over 70 years. We're going all the way back to 1945 in the Big Apple – c'mon! Let's take a stroll down a tree-lined block. Here we are. That brownstone right there. Imagine it with a sepia filter if you like. That's where it all started: Bigelow Tea, America's classic, family-owned tea blender. It all started with a kitchen and an enterprising woman who never gave up on her amazing vision.
Inspired by an Early Colonial recipe, founder Ruth Campbell Bigelow disappeared into her kitchen to create a better cup of tea. After weeks of trial and error, blending black tea with orange rind and sweet spices, she emerged with the first cup of specialty tea, which would become known as "Constant Comment®". It got its name from the "constant comments" of her friends. How cool is it that today Bigelow Tea's friends and fans are still "commenting" about Bigelow Teas all over the web?
Back at the beginning, Ruth couldn't simply tweet about her teas (no social media then, obviously…). So, when it came time to market her product, one shopkeeper told Ruth that the aroma of "Constant Comment" was a big selling point. She promptly set up a jar of "Constant Comment" labeled with the directions: "open and whiff." It was an instant teaser of what's to come – like a GIF for your nose! Shops across the country placed this whiffing jar by their cash registers and the sales began to grow!
The rest, as they say, is history. And though Ruth never saw the power of the worldwide web, she'd be thrilled to know that "Constant Comment" is still generating buzz! In fact, you can even join our Facebook group dedicated to loving "Constant Comment" – check it out!
Plus, "Constant Comment" even has its own admins-only rules (the tea, not the Facebook Group). To this day, it is made following a secret recipe that only Bigelow Tea Co-Chairmen Eunice and David Bigelow know and blend. It has stood the test of time and continues to fill cups, kitchens and hearts.
And while we can't share the recipe, you can still like, love and favorite the tea in your cup each day. So drink up, #TeaProudly, and think about how far this tea has come in 70 years. Not bad when "Internet famous" usually only lasts about 70 seconds!