2 Breakfast Recipes That Will Light Your Weekend On Fire!
Friday, 20 October 2017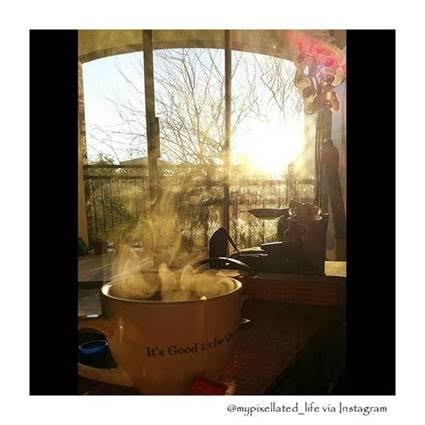 Rise and shine, up and at'em, wake up and smell the roses… get out of bed already!  Whatever the tactic for trying to rouse sleeping-in family members on lazy weekend mornings, sometimes you need reinforcements. Enter Bigelow Tea, and irresistible recipes featuring fragrant and flavorful #TeaProudly ingredients. Both make resistance impossible for even the most determined of sleepy heads!
More reasons to gather for an AM meal? Starting the day with a good breakfast has health benefits important to share with loved ones, everything from aiding in weight management to building strength and endurance.  On the warm, cozy side of things, the slower pace of weekend mornings are ideal for an always beneficial-to-the-family meal together.  Plus, side perk, sipping on a Bigelow Tea  morning favorite – like English Breakfast, Earl Grey or the robust  American Breakast tea – is a great accompaniment as everyone  cooks and eats together.
This weekend, why not try some traditional weekend fare – pancakes and waffles – made extra enticing with Bigelow Pumpkin Spice and Salted Caramel Bigelow Teas?  Savory and sweet pumpkin and smooth caramel recipes, Bigelow tea brewing, family togetherness …all combine for weekend memory magic you'll treasure  all week long!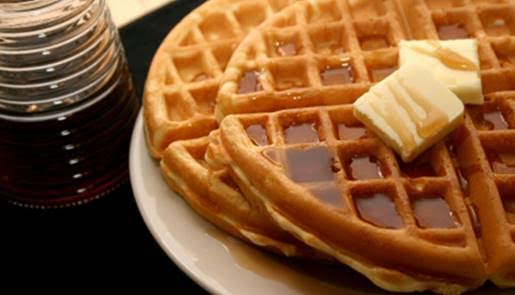 Ingredients
1 ½ cups hot water
1 ¾ cups all-purpose flour
1 tablespoon baking powder
1 tablespoon sugar
1 teaspoon cinnamon
½ teaspoon salt
2 eggs, lightly beaten
2 tablespoons vegetable or canola oil, plus more for brushing
½ cup walnuts, roughly chopped (optional)
Electric waffle maker (an 8 inch round waffle maker was used for this recipe)
Instructions
Sprinkle with cinnamon and chopped walnuts for additional flavor. Steep tea bags in hot water for 3-5 minutes. Remove bags, being sure to squeeze thoroughly. Set tea aside to cool. In a large bowl, whisk together flour, baking powder, sugar, cinnamon and salt. Add cooled tea, beaten eggs, and oil. Stir to combine. Gently fold in the walnuts (if desired). Preheat the waffle maker. When hot, lightly brush the surfaces with oil, to prevent sticking. Place about ⅔ cup of batter onto the hot waffle maker. Close top and cook for approximately 2 minutes (most waffle makers have an indicator light which will let you know when the waffle is ready), or until waffle is cooked through and surfaces are crisp. Remove to a platter. Repeat with remaining batter. Serve warm with butter and maple syrup.

Ingredients
Salted Caramel Syrup with Bigelow Tea
Banana Pancakes
1⅓ cups all-purpose flour
1 Tbs granulated sugar
1 tsp baking powder
½ tsp baking soda
¼ tsp salt
½ cup milk
½ cup Bigelow Salted Caramel Tea (already steeped)
2 very ripe bananas, mashed (about a cup)
1 whole egg
1 TBS butter, melted
Banana slices to garnish
Instructions
In a medium sized bowl combine flour, sugar, baking soda, baking powder, and salt. In separate bowl, whisk milk, tea, mashed banana, egg, and melted butter together until smooth. Fold wet ingredients into dry ingredients and using a spatula, mix untill just combined. Let batter sit while preparing syrup.
Syrup
Steep a mug of salted caramel tea, remove tea bag and put 1 and ⅓ cup in a heavy pot. Add 7 ounces of sweetened condensed milk and a tsp salt. Stir well. Turn on to medium heat, and stir to combine. In a separate bowl mix together corn starch and water. Add mixture to syrup mix, and stir over heat until it thickens. Remove from heat.
Cooking pancakes
Heat griddle and spray with no stick spray, or use a cast iron skillet with cooking spray heated over medium heat. Spoon batter in, creating 4-5 inch pancakes. Once bubbles begin to form carefully flip pancakes and continue to cook on other side until lightly brown.  Adjust heat if necessary.
Notes
Syrup can be stored in fridge in airtight container for up to two weeks.
* For a quick version use 1½ cup "Just add water" buttermilk pancake mix, ¾ cup Bigelow Salted Caramel Tea, and 2 bananas (mashed) to make pancakes, and top with syrup made according to directions.