This is Why Bigelow Caramel Teas are Perfect for Fall
Monday, 23 October 2017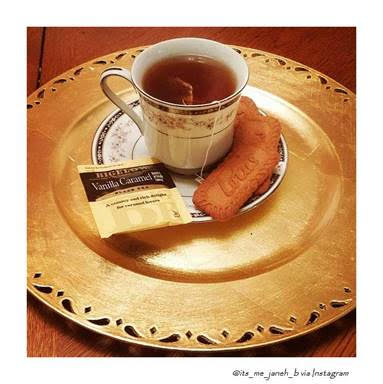 As the leaves start changing and fall gets into full swing, Bigelow Tea lovers everywhere look forward to sipping on delectable, decadent Bigelow caramel teas. The main ingredients in caramel are surprisingly simple: milk, sugar and butter. But when does caramel become caramel? The process of caramelization consists of heating sugar slowly to around 170 °C (340 °F). As the sugar heats, the molecules break down and re-form into compounds that create a characteristic rich caramel color and flavor. (wow, the science of food is amazing!)
A variety of desserts and confections are made with caramel, and all of Bigelow Tea's scrumptious seasonal caramel tea blends feature real pieces of caramel. (yum!) An all-natural blend of hand-picked black tea and caramel with just a hint of salt, the sweet and salty flavor of Salted Caramel tea is a perfect after-dinner (or anytime!) treat. Velvety smooth Vanilla Caramel tea features robust black tea blended with rich caramel and creamy, oh-so-luscious vanilla. Add a little milk and sweetener, and you've got a decadent delight! (yum!)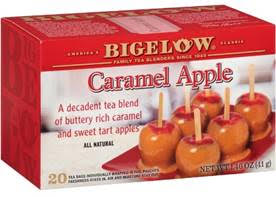 Tasty caramel and exotic chai spices are carefully mixed with mountain-grown hand-picked black tea to create heavenly Caramel Chai  Black Tea. One sip and you'll see why caramel and chai are a perfect union of rich spices and buttery caramel.
And our newest treat, Bigelow Caramel Apple Tea is a great way to satisfy your sweet tooth without getting sticky fingers! This tasty tea is the embodiment of fall flavors–rich caramel and sweet-tart apples pair perfectly with bold black tea to create a party of caramel apple flavors!
@mrspandalee writes on Instagram: "Drinking my new Bigelow Caramel Apple tea in my new #HalloweenCat cup my amazing husband got me!" You go, mrspandalee…..after all, October 31st is National Caramel Apple Day! (yay!)
C'mon, who doesn't love the rich, creamy taste of caramel? (right?!) Give Bigelow Tea's yummy caramel tea blends a try, and tag #TeaProudly to share your favorites!