Old vs. New – And All the Other Reasons Why Tea is Steeped in History!
Wednesday, 8 November 2017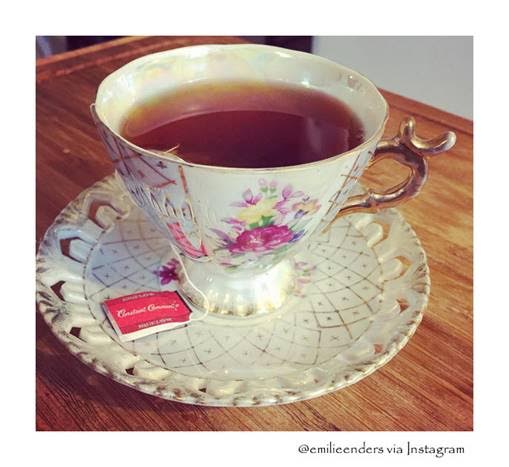 Alright, so history might not be your favorite subject, but when it comes to tea, it goes waaay back! Actually, if you think it's pretty cool to drink tea now, just think – 2,100 years ago, others did, too! So, grab your fave Bigelow Tea flavor and let's do a then vs. now.
Afternoon Tea
Then: Many tea drinkers may think of afternoon teatime as a British tradition (even though the post-lunch, pre-dinner cup and nibble has roots across numerous cultures). Anna, the 7th Duchess of Bedford is the woman to thank for the traditional English teatime as we know it. In 1840, Anna started partaking in the light meal to help stave off afternoon hunger pangs in between lunch and supper.
Now: Today, traipse into an afternoon tea party and be ready to see a scene with three-tiered serving stands filled with treats like tea sandwiches, petit fours, scones, and clotted cream. From fancy hotels to teahouses to your own kitchen, afternoon tea has come a long way since an afternoon snack – it's a full-fledged event!
Iced Tea
Then: Richard Blechynden has often been attributed with making the first iced tea at the World's Fair in St. Louis in 1904. As sales for his hot tea dropped while summer temperatures rose, he purportedly poured tea over ice to entice fairgoers. Some dedicated research tells another story, though, with iced tea's roots reaching as far back as 1879, when Marion Cabell Tyree created a recipe for green tea over ice, which was published in a community cookbook called Housekeeping in Old Virginia. Later, in 1884, another recipe for iced black tea surfaced from the Boston Cooking School.
Now: Iced tea has become so popular, that there was even a bill introduced in 2003 that proposed a requirement for all Georgia restaurants that serve tea to serve it sweetened over ice. It was later determined to be an April Fool's joke as an attempt to bring humor to the Legislature, but Georgia State Representative John Noel allegedly said that he wouldn't mind if it became law!
Book About Tea
Then: Long ago—in 1211 to be exact—a famous Buddhist priest by the name of Eisai wrote what is known to be the oldest book on tea in Japan: Kissa Yojoki ("How to Stay Healthy by Drinking Tea"). Kind of cool to know that even in the 1200s, tea was a part of a trend of healthy living…
Now: Today, there are countless books, podcasts and blogs about tea. A quick snapshot of the popularity of tea articles today, the Tea page on Reddit has nearly 100,000 subscribers, more than one million subscribers on social media, and receives about 150 posts to share each week.
Tea in America
Then: Letters between John and Abigail Adams mention tea. One from July 1774 describes a hostess only serving coffee since tea (during the American Revolution) was considered unpatriotic. Fortunately, Americans came back around to this delightful beverage—and not just for throwing it into harbors.
Now: On any given day, more than 158 million Americans are drinking tea. Clearly, things have changed since the 1700s.
Sought after by noble, innovated by inventive brewers and written about for centuries, tea has a storied history. So, the next time you're confronted by a historical fact and feel your eyes glazing over, just think about how tea was probably livening things up behind the scenes. Do you have a favorite tea-related story to tell from your own history? Tag #TeaProudly on social media and share it with us.