Oh My – It's Time for Pie!
Friday, 1 December 2017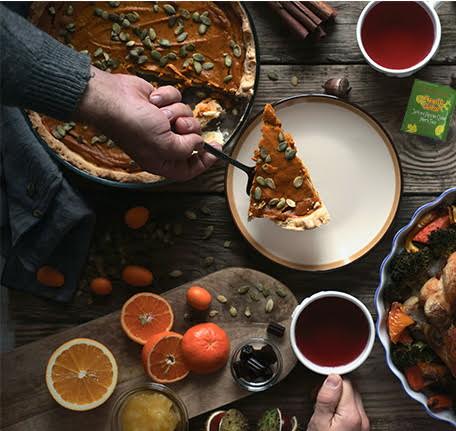 December 1st is National Pie Day and we can only guess that the #TeaProudly community (and Bigelow Tea of course) are down for this celebration, right?!
So "why pie"?  Here are some fun pie facts to share with anyone who is asking:
Humble (Pie) Beginnings –  The Ancient Greeks, as far back as 5th century BC, described sweetmeats, including small pastries filled with fruit, which many think were the first pies.
Pie Talk – the word pie is said to derive from magpies, the name of the species of wild birds known for their hiding and hoarding skills. The history of the connection between the dessert and the bird species is not clear; some say birds were a delicacy and cooked into pies, others rationalize pies have hidden fruits and delicacies under their crusts, likening this to the magpie.
Pie In The… – Pieing – the technical name for a pie in the face – is an old standard when it comes to comedy sketches.  The first incidence of pieing was in a 1909 silent film called "Mr. Flip".
Whatever the origins or backstory, at Bigelow Tea we know pie is best served as dessert, or anytime snack, with your fave tea, hot or iced.  In fact, why not take the pie / tea combo a step further by trying out this tea infused pie recipe?  Bigelow Earl Grey Meringue Pie has a rich aroma and taste of natural bergamot from our Earl Grey Tea…total yum…and a true #TeaProudly pie eating moment once you take your first bite!  Enjoy!!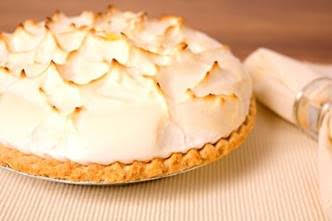 Ingredients
1 1/2 cups water
1 cup sugar
2 tablespoons all-purpose flour
3 tablespoons cornstarch
1/4 teaspoon kosher salt
2 tablespoons unsalted butter
4 egg yolk
1  puff pastry shell
4 egg white
6 tablespoons sugar
1 tablespoon lemon juice
1 teaspoon cream of tartar
Instructions
Heat oven to 400.
Place pastry into baking dish of choice and make holes with fork to let air escape. Place some weight on pastry to prevent it from rising and bake till golden brown. Let cool till ready for use.
Heat water and steep tea ten minutes.
Combine 1 cup sugar, flour, cornstarch and salt and stir into tea.  Bring to a boil and whisk in butter.
Stir together egg yolks and temper with hot tea mixture and then return to pot and bring back to a boil then pour into prepared pasty shell.
Whisk egg whites with either lemon juice or cream of tartar. When soft peaks form add sugar and continue whipping till firm peaks form.
Spread over pastry and let it touch edges. Bake at 400 till meringue begins to brown and let cook till merigue is firm and cooked through. If meringue begins to get to dark lower temp to 300 and let cook till meringue sets.
Chill and serve.