Make Way For Cupcakes, Bigelow Tea-Style!
Friday, 15 December 2017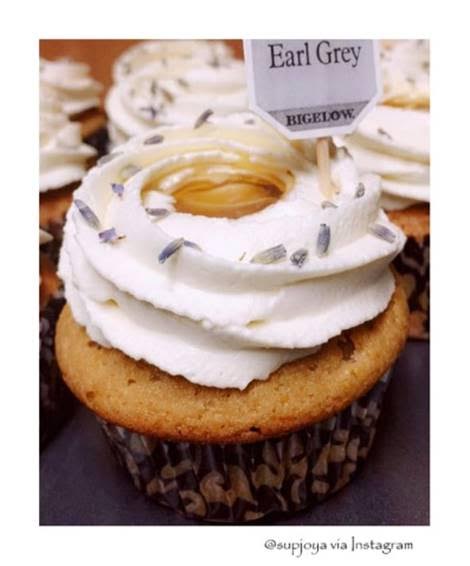 Did you know that the term cupcake refers to "any small cake that is about the size of a teacup," according to the Internet? No? It also means THE BEST THING IN THE WORLD. Yummmm! Reason #1 to make a batch today? (Um. Do you need a reason? Because cupcakes!) Well, it's National Cupcake Day, so it's only fitting to enjoy one (or a dozen… whatever) with a cup of Bigelow Tea. And, guess what, there are even a few recipes here to get you started. Or, make your own, tag #TeaProudly and make the world drool.
But, first, how about some random nuggets of history on the cupcake? Did you know that cupcakes were mentioned as far back as 1796 in American Cookery by Amelia Simmons? However, the earliest documentation of the term "cupcake" appeared in a cookbook in 1828. Someone was definitely on to something, because today, cupcakes are trendy with a capital "T." While a standard cupcake recipe uses the same basic ingredients (butter, sugar, eggs and flour—easy enough!), these days you can find unique cupcakeries and bakeries across the globe. There are countless flavors, designs and ingredients to choose from. Check it out and see for yourself!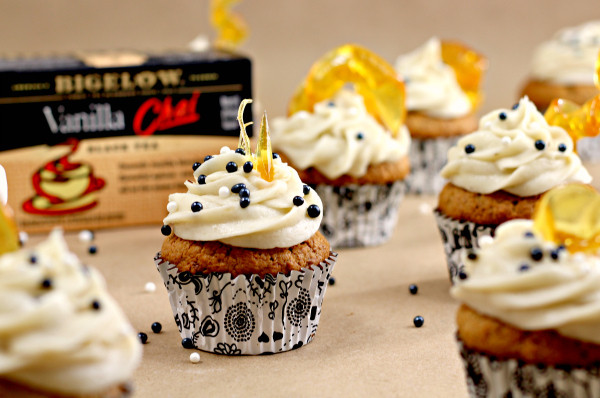 Ingredients
Cupcakes
2 ½ cups of all purpose flour
1 tsp of baking soda
½ tsp of baking powder
pinch of salt
2 very rip bananas (mashed)
1 tsp of vanilla
1 stick of softened butter
1 cup of sugar
2 eggs
½ cup of Bigelow Vanilla Chai Tea
½ tsp of nutmeg
½ tsp of cinnamon
¼ cup of half and half OR milk
Banana Buttercream
2 bananas mashed
3½ cups of powdered sugar
2 sticks of butter
Sugar Decorations
2 cups of sugar
1 cup of water
½ tsp of cream of tarter (stabilizes)
Instructions
Cupcake Instructions
Mix all the dry ingredients together. This includes the flour, baking powder, baking soda, salt, sugar, nutmeg and cinnamon. Add the softened butter, vanilla and eggs and stir. Add the mashed bananas. Next add the Bigelow Tea. And then add the half and half. Bake at 350F for 15 minutes or until a toothpick comes out clean.
Frosting Instructions
First whip the two sticks of softened butter. It's best to let the butter come up to room temperature slowly, try to avoid microwaving them to soften them. Add the mashed bananas…try and find very ripe bananas. Add the powdered sugar little by little. If you need it to be stiffer, just add more sugar, if it's too stiff, then add a tablespoon of milk.
Sugar Decorations
Okay these are SOOO EASY. Add all the ingredients into a pot and turn on medium high heat. You'll need a candy thermometer and watch it closely. Stir constantly and after about 15 minutes it should be around 340F. Once it reaches around 320, be careful! Sugar can burn quickly! Once it reaches 340F, get some parchment paper, spray it with non-stick spray and pour the caramel sugar mixture onto it. Immediately the mixture starts to cool. Tip: slide a bendable cutting board under it and slowly form a log. Once the caramel is cool enough (2-5 minutes), slowly snip off pieces with scissors and form different creations. Just be careful because the sugar is still hot.
Ingredients
5 Bigelow Constant Comment tea bags steeped in ½ cup boiling water
½ cup butter
1 cup granulated sugar
1 cup brown sugar
4 eggs
1 can (15 ounces) of pumpkin puree
2 cups all-purpose flour
2 teaspoons baking powder
1 teaspoon baking soda
1 teaspoon salt
½ cup vegetable oil
Instructions
Preheat oven to 350 degrees (F). Steep tea and set aside to cool (be sure to squeeze tea bags to get all the liquid). Cream together butter and sugar until light and fluffy. Slowly add eggs, one by one. Once eggs are combined, add the can of pumpkin. In a separate bowl, sift together flour, baking powder, baking soda and salt. To the tea that has been steeped, add enough vegetable oil to reach the ¾ cup mark on measuring cup. Alternate mixing the wets and dries to the pumpkin mix until combined. Scoop mixture into cupcake liners and bake for 20 minutes or until a tooth pick is inserted and comes out clean.
Ingredients
1/2 cup milk
3 egg whites
1 tsp vanilla
1 vanilla bean
1 cup flour
1/4 cup & 2 tbsp sugar
2 tsp baking soda
1/2 tsp salt
4 tbsp butter
2 tbsp vegetable oil
3 cup powdered sugar
1 cup butter
1 Earl Grey tea bag
1 tsp vanilla extract
2 tbsp Earl Grey tea
Instructions
Preheat oven to 350 degrees.
In a small bowl, combine the milk, egg whites, vanilla, and the scraped insides of the vanilla bean.
In a larger bowl, mix together the flour, sugar, baking soda and salt.
On low speed, add the butter and oil and mix until you have a crumb texture. On medium speed, add the milk mixture and mix for two minutes until light and fluffy. Scoop the mixture in to a muffin tin and fill each cup 3/4 of the way.
Bake for 12-15 minutes until a toothpick comes out clean.
While the cupcakes are baking, melt the butter in a small sauce pan. Add the Earl Grey tea bag and steep over low heat for five minutes.
Put the butter in the fridge for 20 minutes. When the butter has solidified, take it back out and mix it together on medium speed with the powdered sugar, and vanilla. Add the Earl Grey tea a little bit at a time until you have the consistency you like.
When the cupcakes are cool, frost them!
(pictured at top)
Ingredients
Cupcake Ingredients:
2/3 cup whole milk
4 Bigelow Earl Grey teabags
1 3/4 cups all-purpose flour
1 1/2 tsp baking powder
2 tsp dried lavender
1/2 tsp salt
1/2 cup butter at room temperature
1 cup granulated sugar
1/4 cup honey
1 tsp vanilla extract
1 tsp lavender paste or extract (optional)
2 eggs at room temperature
Honey and dried lavender to garnish (optional)
Frosting Ingredients:
8 oz. cream cheese
1/4 cup honey
1/2 tsp vanilla extract
2 cups heavy cream
Instructions
Warm 2/3 cup whole milk in the microwave, then let 4 Bigelow Earl Grey teabags steep in the milk for about 10 minutes. The milk will eventually resemble a caramel color. When the tea is done steeping, carefully squeeze the teabags to wring out milk. Before disposing of the teabags, snip off the Earl Grey tags if you wish to use them to decorate your finished cupcakes. Allow the milk to cool to room temperature.
In a medium bowl, combine flour, baking powder, dried lavender, and salt. Set aside.
In a separate mixing bowl, beat butter, sugar, honey, vanilla, and lavender paste using an electric mixer on medium-high speed for 30 seconds. Add eggs one at a time, beating until well incorporated. Finally, mix in the Earl Grey-infused milk.
Add flour mixture in small batches, beating on low speed until the batter is just combined.
Preheat oven to 350 degrees F. Line a muffin tin with paper liners, and spoon batter into each cup until three-fourths full. Bake for 20-24 minutes or until a toothpick inserted in the center of a cupcake comes out clean. Cool cupcakes completely.
To make frosting, beat cream cheese, honey, and vanilla extract with an electric mixer on medium speed until light and fluffy. In half-cup batches, slowly add the heavy cream, beating until each addition forms stiff peaks. This frosting recipe makes a pretty big batch. I don't mind because it's my favorite frosting recipe (so light, and not overly sweet) and I like to pile my cupcakes high with frosting. But if you have leftovers, know that it refrigerates well.
Pipe frosting onto cupcakes however you wish. I like to use a star tip to create a "nest" on top of the cupcake. Just before serving, I garnish with dried lavender and carefully pour a dollop of honey into the center of the nest. If you saved your Bigelow Earl Grey tags, tape them to toothpicks and use them to decorate a few of your cupcakes.