All The Reasons Why Bigelow Benefits Teas Are The BEST!
Wednesday, 10 January 2018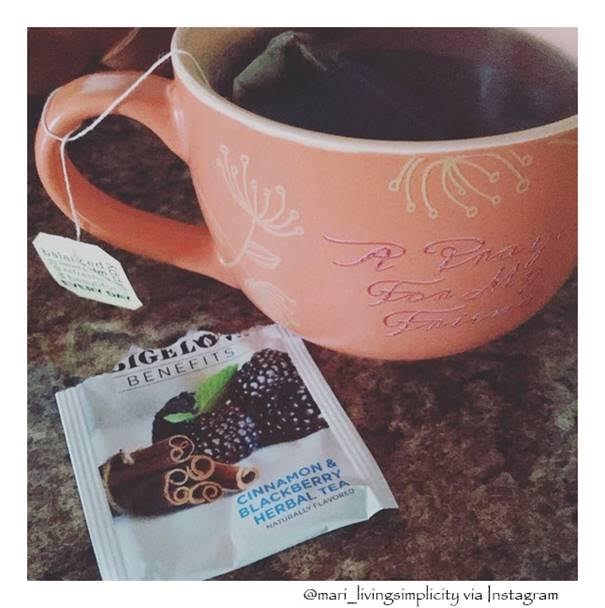 Rewind back in time hundreds and thousands of years… before prescriptions and medicines, people used foods, spices and plants as healing agents. And while modern medicine is *definitely* important, there's still a place for herbal and natural ingredients! That's why the Bigelow Benefits Tea line is so awesome! These amazing teas are all about offering feel good options for every day. And while your body is enjoying what's in your mug, your taste buds will thank you for all of the super delicious flavors that feature some pretty cool ingredients…check them out here and WSPY News to learn more. Here you go:
A bit of turmeric goes a long way…
Turmeric is a common ingredient in Ayurvedic practices. In Hindu, the bright yellow color of turmeric is associated with the sun. In India, turmeric is used in wedding and religious ceremonies and is thought to bring good fortune. Not only is it said to brighten our spirits, but it has also been found to have some anti-inflammatory properties, which are healing for the body. Each cup of Benefits Refresh will give your mind and body a pick-me-up with spicy-sweet turmeric, matcha green tea, and a bit of chili pepper. Yum!
Peach, love and ginger!
Ginger, a relatively inexpensive and easy-to-find root, is considered a very healthful spice in the same family as turmeric. It's got many healthy components and has a strong aroma caused by the compound gingerol. Ginger has a long history of use, most commonly used to soothe a stomachache and combat nausea, including morning sickness, mommies-to-be. Like turmeric, it also has anti-inflammatory properties. Settle that upset tummy or just give digestion a kick with a cup of Benefits Calm Stomach – each sip has the perfect balance of ginger- and peach-infused deliciousness.
Cinna-mazing!
Another popular spice is cinnamon, which is known for its antioxidant properties and delicious sweet taste. It may also be a heart-healthy way to help reduce inflammation and regulate blood sugar levels within the body. It might even have some protective effect against developing colds. The season of overindulging is over, but your body may still be feeling the after effects. Get back to your best self with the sweetness of cinnamon (and fruity blackberry!) in a cup of Benefits Balance.
Count some sheep and amp up your zzz's with chamomile and lavender. 
Chamomile is a flower that has historically been associated with calmness. Many different cultures have used it as a soothing beverage to enjoy before bedtime. Coupled with lavender – which is also known for lulling you into snooze-land safely – a cup of Benefits Sleep is bound to be relaxing.
Aloe-ve aloe and blueberry. <3
Each cup of Benefits Radiant Beauty has aloe (known for its incredible hydration and skin-soothing abilities) and blueberry (yummy and high in antioxidants!). This flavor is designed to make you feel like you're glowing—inside and out! Isn't aloe that stuff you lather onto a sunburn? Well, yes, but it also has quite the medicinal past. For thousands of years, aloe has been used for a variety of conditions, such as burns and skin irritations. In the 18th and 19th centuries, it was actually one of the most frequently prescribed medicines. Cool, huh?!
Chocolate everything.
If you weren't in high spirits before sipping on Benefits Good Mood, you just might be once you finish a mug. A complex blend of smooth almond, sweet chocolate flavors and blackberry, who wouldn't be in a good mood after sipping on this delicious flavor! Besides. It's chocolate. Who can say no to chocolate??
Lemon-y goodness.
We're still in that yucky time of cold and flu season. Don't let it get you down! Support your health with a tasty combination of Echinacea and lemon with a cup of Stay Well. After all, Echinacea has a robust history worth sipping over. Did you know that archaeologists have found evidence that Native Americans may have used the herb for more than 400 years to treat infections and wounds? Throughout history, people have used Echinacea to treat scarlet fever, syphilis, malaria, blood poisoning, and diphtheria. Today, it makes a perfect pair with lemon – don't let the sick season get you down!
Whether you are having fun with the fact that January is National Hot Tea Month, or cold and flu season has hit you hard, or you want to enjoy the most yummy tea on earth, look no further than a cup of Benefits tea. Drink proudly to be your best every day – we think that's a great resolution to make for the new year while livin' the #TeaProudly life!