This is Why You Should Celebrate National Hot Tea Month With "Constant Comment" Tea
Wednesday, 17 January 2018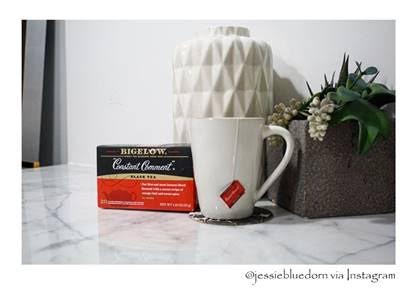 Ahhh……January. A time to recuperate from all that holiday cheer, snuggle up, and get warm and cozy with a nice hot cup of Bigelow Tea. Sounds lovely, doesn't it? And guess what? January is extra special because it's also National Hot Tea Month, which is a pretty big deal at family-owned Bigelow Tea!
Speaking of all things tea, let's talk about classic "Constant Comment" and how it came to be. Inspired by an Early Colonial recipe, in 1945 Ruth Campbell Bigelow disappeared into her New York brownstone kitchen with the idea of creating a better cup of tea. After weeks of trial and error blending black tea with orange rind and sweet spices, she emerged with her first cup of specialty tea. Ruth gave the blend to friends who later told her the tea "was a source of constant comment." Her tea found a name and the Bigelow Tea Company was born. Pretty neat, huh?!
Ruth knew she had created something special, so she took "Constant Comment" to sell in every store she could find. A shopkeeper told Ruth that he opened the container of tea so customers could get a whiff of its incredible aroma and it began flying off the shelves! Ruth took this idea one step further and set up a jar of "Constant Comment" in each case of tea, with the directions to "open and whiff."  Shops across the country placed this little jar by their cash registers and sales grew! (Hooray!)
"Constant Comment" has stood the test of time and has been one of America's most beloved specialty teas for over 70 years! Come to think of it, people are still "commenting" with #TeaProudly all over the web! (How's that for staying power?!) To this day, the secret recipe of black tea, rind of oranges and sweet spice is still blended only by Bigelow Tea Co-Chairs Eunice and David Bigelow.
Whether you like the sweet spice of "Constant Comment" or prefer to sip one of Bigelow Tea's other 150 flavors, there's no denying tea is something special that warms the hearts of so many people all over the world. So grab a friend, your favorite mug, some Bigelow Tea and #TeaProudly during National Hot Tea Month! (Woo-hoo!)