This Is What Balance Tastes Like…The Bigelow Tea Way
Monday, 22 January 2018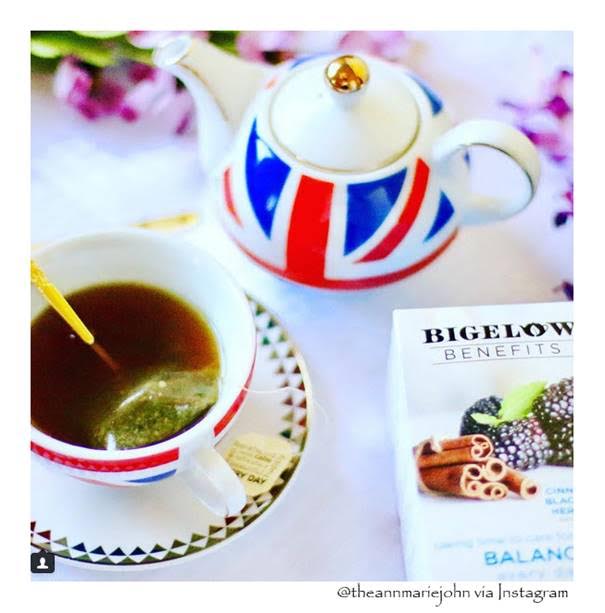 Okay, so when you think of the word balance, what comes to mind? Maybe it's finding time for you – learning how to balance everything in your life (and within yourself) or attempting to identify more work/life balance. Or, perhaps it's more literal – "I want to balance my checkbook this weekend!" (said no one ever). Well, whatever the word conjures, guess what – we can do it all with a cup of Bigelow Benefits Balance (Cinnamon and Blackberry Herbal Tea). After all, it's got Balance in its name!
What's even better, is that this tea was blended with a certain purpose in mind: while finding that inner balance, its hearty cinnamon and blackberry ingredients are so satisfying, you'll likely want to skip the addition of sweetener and help balance your sugar intake. And, hey, after the most indulgent holiday season ever, we're cool with that.
It's all about ingredients you know and tastes you will love, right?! A beautiful (and balanced!) blend of cinnamon, lemongrass, blackberry, fennel, apples and elderberries, each cup of Bigelow Tea Benefits Balance is *totally* delicious. It's robust and fruity with the perfect amount of spice.
And check this out: some of these ingredients go back thousands of years. Cinnamon was believed to have been first used as a perfuming agent during the embalming process around 2000 BC in Egypt. There is also evidence from the Iron Age Haraldskær Woman that she consumed blackberries some 2500 years ago, so these berries have been a foodie favorite for a long time!
Give this Bigelow Benefits tea a try and brew a pot for some friends or gift a box to someone who needs it. Any way you #TeaProudly is another way more people get to enjoy the incredible power and delicious flavor of tea!