Times Change, But Bigelow Teas Don't – That's #TeaProudly!
Monday, 29 January 2018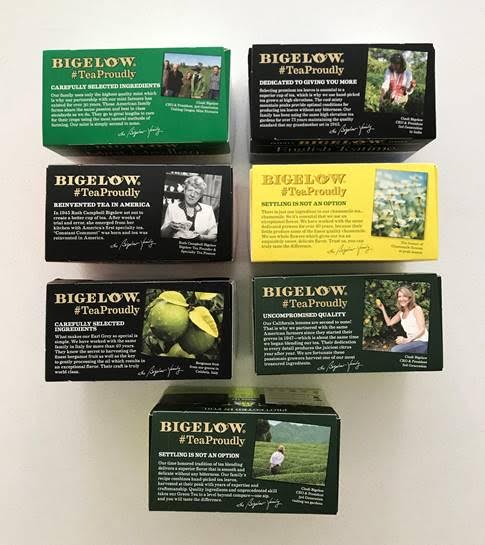 Listen up, tea lovers. If you haven't joined the Bigelow Tea #TeaProudly community (you qualify if you love tea!), now's the time. Why? Because drinking tea is warm and cozy; it soothes souls, connects people, invites conversation and makes memories. This, we believe, is something to talk about…something to share. #TeaProudly is the best place to be and now you can learn more from the top of our tea boxes. Yup, the next time you pick out your fave flavors, you'll notice something a bit different and we hope you love it as much as we do!
So, what exactly did we do? A #TeaProudly update, of course, on the top of our boxes. And that is not all you will find on our tea boxes, you'll see stories on the lid of the box, photos, easy to read listed ingredients and #TeaProudly messages on each tea tag. Because, hey, the times (and packaging) may change, but our delicious tea won't! Check out new packaging for the following flavors: "Constant Comment®", Earl Grey, English Teatime, Green Tea, Green Tea with Lemon, Mint Medley, and Cozy Chamomile.
Obviously, you all know what #TeaProudly is by now, but just in case you don't (hey, new tea drinkers!), here's how it works. We all love tea, right? And along with our passion (yours and ours!), is the fun we all have in sharing what's important. Because who doesn't love to talk about favorite tea flavors, awesome mugs, cool tea memories with friends and family, and any other time tea has rocked our world?!
See one of our new packages on your next shopping trip? Snap a pic and share it on social media with #TeaProudly!