This Is What We Do To Stay Well And Be Happy!
Friday, 2 February 2018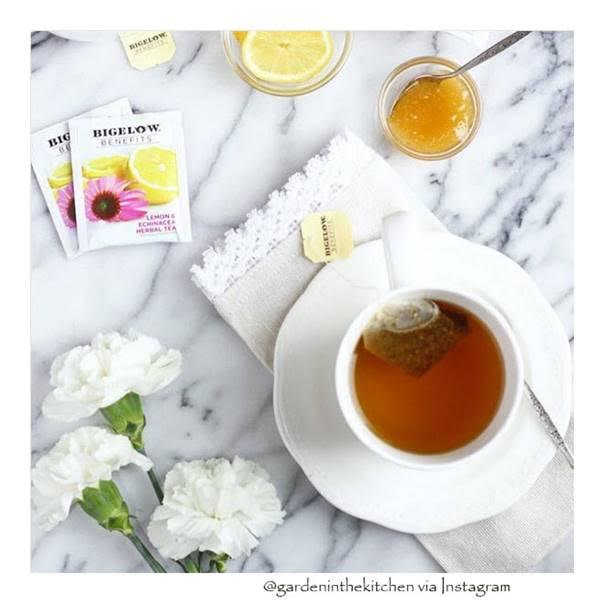 Looking to stay well every day? It's understandable, especially when we're still in the throes of cold and flu season. But don't let that get you down. Look no further than Bigelow Tea Benefits Stay Well! Each cup offers the delicious flavors of lemon and Echinacea – two super duper ingredients that will rock your world! A cup of this yummy tea is the perfect way to support your health.
Though it's often just "that sour fruit," the lemon is actually pretty versatile and has been a go-to ingredient throughout history. Many say it was used as a remedy for epilepsy, a toothpaste, invisible ink and even a bleaching agent. Lemons' origins are said to have come from the base of the Himalayan Mountains, but these days, they're cultivated in tropical and temperate climates around the world, with California leading production in the United States.
It's probably no surprise that lemons provide a lot of vitamin C, but they are also a good source of iron, fiber, vitamin B6, calcium, and copper, as well as folate and potassium. Research has suggested that lemons may even help with DNA cell protection, immune system regulation and inflammation relief. So when life gives you lemons, use 'em like we do in over twenty-three tea flavors!
Echinacea, on the other hand, got its start a little closer to home. It's native to the plains of North America, and doesn't grow wild anywhere else in the world (wild child!). It is cultivated across the globe though, especially in the United States and Europe.
Echinacea got its name from an 18th century German botanist, Conrad Moench, who named the plant after the Greek word echinos, meaning hedgehog. This is probably because of the spiny round seedhead on the plant. In addition to its nutritional properties, Echinacea also grow beautiful, daisy-like purple flowers. Its popularity has also led to concerns about overharvesting, and wild Echinacea is a protected species. We want this plant that keeps us well to stay healthy as well, after all!
Bigelow Benefits Stay Well is like an action duo of feeling good. The powerful partnership of these two terrific ingredients means you get an abundance of benefits in every cup. And with an amazing floral and citrus flavor, it's a perfect way to sit, savor and center yourself. Or you can share some time with friends or family over a cup, and #TeaProudly with this incredible combination — supporting wellness and full of teatime goodness. Cheers!