Healthy, Hearty Comfort Food Made With Bigelow Tea
Friday, 9 February 2018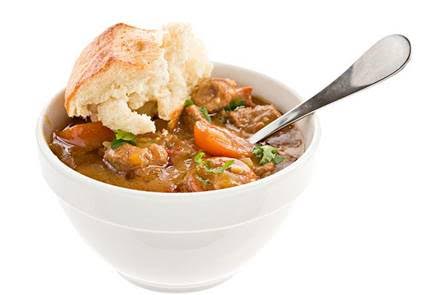 Oh winter – chilly, windy, generally unpleasant… there seems to be no end in sight! And we know a thing or two about winter woes here in our New England town of Fairfield, Connecticut, but we also know some of the best ways to combat the cold whether it's a hot mug of tea to warm your body, mind and soul or an amazing recipe made with Bigelow Tea Check out some of these fave recipes and try one tonight….take a pic, tag it #TeaProudly so we can share in the fun!
Fennels and leeks don't get their deserved due in the veggie world, but they are often paired in culinary creations as the result of their complementary flavors, and both add beneficial fiber, vitamins and antioxidant polyphenols to our diet.  The bold, fruity, spicy taste of "Constant Comment" tea adds a kick to this flavorful recipe.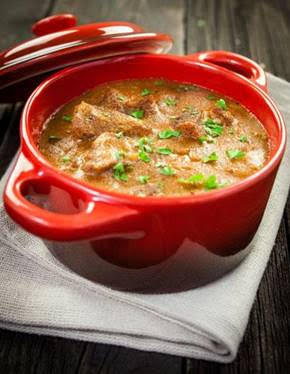 Ingredients
1 cup (250mL) chicken stock
1 cup (250mL) water
¾ cup (180mL) boiling water
¾ cup (180mL) apple juice
1 tablespoon (15mL) butter
1 small fennel bulb
3 leeks, cleaned, trimmed and thinly sliced
1 pound (500g) pork tenderloin, cut into medallions
¼ cup (60mL) flour
1 tablespoon (15mL) olive oil
1 – 10 ounces (280g) package of frozen peas
12 mini potatoes, unpeeled and cut into chunks
2 tablespoons (30mL) cornstarch
½ cup (125mL) mint leaves, chopped
Instructions
Preheat oven to 350ºF (180ºC). Make "Constant Comment" tea with ¾ cup (180mL) boiling water, discard the tea bags, squeezing to extract as much liquid as possible. Add chicken stock and set aside. Melt butter in large skillet and add fennel and leeks and saute gently for 4-5 minutes or until soft, don't brown. Transfer to a bowl and set aside. Add pork to large plastic bag; add flour, season with salt and pepper, and toss until pork is well coated. Add olive oil to large skillet and brown the pork in batches over medium heat. Remove pork and add apple juice, increase heat and stir up the brown bits from the bottom. Add the tea mixture and boil, add pork, fennel, leeks and potatoes. Cover and place in oven. Cook for 45 minutes. Remove from the oven and add peas, mix cornstarch with a little cold water to make a paste and add slowly to hot liquid. Return to oven and continue cooking until sauce thickens. Season with salt and pepper if needed and garnish with chopped
Protein rich beans and chicken, veggies and a unique lemon / pepper flavor combo make for a spicy, rich, warm-you-to-the-toes dish.  Bigelow's I Love Lemon tea adds a wonderful zing for sure.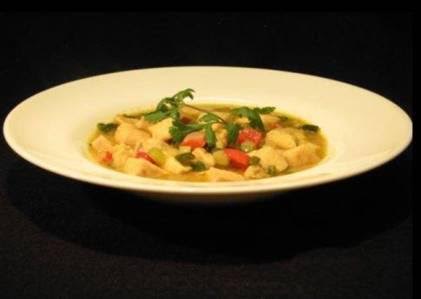 Ingredients
8 tea bags of I Love Lemon Herbal Tea
1 teaspoon kosher salt
1/2 teaspoon black pepper, whole, cracked
1 cup all-purpose flour
4 pounds chicken breast, 1″ cubed
4 ounces Extra Virgin olive oil
1 tablespoon garlic, minced
8 ounces onion, diced
4 ounces celery, diced
7 ounces Poblano Pepper, diced
5 ounces red bell pepper, diced
2 cups corn, fresh or frozen
1/4 teaspoon cumin
1/2 teaspoon cayenne
1 teaspoon chili powder
1 quart chicken stock
16 ounces beans, fresh cooked or canned
1/4 cup cilantro, chopped
Instructions
Heat saute pan and add oil.Toss chicken in flour until coated and shake off excess.  Sear chicken on all sides and remove from pan reserving oil in pan. Sweat garlic, onion and celery.  Add peppers and sweat.  Add corn and spices. Cover with chicken stock and add tea bags.  Bring to a simmer and add beans. Let simmer for one hour and adjust seasoning as necessary. Remove tea bags, stir in fresh cilantro and serve.
(Pictured Above)
Rock your dinner tonight with this exotic flavor celebration. Cinnamon, in the form of Bigelow Cinnamon Stick tea, is the star of this dish.  Satisfying lentils and chicken and germ fighting garlic and onions make for a powerhouse meal.
Ingredients
4 cups hot water
½ lb. dried brown lentils, rinsed well
2 tablespoons olive oil
1 medium onion, chopped
2 cloves garlic, chopped
3 lbs chicken, cut into bite-sized pieces
1 – 14.5 oz. can diced tomatoes in sauce
1 teaspoon salt
Freshly ground black pepper
½ cup dry roasted almonds, roughly chopped
3 tablespoon Italian flat leaf parsley, chopped
Instructions
Combine four cups hot water and four Cinnamon Stick® tea bags and allow to steep for approximately 5-7 minutes. Add tea and lentils to a large stew pot. Bring to a boil, cover and simmer for approximately 20 minutes, or until lentils are tender. Remove to a large bowl and set aside. In the same pot, add olive oil and saute onions and garlic until softened. Add cut-up chicken and cook until cooked through and no longer pink inside (about 10 minutes). Add diced tomatoes and cooked lentils to the pan and heat through. Season with salt and pepper. Add chopped almonds and parsley and serve.