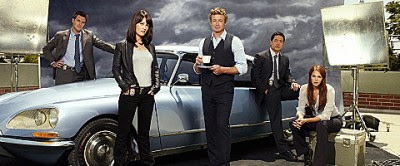 If you've seen the hit CBS series, The Mentalist, you probably know that handsome Simon Baker plays the role of Patrick Jane, an independent consultant with the California Bureau of Investigation who solves crimes with his skills of alert observation. And, if you've caught an episode of the show you would also know that the Patrick Jane character loves his tea! In almost every episode he drinks at least a cup … and sometimes he's shown pouring and serving it too!
Fans have become so obsessed with Baker's character and his tea drinking, that they'll even purchase teacups and saucers like the ones he uses on the show!
At Bigelow Tea we were wondering about what type of tea this sleuth character might be drinking….then we stumbled upon an interview with Tim Kang, who plays Kimball Cho on The Mentalist, an agent for the California Bureau of Investigation. He shared: "…Jane [Simon's character] probably drinks Earl Grey and [my character] probably drinks green tea…"
Very interesting…and if they truly are that intuitive–then we're sure that it's from Bigelow Tea!
Bigelow Tea's Earl Grey is a favorite of many amazing people, like @honeygirlkitch, who tweeted "So the jury is in …Bigelow Earl Grey is my favorite."
Not surprisingly, Mr. Baker, a native of Australia, adores tea in real life too. He's been quoted as saying his "turn-ons" include: "Hearing my kids laugh, a good cuppa tea, dancing with my wife."
Image via TV.com