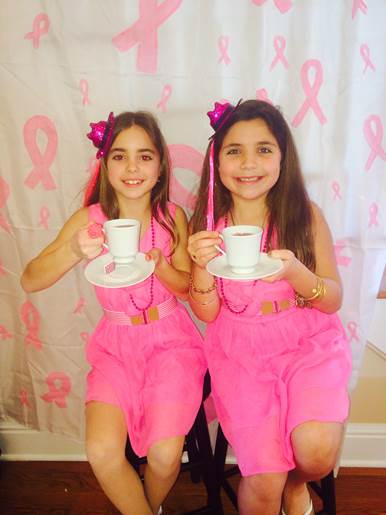 Meet the awesome girls and their moms who have teamed up to create the Cups of Care Program with the Norma F. Pfriem Breast Care Center in Bridgeport, Connecticut. These creative mother-daughter duos host in-home springtime tea parties to raise money for breast cancer treatment and build awareness about breast health. Bigelow Tea is incredibly proud to support this great cause by providing tea for the parties and encouraging others to join the effort!
If you know the story of "Constant Comment,"® you also know that the company began 70 years ago with one woman's initiative and passion for tea. So it's inspiring to see what these girls and their mothers are doing to make the world a better place—and to know that Bigelow Tea is a part of it. And while Bigelow Tea supports many charitable causes, there is a special connection to Cups of Care because founder Ruth Campbell Bigelow battled breast cancer.
Cups of Care began last year as a fun way to not only raise money for women struggling to pay for treatment, but also to educate teens about breast health, inspire overall wellness from an early age, and empower young women with the knowledge that they can make a difference in the community and lives of others.  Several mother-daughter teams came together to host eight tea parties and raised nearly $11,000. Wow!
"At Bigelow, supporting good work like this being done by these special young ladies makes each of us feel so fortunate" says Cindi Bigelow, third-generation President & CEO of Bigelow Tea. "They are truly making a difference and we could not be more proud to help, if even in just a small way. Brava young ladies … brava!"
For spring 2015, two parties have already taken place and another is scheduled for April 12th. The program is looking for volunteers to host their own in-home parties from now through May. To find out how you can host a Cups of Care Tea Party, contact Mari-Jo Gordon at the Norma Pfriem Breast Care Center, 203-255-5546.
You too can help make a difference "one cup of tea at a time!"