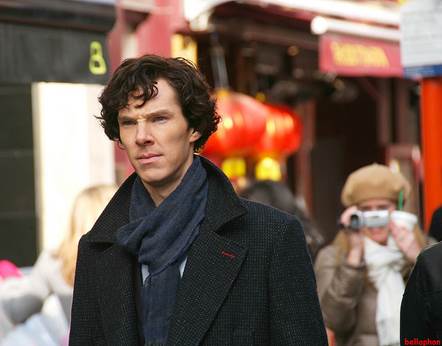 You might say that British actor Benedict Cumberbatch has a pedigree for drinking tea. Born and raised in London to actor parents, he is the grandson of a submarine commander and the great-grandson of a distinguished British diplomat. Bigelow Tea, which also boasts three generations of tea-drinking family members, can imagine teatime at the Cumberbatch's with a whole house full of notable tea drinkers!
Benedict's diverse film and TV career is also impressive and includes playing Kahn in Star Trek Into Darkness and the voice of Smaug in The Hobbit: The Desolation of Smaug.Currently he's starring in 2014's The Imitation Game (which recently landed him on the cover of TIME magazine!) and as a modern day Sherlock Holmes in BBC's Sherlock. Benedict's even famous for some amazing celebrity impressions!
Along with all his talent, Benedict also loves his tea. No surprise. And like his demanding roles, he upholds precise expectations for his cuppa, saying "Never ever, ever push a tea bag with a spoon. You're out the front door if you do that!" Tough talk … and 3rdgeneration President and CEO of Bigelow Tea Cindi Bigelow agrees—do not squeeze that tea bag!  Another item Cindi has in common with Benedict? Family!
In a Twitter interview, Benedict was quoted as saying his Dad made the best tea (he and Cindi Bigelow share that same sentiment) while Benedict's fiancée, theatre director Sophie Hunter, dished about how seriously the actor takes his tea. If she has any questions about brewing and serving tips for married life with Benedict, she can look at Bigelow Tea's important tea tips! Even Bigelow Tea fans are a wealth of information, like @LifeCrustCutOff who tweeted her own tea brewing tips. It's all good, even for an old school tea-lover like Benedict Cumberbatch!
Image by bellaphon via Flickr.com