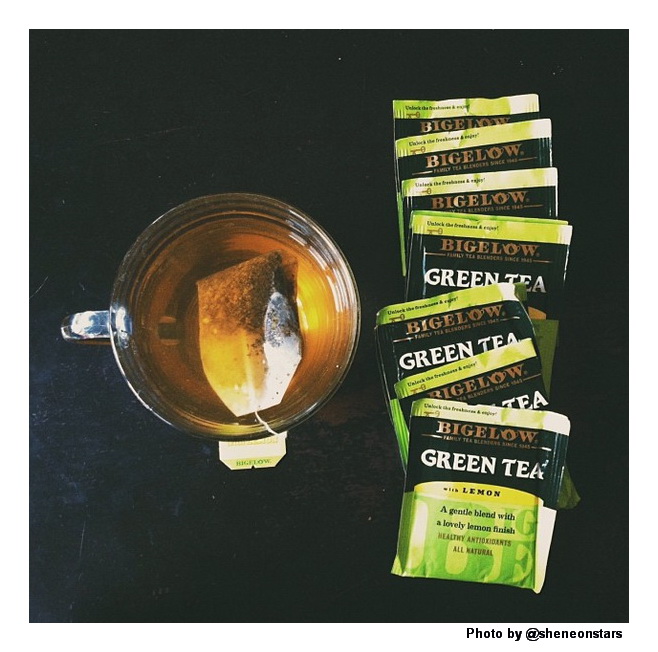 The taste, aroma and warmth of a mug of Bigelow Tea Green Tea are so enticing that people all over the world brew a daily cup! But if you need additional reasons to feel good about your tea, Time magazine recently wroteabout seven ways green tea gives you a boost. Here are the first three!
Green tea is good for your bones. According to a study published in the journal Nutrition Research, women who drank up to three cups of tea per day had a 30% lower risk of osteoporosis-related hip fractures.
Green tea may help prevent cancer. Cancer rates are lower in countries, like Japan, where green tea is a go-to drink, according to the University of Maryland Medical Center. While researchers can't be sure that green tea alone is responsible for low cancer rates, it does contain the chemicals EGCG, EGC, ECG and EC, which are known for their antioxidant activity. Plus, properties of green tea could help protect your skin from the sun's UV damage, the leading cause of skin cancer.
Green tea could help you maintain a healthy weight. It could even reduce body fat, researchers found in a 12-week study published in the American Journal of Clinical Nutrition. Green-tea extract may also have the power to decrease obesity and obesity-related illnesses like diabetes.
Now that's some good news! Bigelow Green Tea drinker clearly agrees;  @rjankrithika loves it so much that she tweeted that it is "The Elixir of My Life." Awesome!
New to green tea? Try a box of Bigelow's Six Assorted Green Teas and let us know which one is your favorite.