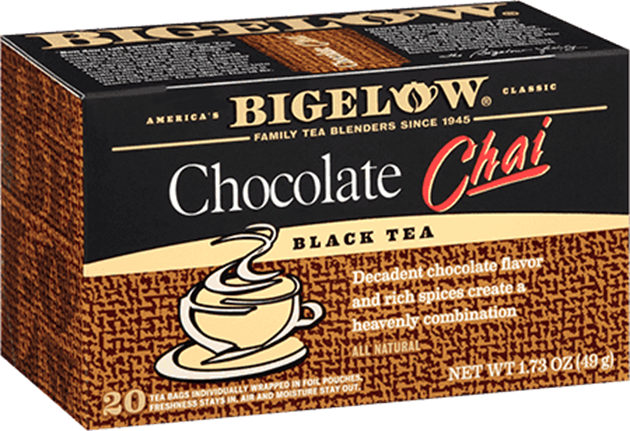 Some things are just better together. Like Bogey and Bacall or Bey and Jay, tea and chocolate just work. Bigelow Tea's two flavors that feature chocolate offer an unparalleled sensory experience—you might even say they're sippalicious!
Tomorrow, October 28, is National Chocolate Day, chocophiles everywhere will want to start sipping two exceptional Bigelow Tea chocolate and black tea blends: Chocolate Chai and White Chocolate Obsession.
Chocolate Chai is a decadent treat with zero guilt. Add a splash of milk and sweetener and voila! Meet your new best friend.
White Chocolate Obsession, part of Bigelow's Seasonal Tea range, is like a kiss in a cup!
So what are you waiting for? Brew, pour, sip and enjoy a #dailycup—or several—of Bigelow Tea chocolate blends on National Chocolate Day!   As @JUDIandLEVI tweeted, it's "remarkable!"