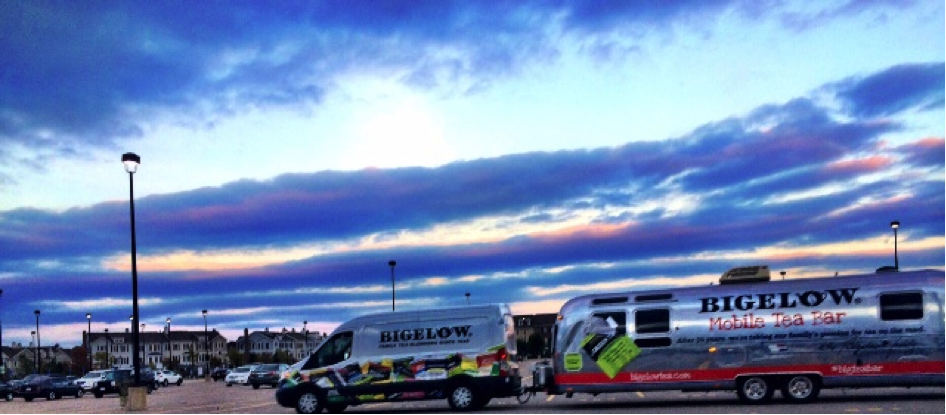 After a summer hiatus, the Bigelow Tea Mobile Tea Bar is restocked and back on the road with Biggie the mug mascot, sharing the Bigelow family's story (which includes this year's 70th anniversary) and passion for tea from coast to coast! Look for the #bigteabar at several New York City stops beginning September 12 and Boston in October before it heads to the West Coast. You can also step up to the tea bar at Bigelow Tea's own Community Challenge on Sunday, September 27 in Southport, CT.
The mobile tea bar has logged 14,000 miles and served 86,000 cups of tea since it officially began its journey last September with its debut at Bigelow Tea headquarters in Fairfield, CT, to kick off an ongoing celebration of the company's 70th anniversary as America's family tea blenders. Imagine!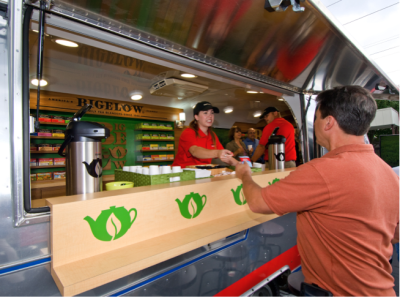 But the idea for this epic road trip began even earlier—when the customized 31-foot 1977 Airstream trailer was retrofitted to include a sampling window and canopy, custom wood cabinetry and cozy lounge area to enjoy a cuppa while talking tea and viewing Bigelow family memorabilia. This sweet ride blends classic taste and old-fashioned American ingenuity with a modern sensibility, much like the tea company that inspired it!
And much more is in store at Bigelow's Mobile Tea Bar venues this season. In addition to being welcomed with a variety of teas to sample, you can instantly win prizes by tagging your event photos with the #bigteabar hashtag. Prizes include T-shirts and commemorative "Constant Comment"® 70th anniversary tea tins. Check out the tour schedule to see when the tea bar will be rolling into city near you!