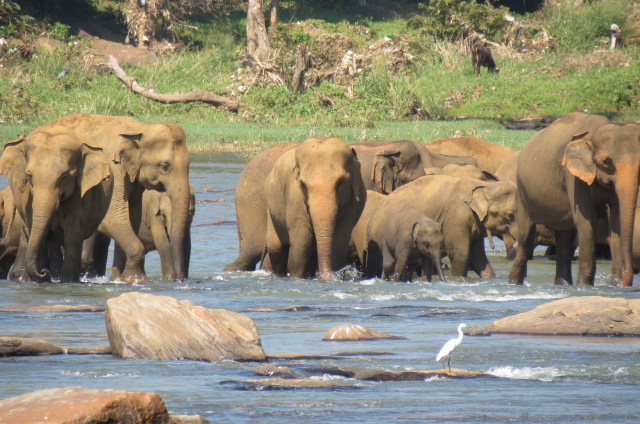 Since we didn't go to bed till 1am after dinner with the ambassador, morning came kind of early when the alarm went off a little after 5am.  We were ready to start up for the mountains at 6am. Prassana, with whom we had spent our first full day in Sri Lanka, was there with a welcoming smile. Behind the wheel was a lovely man named Ishanka. In the car we went, first heading out of Colombo and then slowly climbing up. Traffic was nuts. Of the 20 million people who live on the island, 2 million live in the city.
I knew we'd be passing by Pinnawala, the renowned elephant orphanage, on our way up. We just had to stop there!  So after about three hours out of Colombo we came to our first destination…the orphanage for elephants. It was so wonderful. This place was nursing back to health or just raising elephants of all sizes and ages that had been wounded or orphaned.  The first thing I got to do was feed a bottle to a four year old elephant. It was amazing. The elephant actually wrapped his trunk around me and the bottle. After that we walked around and saw two babies at 4 and 7 months of age. They were so sweet and never left each other's side.
Then we headed toward the lake where they were all going to spend two hours being scrubbed and just having fun in the water. On the way there, they asked if I wanted to ride one. Me??  Sure!!!  So next thing I know I am on a 50 year old female named Guiena (or something like that).  Me!  On an elephant!! Are you kidding me? It was a most enjoyable ride. She was so gentle. But it was pretty crazy to be so high up on her back!  After that outrageous experience, smiling ear to ear, we started back up the mountain. We had two plantations to visit in the same day.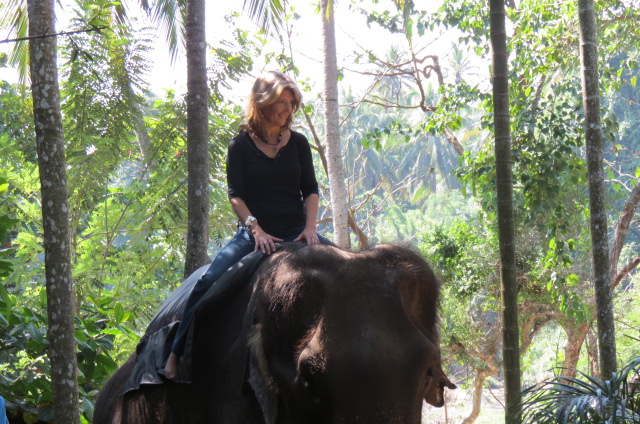 Slightly smaller than its African cousin, the endangered Asiatic Elephant grows to between 6.6 to 9.8 ft and can weigh 2.25 to 5.5 tons.  It can be identified by its smaller, more rounded ears.  They are fascinating animals.  I encourage you to find out more about them.
Cindi Bigelow