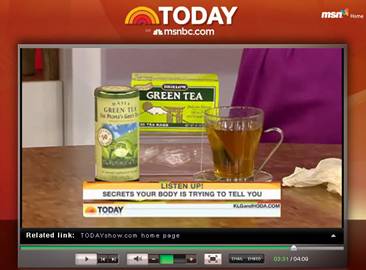 Did you know that your calf size could affect your risk of a stroke?  According to a recent segment on NBC's Today Show it can. Take a look at the video featuring Courtney Smith, Executive Editor of Prevention Magazine where Smith explains that women with calves measuring less than 13 inches – have a higher risk of a stroke.
Concerned host, Kathy Lee Gifford falls just on the border in that category, so what advice was offered? Drink a lot of green tea!  Take an even closer look at the clip and you'll notice that, of course, they chose to display some delicious Bigelow Tea!
The segment outlined a study of over 40,500 Japanese men and women; those who drank five or more cups of green tea daily had the lowest risk of dying of heart disease and stroke.
Here at Bigelow Tea, we've been talking about the positive effects that green tea can have on reducing the risk of a stroke for some time now. Check out some of our previous posts on green tea and stroke prevention! And enjoy that extra cup of Bigelow Green Tea Today, and every day!