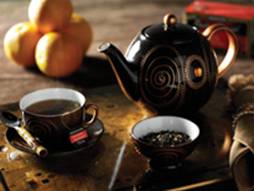 You've just sipped your last drop of Bigelow Darjeeling Tea and – just before throwing out the used teabag – a little voice inside your head screams "WAIT!"  You deftly lift your hand away, and place the used teabag on the counter. Staring intently at the teabag, the light bulb inside your head then suddenly flashes and the cobwebs disappear, as all those old home remedies come flooding back to you. Better write them down, in case you forget again! So here's a few:
These unsightly sores can be relieved (not cured) by placing a warm used teabag on the affected area, applying pressure from three to thirty minutes.
Bad breath is just plain embarrassing!  A daily regimen of black tea, like Bigelow English Teatime®, is just the right tonic for this social faux pas.
No one likes to have smelly feet usually caused by bacteria from prolonged shoe wear.  Soak your feet in a tub of hot water and 5 new teabags, for 30 minutes. Refreshed!
Place a warm, used teabag on the affected area once a day, until the blackhead disappears. For this application, use green tea only. For this issue, ehow.com says Green Tea is best.
Soak a couple of new teabags in cold water. Squeeze them and then place them over your closed eyes, for at least 10 minutes. Soon you'll lose that raccoon look! (NOTE: Warm, used teabags can replace an herbal tea poultice.)
Now, time to silence those inner voices and perhaps succumb to the pleasure and taste of a relaxing cup of Cozy Chamomile®