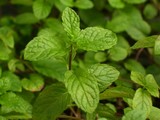 Thanks to Gardening.about.com for the image

Many of us associate mint with fresh breath or long, thirst-quenching summer drinks.  (With or without that extra "kick")  At Bigelow Tea, we've crafted refreshing mint libations for each category – it's all a matter of taste!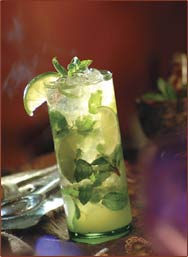 with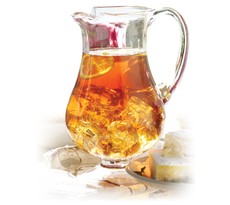 Constant Comment® and Plantation Mint® Iced Tea
For centuries, this sweet-smelling herb has been used in recipes around the world, notably in cultural cuisines throughout Europe, the Middle East and India. Mint ("Mentha") with its soothing flavor and cooling after-sensation, is renowned for its curative properties; healing/relieving common maladies like migraines or headaches, digestive problems, nasal and chest congestion, and stress. Its active ingredient, menthol, soothes the digestive system with its anesthetic qualities – which numb the gastric mucous membrane and stimulate proper digestion.  Additionally, mint has an antioxidant called perillyl alcohol, believed to contribute to the prevention of cancer – notably, colon, lung and skin cancer.
A hardy, fast-growing and "user-friendly" perennial herb, mint has many varieties. The most popular are spearmint and peppermint and apple or orange mint. Grow a family of mint in your garden and you will enjoy the fragrant aromas and the little violet or purple-white flowers that bloom like mad during growing season!

There are so many ways to savor mint – the best, of course, is to brew one of Bigelow Tea's varieties of mint tea! If you have a green thumb, cut some of your own mint leaves and then pour hot (not boiling) water over the mint, cover (to keep the mint oils from evaporating) and then steep.  Or, simply relax and sip a cup of Bigelow's select mint herbal tea – like Mint Medley®, Green Tea with Mint, or Chamomile Mint.  Tastes great and it's healthy, too! That's a win-win, don't you think!