Living a gluten-free life can be quite a challenge for people with gluten intolerance due to health issues like celiac disease, dermatitis herpetiformis, Lyme disease or wheat allergies.  For these individuals, consumption of food containing gluten produces an immune response which causes damage to the small intestine, and possible subsequent harm to other organs. Gluten is found in grains like wheat (durum, semolina, kamut, spelt), rye, barley and triticale. These are the big "no-no" foods for those who are gluten-intolerant. The Gluten Intolerance Group® of North America has produced an additional list of ingredients which, although not forbidden, should be avoided.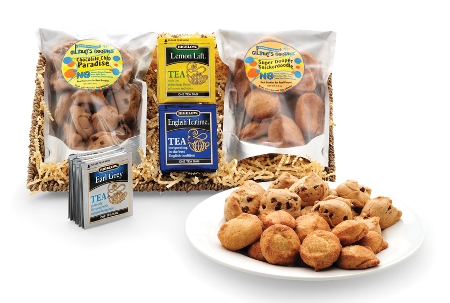 Gluten Free Goodie Basket from Bigelow Tea
Bigelow Tea is always responsive to customer needs, and promoting good health is right at the top of our list.  That's why, with very few exceptions, Bigelow® teas are naturally Gluten-free.  If you have a heightened sensitivity to gluten, just check the ingredients section of our packaging for "GLUTEN FREE" or "NOT GLUTEN FREE."  As we rally our support for all the gluten-intolerant tea aficionados out there, we are offering our special Gluten Free Goodie Basket, with scrumptious chocolate chip cookies, Snickerdoodles and, of course, a selection of 16 individually wrapped Bigelow® teas!
So, you see, you don't have to sacrifice tasty treats for good health!  The two can go hand in hand!  Enjoy …and, remember, always read your labels!