Are you ready to bare it all at the beach, or at the gym this summer? Maybe you should grab some Green Tea, to quench your thirst and help you look your best. You can enjoy the health benefits, great taste – and even the convenience with the new Bigelow Tea Organic Iced Teas!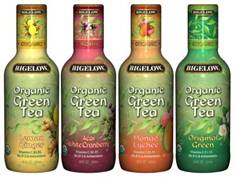 Of course weight training can help you keep your abs flat, while whole grain products and Green Tea have been shown to reduce your risk of cancer, but did you know that the catechins in Green Tea can increase metabolism?
It's no wonder that in a recent study about healthy drinks that Green Tea was named one of the best for you. If you're wondering what drinks to avoid, check out the 20 unhealthiest drinks in America, but you won't find Green Tea on that list!
Whether you need a cool refreshing drink, or a relaxing moment with a hot cup of tea, Bigelow Tea has calorie free Green Tea to help you –  hot, fresh brewed, organic, iced and ready to drink!