Image compliments of About.com
While some states across the country celebrate golf with their own Golf Months, August is National Golf Month, and a great excuse to get out on the links for a few extra rounds. The origin of golf is still open to debate, but accepted golf history is that in the 12th century golf – as it's played today – originated in Scotland. It's thought that shepherds were knocking stones into rabbit holes at the very spot where the Royal Golf Club of St. Andrews now sits. It's a long world away from 12th Century Scotland to the 21st century and the 91st PGA Championship in August, where Tiger Woods will be shooting for another major win and his 5th PGA Championship Cup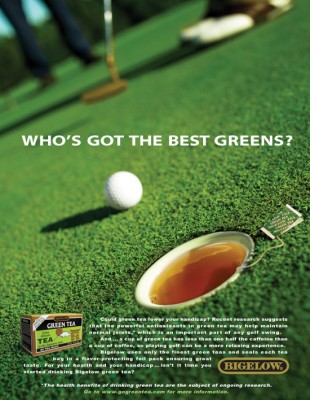 But you don't need to play like Tiger Woods to enjoy a sunny morning, or day out on the links in harmony with nature and a beautifully manicured course. And it's interesting – this Bigelow Tea ad for our great green tea may also point to the future, and using tea to keep closely shorn golf greens in better shape: at the storied Presidio Golf Course in San Francisco, the use of  tea compost on their course (and especially the greens) provided for deeper root systems, allowing turf to better withstand foot traffic and turf diseases. Raise your cup to the best greens in the game!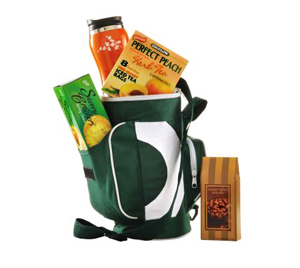 Golf Bag Cooler from Bigelow Tea
At Bigelow Tea we know that our tea is great before "Tea off" or for that mighty thirst out on the 18th green! And whether you shoot in the low 70's or well into the 100's, you'll score a hole-in-one with our Mini Golf Bag cooler, packed full of goodies and plenty of Bigelow Tea to keep you hydrated on the course for all 18 holes. And hey, it's National Golf month! Maybe an extra round for the day?