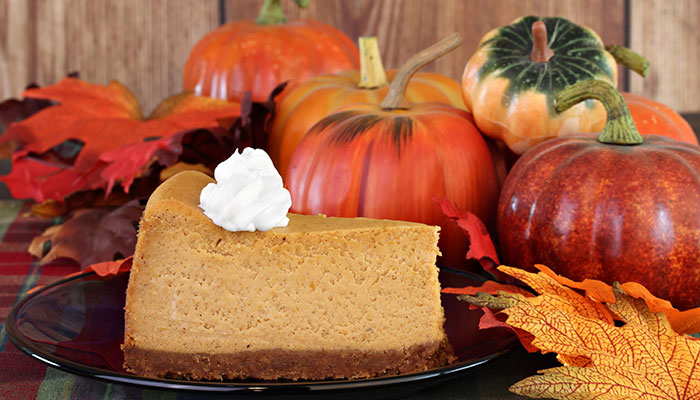 October officially marks the arrival of pumpkin season! Wholesome and fibrous, eaten or slathered on as a beauty treatment, pumpkin, studies say, is packed with essential nutrients for healthy eyes, mood, weight and skin. Plus, its distinctively sweet & savory flavor and meaty texture gives the gourd the ability to be scrumptious in every meal of the day! So keeping this in mind, check out Bigelow Tea for the perfect blend of Pumpkin Spice Tea—made with real pumpkin, cinnamon, ginger and cloves—to enjoy on its own or infuse into some incredible recipes ranging from dessert to breakfast! Happy autumn!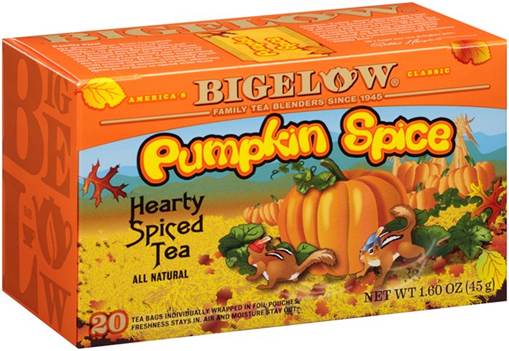 (Pictured at top)
Ingredients
4 tablespoons (60mL) butter, melted
1 ¼ cup (310mL) gingersnaps, crushed
1 tablespoon (15mL) brown sugar
1 teaspoon (5mL) cinnamon
1 ½ cup (375mL) heavy cream
24 ounces (750g) cream cheese, softened
1 ½ cups (375mL) sugar
3 large eggs
1 ½ cups (375mL) pumpkin pie filling
¼ cup (60mL) pecan halves
Instructions
Preheat oven to 325*F (160*C). To make the crust, melt the butter in a small saucepan. Mix the gingersnaps, brown sugar and cinnamon together. Add the melted butter and mix together with a spoon. Spray a 10″" (25cm) spring-form pan with cooking spray. Press the crumb mixture into the bottom. Filling: Add heavy cream into saucepan, heat over medium heat, be careful not to boil. Add Bigelow Ginger Snappish and Bigelow Pumpkin Spice tea bags and steep cream for 5 minutes. Remove tea bags and squeeze out excess cream. Set aside to cool. Beat cream cheese in large bowl with an electric mixer until fluffy, gradually add sugar, beating well. Add the eggs one at a time and beat the mixture until it is fluffy and pale. Add the cooled cream and beat well. Stir in the pumpkin pie filling, combine well and pour the cheese mixture into prepared springform pan. Place pan into a larger pan and fill with hot water halfway up. Bake for 60-70 minutes. Do not over bake, the middle should have a little jiggle. Refrigerate at least 3 hours to chill thoroughly. Remove cheesecake from the pan, decorate the edge of the cheesecake with pecan halves, cut into wedges and serve with whipped cream if desired.
Pumpkin Spice Waffles with Walnuts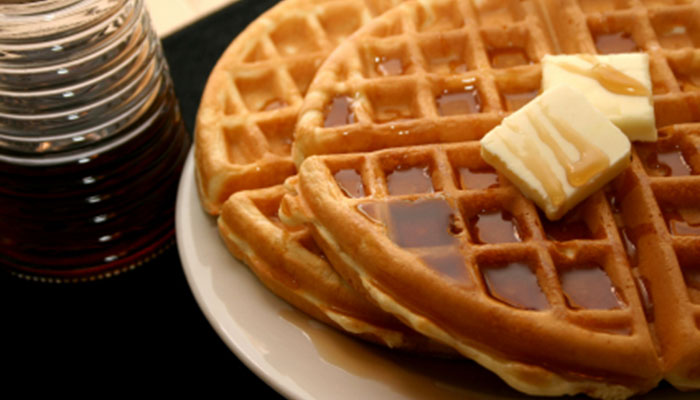 Ingredients
1 ½ cups hot water
1 ¾ cups all-purpose flour
1 tablespoon baking powder
1 tablespoon sugar
1 teaspoon cinnamon
½ teaspoon salt
2 eggs, lightly beaten
2 tablespoons vegetable or canola oil, plus more for brushing
½ cup walnuts, roughly chopped (optional)
Electric waffle maker (an 8 inch round waffle maker was used for this recipe)
Instructions
Sprinkle with cinnamon and chopped walnuts for additional flavor. Steep tea bags in hot water for 3-5 minutes. Remove bags, being sure to squeeze thoroughly. Set tea aside to cool. In a large bowl, whisk together flour, baking powder, sugar, cinnamon and salt. Add cooled tea, beaten eggs, and oil. Stir to combine. Gently fold in the walnuts (if desired). Preheat the waffle maker. When hot, lightly brush the surfaces with oil, to prevent sticking. Place about ⅔ cup of batter onto the hot waffle maker. Close top and cook for approximately 2 minutes (most waffle makers have an indicator light which will let you know when the waffle is ready), or until waffle is cooked through and surfaces are crisp. Remove to a platter. Repeat with remaining batter. Serve warm with butter and maple syrup.