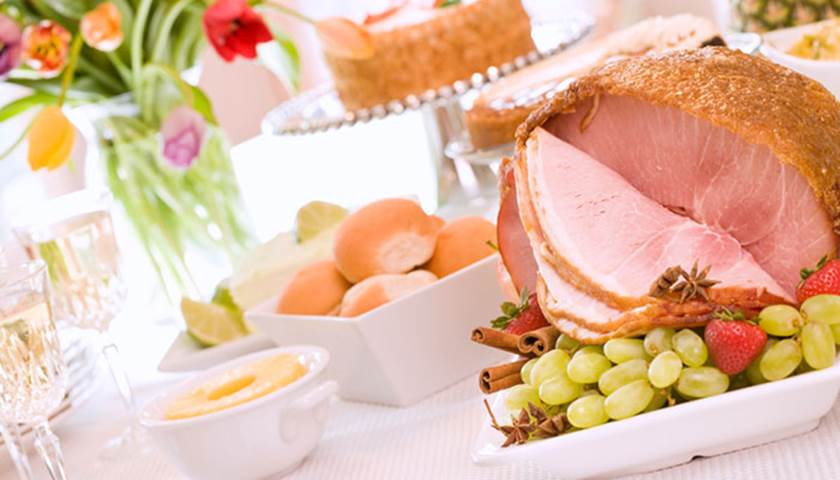 As a family-owned company, Bigelow Tea savors time well spent with loved ones. For your next family gathering, bring Bigelow Tea to the table with a Glazed Ham with Constant Comment Orange Sauce and Lemon Orzo With Roasted Vegetables. These dishes offer a warm and comforting taste perfect for your next holiday dinner. Bon appétit!
Glazed Ham with Constant Comment® Orange Sauce
(Pictured at top)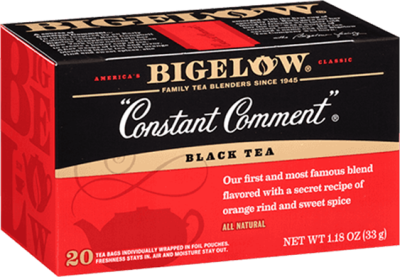 Ingredients
⅔ cup (160mL) brown sugar
2 tablespoons (30mL) butter
1 cup (250mL) hot water
½ cup (125mL) fresh orange juice
Zest of orange
1 teaspoon (5mL) ground cloves
1 – 6 to 8 pound (3 to 4kg) cooked ham
12 wholes cloves
Instructions
Brew Constant Comment® tea bags in hot water. Discard the tea bags, squeezing to extract as much liquid as possible. Combine tea, brown sugar, butter, orange juice and zest with ground cloves in small saucepan. Bring to boil over medium heat. Remove from heat and set aside. Preheat oven to 325ºF (170ºC). Using a sharp knife, score the fat on top of the ham into diamond shapes, then press the cloves, stem side down, into each diamond. Place ham in shallow roasting pan. Brush the Constant Comment® Orange Glaze on the ham liberally. Roast the ham for about 15 minutes a pound, brushing two to three times during the cooking process. Remove from oven and let stand for 15 minutes before carving. Drizzle sliced ham with remaining sauce.
Lemon Orzo With Roasted Vegetables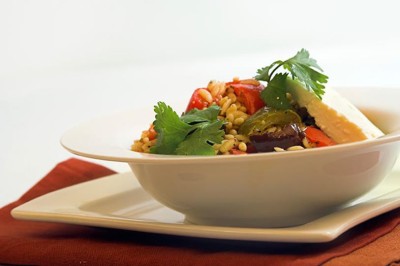 Ingredients
1 zucchini, washed and cubed
1 red bell pepper, 1-inch (2.5cm) diced
1 yellow bell pepper, 1-inch (2.5cm) diced
1 red onion, peeled, 1-inch (2.5cm) diced
2 garlic cloves, minced
¼ cup (60mL) extra virgin oil
Freshly ground pepper and salt to taste
½ pound (250g) orzo
¼ cup (80mL) boiling water
¼ cup (60mL) vegetable oil
Zest from one lemon
Salt and pepper to taste
4 green onions, chopped
¼ cup (60mL) pine nuts, toasted
1 cup (250mL) feta cheese, cut into ½ diced
15 fresh basil leaves, julienned
Instructions
Using a large baking pan, toss vegetables, garlic, salt and pepper in olive oil. Roast 40 minutes at 375ºF (190ºC), until browned, turning once with a spatula. Meanwhile, cook the orzo in boiling salted water according to package directions. Drain and transfer to large serving dish. Add the roasted vegetables with juices to the orzo. Combine well. Make the dressing by pouring boiling water over the tea bags. Let steep for 10 minutes and remove the tea bags. Combine vegetable oil, lemon zest, salt and pepper, shake or whisk. Add to the vegetables and orzo. Garnish with green onions, pine nuts, feta cheese and basil. Taste for seasoning and serve at room temperature.