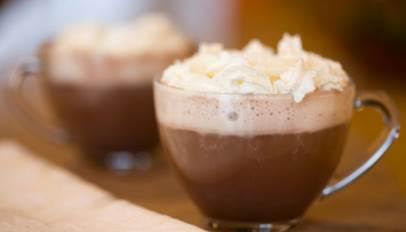 It's no secret that Bigelow Tea is creative and passionate about specialty tea… and specialty drinks! Bigelow offers hundreds of recipes for fans to incorporate or pair with their favorite Bigelow Tea blends, including fan-favorite Sweetheart Cinnamon Hot Cocoa recipe. Adults and kids alike will love this special hot cocoa made extra cozy with Bigelow Sweetheart Cinnamon Herbal Tea! Perfect for before, during or after Valentine's Day!
Bigelow Tea has such a wonderful reputation in the food and beverage industry that in January of 2015, Eunice and David Bigelow were honored for their decades-long contributions by being inducted into the inaugural class of the Specialty Food Association Hall of Fame! The Bigelow family has been shaping the American tea market for over 70 years and continues to grow under the leadership of third-generation President and CEO Cindi Bigelow. The family's story was recently featured in Connecticut Explored magazine. Check out the feature here … and read it while sipping some of that yummy cocoa!
Ingredients
4 Bigelow® Sweetheart Cinnamon Herbal Tea Bags*
2 ¼ cups hot whole milk
2 tablespoons Dutch process cocoa powder
2 tablespoons sugar
*Whipped Cream
1 cup cold whipping cream or heavy cream
1 tablespoon sugar
1 teaspoon pure vanilla extract
Instructions
In a small saucepan, warm milk until piping hot but not boiling. Remove from heat and add tea bags. Allow to steep for 5-7 minutes. Remove tea bags and gently squeeze out the liquid. Add sugar and cocoa, and whisk vigorously to combine. Serve hot. *Optional: Top with freshly whipped cream or mini-marshmallows. *Place all ingredients in a large bowl. Using an electric mixer, beat until stiff peaks are formed. Spoon on top of hot chocolate.