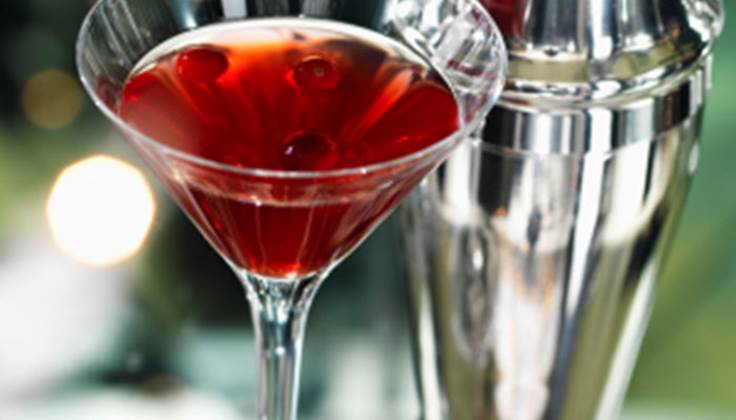 It's raining pomegranates here at Bigelow Tea! November is Pomegranate Month and we're going all out for this sweet celebration. Tea fans are buzzing about Bigelow Tea's naugh-tea cocktails, roasted pork chops, and other delightful recipes made with Pomegranate Pizzazz. When you aren't cooking, Bigelow Tea makes it easy to take this pomegranate obsession anywhere. Tea fan @TatyanaAssata considers tea a survival tool and brings a steaming mug to her desk for writing sessions.
If you're looking to share the Pomegranate Month love with friends, make a cup of Green Tea with Pomegranate and head to the kitchen… everyone will love these dishes!
(Pictured, above)
Ingredients
2 cups boiling water
1 tablespoon sugar
4 ounces vodka
4 teaspoons lime juice
2 ounces Triple Sec
Ice
Instructions
Place tea bags into measuring cup and add boiling water. Let steep for 10 minutes. Remove tea bags, add sugar and blend well. Refrigerate until cold. For one drink: Pour 2 ounces of the cooled sweetened tea, 1 ounce vodka, 1 teaspoon lime juice and ½ ounce Triple Sec into a shaker filled with ice. Shake and strain into serving glass.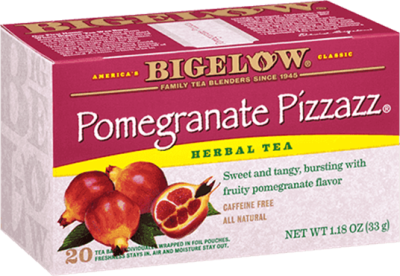 Roasted Pork Chops Pomegranate Pizzazz ® over Mashed Plantains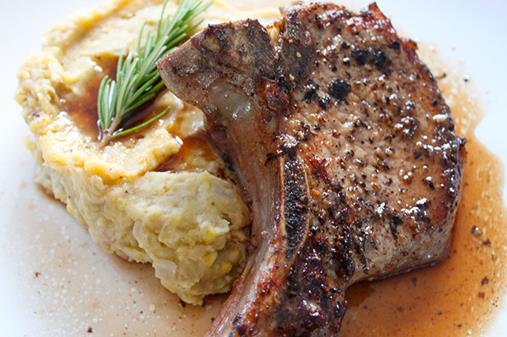 Ingredients
4 cups of water
¼ cup kosher salt
2 tablespoons honey
3 garlic cloves, mashed
3 sprigs of rosemary
1 tablespoon peppercorns
10 Bigelow Pomegranate Pizzazz ® Herbal tea bags
4 (¾ inch thick) rib pork chops 8-10 ounces each (about 2 pounds total)
1 cup of boiling water
½ cup orange juice
2 tablespoons (30ml) brown sugar
Olive oil
4 large yellow plantains, rinsed and sliced into 2-inch chunks with peel on
1 tablespoon canola oil
3 garlic cloves, minced
2 large shallots, diced (about ½ cup)
Salt and pepper 
Instructions
Combine water, salt, honey, garlic, rosemary and peppercorns in a large pot, cover and bring to a fast boil. Remove from heat. Add 5 Bigelow Pomegranate Pizzazz® herbal tea bags. Steep 20 minutes. Remove tea bags from brine, extracting as much liquid as possible. Allow to cool and chill until ready to use. The brine should be completely cold before adding the pork chops. Combine pork chops and brine solution in a large plastic bag, Chops should be completely submerged. Place the sealed bag in a large glass bowl or container and refrigerate, at least 2 hours or up to 4 hours. Plantains Directions: Put plantains in a heavy saucepan with enough cold water to cover. Bring to a rolling boil. Lower to medium heat and simmer covered until the plantains are tender and peeking out of the peel, about 20 minutes. Drain plantains, reserving cooking liquid. When cool enough to handle, peel and mash the plantains until smooth, adding cooking liquid as needed. Set aside. Remove the pork chops from the brine, rinse and pat dry. Discard brine solution. Heat the olive oil in a large skillet over medium-high heat until shimmering but not smoking. Working in two batches, carefully add pork chops to skillet and brown, about 3 minutes on each side. Transfer seared pork chops to a baking pan and set aside. Preheat oven to 400 degrees Add 5 Bigelow Pomegranate Pizzazz® herbal tea bags to boiled water. Steep 5-8 minutes. Remove tea bags, extracting as much liquid as possible. Add brewed tea, orange juice and brown sugar to the skillet and simmer until reduced by about half. Pour sauce over pork chops and place the baking pan in preheated oven. Roast until an instant-read thermometer inserted horizontally registers 150°F, 7-9 minutes. Remove from oven and allow to rest 5 minutes before cutting. While the pork chops roast, wipe the skillet clean and heat the canola oil in a large skillet over medium heat. Add the shallots and garlic and sauté about 3 minutes. Add the plantains and sauté until heated through. Add salt and pepper to taste. Serve the pork chops over the mashed plantains. Pour sauce over pork and garnish with a sprig of rosemary.