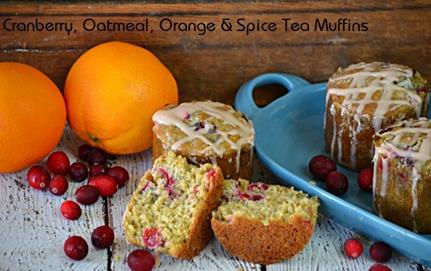 Bigelow Tea is always awesome in the mornings … and during Oatmeal Month the Bigelow family has cooked up some new ways to enjoy tea beyond the cup as the flavors of Bigelow Tea infuse these two wonderful  and easy to make recipes. In the first, it's Orange & Spice Herbal Tea making the muffins moist and flavorful. In the second, the zesty taste of Ginger Snappish Herbal Tea With Lemon does the trick!  Give them a try! Tea fan @purpluepassion12 tweeted that a muffin is "the best breakfast item ever to pair with @bigelowtea!"  Do you agree? Share how you'll get #backtobreakfast! And while you're at it, brew a mug of good, strong American Breakfast Black Tea to pair with these recipes. Happy muffin making!
Cranberry Oatmeal Orange and Spice Tea Muffins
(pictured above)
Ingredients
For the Muffins:
2 cups old fashioned oats
1/2 cup brewed Bigelow Orange and Spice Herbal Tea (two bags)
1 3/4 cups milk
zest from one orange
1 cup fresh or frozen cranberries, sliced
2/3 cup granulated sugar + 1 tablespoon, divided
2 cups all-purpose flour
4 teaspoons baking powder
1 teaspoon baking soda
1/4 teaspoon salt
2 large eggs, slightly beaten
1/2 cup vegetable oil
For the Glaze:
3 ounce cream cheese, softened
2 tablespoons butter, softened
1 teaspoon vanilla extract
1 1/4 cups confectioners' sugar
5 to 6 tablespoons brewed Bigelow Orange and Spice Herbal Tea (1 tea bag)
Instructions
For the Muffins:
Preheat oven to 375 degrees.
Line muffin pans with 24 cupcake liners OR 11 2 3/4-inch x 2-inch cupcake molds
In a medium bowl add the oats, brewed tea, milk and orange zest.
Stir to combine and set aside for 20 minutes.
Place sliced cranberries in a small bowl, sprinkle 1 tablespoon sugar over cranberries and set aside.
In a large bowl whisk together the sugar, flour, baking powder, baking soda and salt.
Add the eggs and oil to the oatmeal mixture; stir to combine.
Add the oatmeal mixture to the flour mixture; stir until combined.
Fold in cranberries.
Scoop into prepared muffin pans.
TIP: For regular size muffins use an ice cream scoop. For the larger size cupcake molds use 2 ice cream scoops.
Bake regular size 20 to 25 minutes AND large 30 to 35 minutes.
Cool on rack.
For the Glaze:
Cream together the cream cheese and butter.
Mix in vanilla.
Blend in the sugar.
Add the tea 1 tablespoon at a time until it reaches a drizzle consistency.
Use a large spoon and drizzle over muffins.
Gluten-free* Ginger Oatmeal Muffins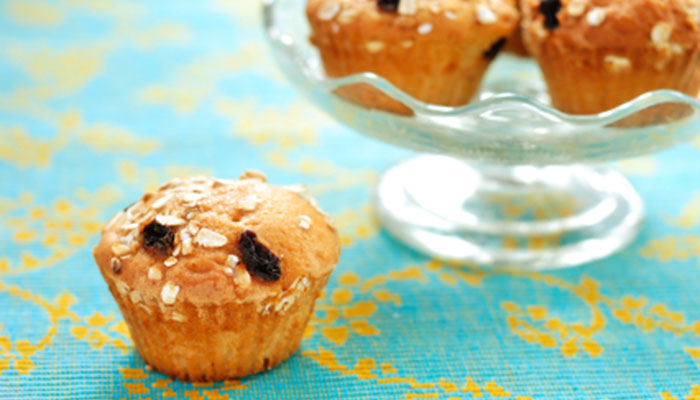 Ingredients
Tea Concentrate:
Muffins:
⅔ cup firmly packed dark brown sugar
½ cup vegetable oil
2 tablespoons molasses
2 eggs
½ cup tea concentrate
1 tablespoon freshly grated ginger
1 ½ cups gluten-free flour
½ cup old-fashioned rolled oats*
1 tablespoon baking powder
1 teaspoon baking soda
¾ teaspoon Xanthan Gum**
½ teaspoon salt
½ cup dried currants
2 tablespoons sugar
*Use Gluten Free certified Oats to be totally Gluten Free when making this recipe
Instructions
Place tea bags in a 1-cup glass measure. Add water to equal 1 cup. Steep tea for 10 minutes. Squeeze all liquid from tea bags into cup. Discard tea bags. Heat oven to 350 F. Spray 12-cup muffin tins with baking spray; set aside. In large mixing bowl add brown sugar, vegetable oil, molasses, and eggs. Mix at high speed, scraping bowl often, until creamy (1 to 2 minutes). Add tea concentrate and ginger. Continue mixing at medium speed, scraping bowl often, until well mixed (1 minute). In medium bowl stir together gluten-free flour, rolled oats, baking powder, baking soda, Xanthan Gum, and salt. Add to tea mixture. Mix just until moistened. Stir in currants. Fill muffin tins about ⅔ full. Sprinkle top of each muffin with about ½ teaspoon sugar. Bake until very light brown (14 to 18 minutes) or until wooden pick inserted in center of muffin comes out clean. Remove from oven. Cool.
*What is Gluten Free and Gluten-Free Recipes? All vegetables, fruit, meat, fish, poultry, eggs, beans, nuts, rice, potatoes, and corn are gluten free in their natural state. Also milk and most hard cheeses and creams are naturally gluten free. Recipes using any of these items would be naturally gluten free. The recipes designated Gluten free do not include the following ingredients: wheat, rye, barley, or oats; or ingredients that might contain these, but Bigelow Tea does not assume liability for information reported on our recipes. However, anyone who needs or wants to follow a gluten free (GF) diet should check ingredients and products to ensure they are GF. (For example, sesame seeds are naturally GF, but it's always wise to check with the manufacturer to make sure that gluten was not introduced to the product during processing.) Bigelow Tea makes no guarantees that the recipes are appropriate for your diet. Individuals should consult with their physician or other medical professional.