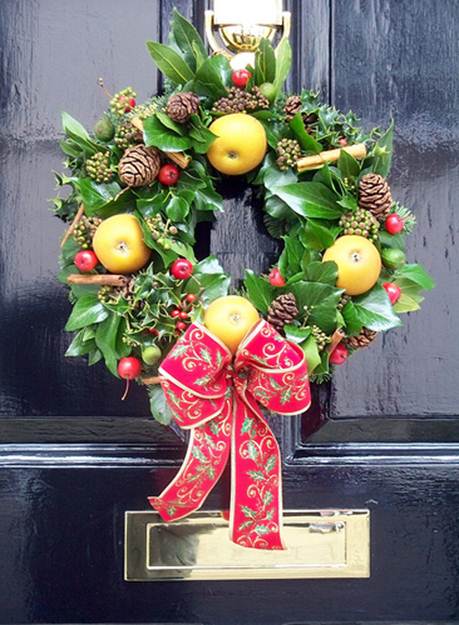 On this special night, open your doors to neighbors, family and friends and greet them with a perfect appetizer: a little nibble with big flavor courtesy of Bigelow Tea. Here are two of our favorite tea-infused apps to welcome your holiday guests and any carolers who might stop by. We love these bites because you can assemble them in less than an hour, leaving more time to focus on enjoying the togetherness of the holiday. Enjoy … and have a very wonderfully merry evening!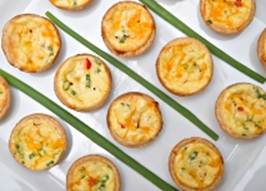 Ingredients:
Tea Concentrate:
10 bags Bigelow Green Tea
1 cup boiling water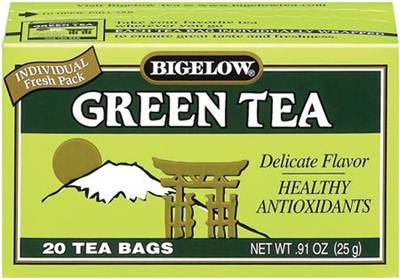 Vegetable Tea Mixture:
2 tablespoons extra virgin olive oil
¾ cup diced colored bell peppers
½ cup asparagus tips/ cut into small pieces, 1/2 – 1 inch
½ cup frozen peas
1 tablespoon minced shallots
¼ cup tea concentrate
Egg Mixture:
6 large eggs
½ cup half and half
½ teaspoon salt
¼ teaspoon freshly cracked pepper
4-ounces (1/2 of an 8-ounce) package cream cheese, slightly softened, cut into 18-20 pieces
Dill, optional garnish
Yield: Makes 18-24 miniature quiches depending on size of mini-muffin tin (About 1 ½ cups vegetable mixture.)
Prep Time: 20 minutes; Baking Time: 15 to 18 minutes
Instructions:
Place tea bags in a 2-cup glass measure.  Add water.  Steep tea for 10 minutes.
Squeeze all liquid from tea bags into cup.  Discard tea bags.  (About ½ cup tea concentrate.)
Heat oven to 350 F.  Spray 2 (12-cup) muffin tins with baking spray (spray well or alternatively use paper liners); set aside.
In 10-inch non-stick skillet place olive oil.  Heat for 1 minute.  Add peppers, asparagus, peas, and shallots. Cook over medium high heat, stirring occasionally, until slightly softened.
Add ¼ cup tea concentrate to vegetable mixture.  Continue cooking, stirring occasionally, until most of the tea is evaporated.  Remove from heat; set aside.
In large bowl stir together eggs, half and half, salt and pepper.  Mix well.
In bottom of each prepared mini muffin tin, place about 1 tablespoon vegetable mixture.  Top with piece of cream cheese.  Fill to top with egg mixture.
Repeat with remaining ingredients.
Bake for 15 to 18 minutes or until very lightly browned near edges.  Remove from oven.  Cool slightly. Garnish with dill if desired.
I Love Lemon Asparagus Wrapped in Smoked Salmon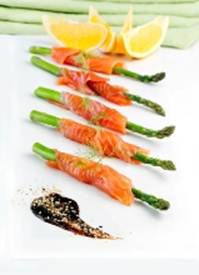 Ingredients:
8 Bigelow® I Love Lemon Herb Tea Bags
4 cups water
1 lb fresh asparagus (approx. 30 stalks), peeled, and tough ends trimmed away
4 oz. light cream cheese, at room temperature
2 tablespoons fresh parsley, chopped
2 tablespoons fresh chives, chopped
2 teaspoons salt
8 oz. thinly sliced smoked salmon
Yield: Serves 10
Instructions:
This elegant hors d'oeuvre is surprisingly simple to prepare, and is as delicious as it is beautiful. By parboiling fresh asparagus in Bigelow® I Love LemonTMHerbal Tea, it becomes subtly infused with flavor and the perfect complement to smoked salmon. A touch of herbed cream cheese holds the wraps together for an impressive presentation.
In a medium saucepan, bring 4 cups of water to a gentle boil. Remove from heat, add tea bags and allow to steep for 5 minutes.
Remove tea bags, return saucepan to the heat and bring to a boil. Add asparagus and 1½ teaspoons of salt to the pan.
Parboil for 2-3 minutes, or until crisp-tender. Remove asparagus and immediately transfer to a bowl of ice water (to stop the cooking). Drain and pat dry. Set aside.
Meanwhile, in a small bowl, combine the cream cheese, fresh herbs and remaining ½ teaspoon of salt. Stir to combine.
Spread a thin layer of the cream cheese mixture (about ½ teaspoon) on each slice of smoked salmon.
Roll up one stalk of asparagus in each piece of smoked salmon, leaving the tips of the asparagus exposed (making it easier to pick up).
Arrange on a platter and serve at room temperature.
Photo by megapixel13 via Flickr.com