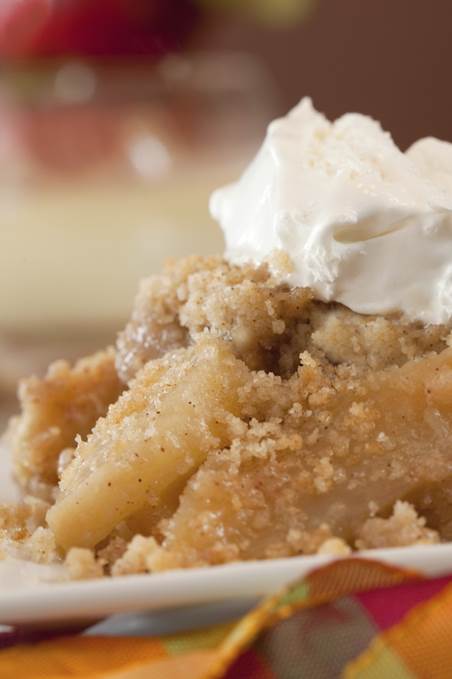 Not digging gluten? Putting the kibosh on wheat? Then Gluten Free Baking Week is your friend! With Bigelow Tea you can bake for the holidays and totally skip the gluten. Our Spice-y Chai Apple with Crispy Oats—made with our Spiced Chai Tea—is sooooo good and way cooler than apple pie.  Check out our Gluten Free Living Pinterest board as well as our website where we are always celebrating being g-free with tea, of course!!
Spice-y Chai Apples with Crispy Oats
Ingredients:
Tea Concentrate:
1 cup boiling water
4 Bigelow Spiced Chai Tea bags
Filling:
3-4 medium Apples sliced in thin wedges, approx. 3 1/2 cups -try granny smith, gala or john gold
1 cup tea concentrate
1/4 teaspoon ground cardamom
1/2 teaspoon ground black pepper
1 teaspoon vanilla extract
2 TBSP corn starch
1/4 cup firmly packed light brown sugar
Topping:
1 cup instant cooking Oats
1/2 cup firmly packed light brown sugar
1/4 cup unsalted butter-cold (may use salted with good results)
¼ teaspoon ground black pepper
¼ teaspoon ground cardamom
¼ teaspoon ground cinnamon
Prep Time: 20 minutes
Baking Time: 30-35 minutes
8 x 8 pan-buttered or oiled well Yields: 8-10 servings
Instructions:
The exotic blend of apples and spiced chai tea, cardamom and black pepper, leave this not too sweet treat with a bit of heat. Serve on a cool fall evening or enjoy in the morning with a bit of yogurt. This is a gluten free treat!
Heat oven to 400 F.
Place tea bags in boiling water; steep for 5-8 minutes.  Remove tea bags and squeeze to remove liquid; discard bags. Add the black pepper, cardamom, and vanilla to tea concentrate. Set aside while you slice apples.
Place apples in a bowl large enough to hold all the filling ingredients, pour tea concentrate over apples and toss well. Let the apples sit with the tea concentrate for a minimum of 5 minutes and up to 10 minutes.
Once your apples have soaked, add brown sugar and corn starch to the bowl-stir well. Pour filling into prepared pan and place the pan uncovered in the oven for approx. 20 minutes. Stir the apples after 10 minutes. Continue cooking another 10 minutes -until apples are tender and the tea sauce is bubbling before you add the topping.
While apples cook make your topping; gather the brown sugar, oats & spices together in a small bowl. Chop the cold butter fine, add to the topping ingredients. Toss well; it will be lumpy with large crumbs. Set aside.
When apples are ready, spread the topping over the apples. Return to the oven for another 10-12 minutes or until the topping is well browned and crunchy looking.
Cool slightly before serving. Serve plain or with a dollop of Greek yogurt, whipped cream, heavy cream or vanilla ice cream.
Top Image by The Travelista via Flickr.com