November is Gluten-Free Diet Awareness Month, and Bigelow Tea wants our fans to know that we recognize this dietary need year-round. We understand that people who cannot have any gluten – particularly those diagnosed with Celiac Disease – have to watch what they eat. And what they buy. As grocery stores are carrying more gluten-free goods, the FDA has issued specific rules on what products can be labeled "gluten free." All of our current teas are formulated to be gluten free, and we've developed some delicious gluten-free recipes you can make at home. Here are two of our favorites that are perfect for autumn weather:
Gluten-free* Ginger Oatmeal Muffins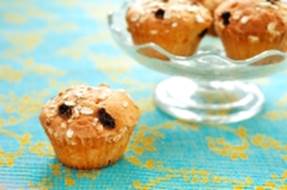 Ingredients:

Tea Concentrate:
10 bags Bigelow Ginger Snappish Herb Tea with Lemon
1 cup boiling water
Muffins:
2/3 cup firmly packed dark brown sugar
1/2 cup vegetable oil
2 tablespoons molasses
2 eggs
1/2 cup tea concentrate
1 tablespoon freshly grated ginger
1 ½ cups gluten-free flour
½ cup old-fashioned rolled oats
1 tablespoon baking powder
1 teaspoon baking soda
¾ teaspoon Xanthan Gum**
½ teaspoon salt
½ cup dried currants
2 tablespoons sugar
Yield: 12 muffins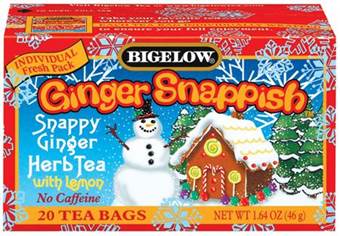 Variations: Try using Bigelow Cinnamon Stick Tea, Sweetheart Cinnamon Herb Tea or Bigelow Constant Comment Tea
Prep Time: 10 minutes Baking Time:  14 to 18 minutes
**Definition of Xanthan Gum – Produced from the fermentation of corn sugar, xanthan gum is used as a thickener, EMULSIFIER and STABILIZER in foods such as dairy products and salad dressings.
Instructions:
Place tea bags in a 1-cup glass measure.  Add water to equal 1 cup.  Steep tea for 10 minutes.
Squeeze all liquid from tea bags into cup.  Discard tea bags.
Heat oven to 350 F.  Spray 12-cup muffin tins with baking spray; set aside.
In large mixing bowl add brown sugar, vegetable oil, molasses, and eggs.  Mix at high speed, scraping bowl often, until creamy (1 to 2 minutes).
Add tea concentrate and ginger.  Continue mixing at medium speed, scraping bowl often, until well mixed (1 minute).
In medium bowl stir together gluten-free flour, rolled oats, baking powder, baking soda, Xanthan Gum, and salt.  Add to tea mixture.  Mix just until moistened.
Stir in currants.  Fill muffin tins about 2/3 full.  Sprinkle top of each muffin with about ½ teaspoon sugar.
Bake until very light brown (14 to 18 minutes) or until wooden pick inserted in center of muffin comes out clean.  Remove from oven. Cool.
*What is Gluten Free and Gluten-Free Recipes?
All vegetables, fruit, meat, fish, poultry, eggs, beans, nuts, rice, potatoes, and corn are gluten free in their natural state.  Also milk and most hard cheeses and creams are naturally gluten free. Recipes using any of these items would be naturally gluten free.
The recipes designated Gluten free do not include the following ingredients: wheat, rye, barley, or oats; or ingredients that might contain these, but Bigelow Tea does not assume liability for information reported on our recipes.
However, anyone who needs or wants to follow a gluten free (GF) diet should check ingredients and products to ensure they are GF. (For example, sesame seeds are naturally GF, but it's always wise to check with the manufacturer to make sure that gluten was not introduced to the product during processing.)
Bigelow Tea makes no guarantees that the recipes are appropriate for your diet. Individuals should consult with their physician or other medical professional.
Hot Pumpkin Spice Buttered Toddy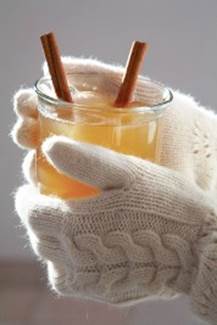 Ingredients:
6 tea bags Bigelow Pumpkin Spice Tea*
6 cups (48-ounces) hot water
Spiced Butter:
¾ cup light brown sugar
½ cup butter, softened
1 teaspoon pumpkin pie spice
½ teaspoon vanilla extract
1/8 teaspoon salt
8 to 12-ounces (1 to 1 ½ cups) clear rum
Whipped cream, optional
Extra pumpkin pie spice, optional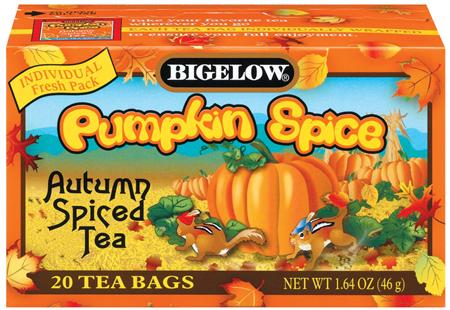 *Variations: Try using Bigelow Eggnogg'n Tea  or Bigelow Apple Cider Herb Tea
Instructions:
In large glass batter bowl, place tea bags; add hot water.  Brew for 4 minutes.  Squeeze tea from bags then discard bags.
Meanwhile, in small mixer bowl add all Spiced Butter ingredients; beat at medium high speed, scraping bowl occasionally, until light in color (1 minute).
In 6 mugs or heat-proof glasses, place 2 tablespoons spiced butter, 2-ounces rum, and 6 ounces hot brewed tea.  Mix until Spiced Butter melts.
Garnish with whipped cream and a dusting of spice, if desired.
Top image by mr.bologna via Flickr