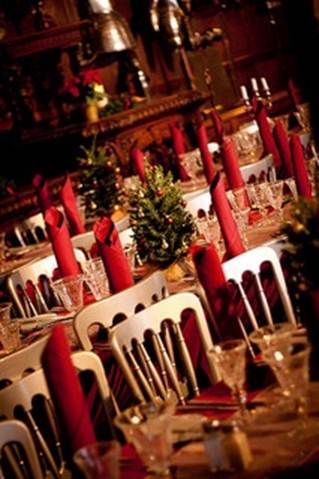 Just like the end of a great meal, it's fitting to finish our week with Bigelow Tea dessert suggestions that will compliment your holiday dinner recipes. We've picked two delectable options that will top off your sides dishes and entrées which we featured earlier in the week here on our blog. What a wonderful way to complete a spectacular meal!
First, we recommend our Figs Brulée with Vanilla-Eggnog Ice Cream for its fresh take on serving figs where our Eggnogg'n Tea adds in extra flavor! And for our second suggestion, consider Vanilla Caramel Bread Pudding. What makes our version of this traditional dessert a bit sweeter is that we include our rich Vanilla Caramel Tea as a main ingredient. Enjoy preparing one or both of these dessert options, along with our other holiday recipes!
Figs Brulée with Vanilla-Eggnog Ice Cream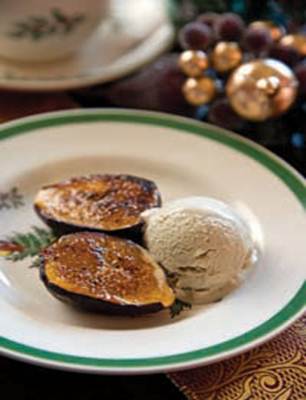 Ingredients:
1 pint half-and-half
1 cup sugar
4 Bigelow Eggnogg'n® Tea Bags
2 vanilla beans, split lengthwise and scraped, seeds reserved, divided
12 egg yolks
18 figs
6 tablespoons butter, melted
1/2 cup sugar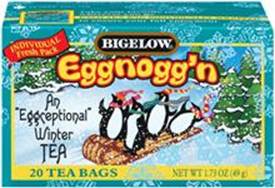 Yield: Makes 18 servings
Instructions:
In a medium saucepan over medium-high heat, combine the half-and-half, sugar, tea bags, and reserved seeds from 1 vanilla bean. Cook until the mixture just begins to boil; remove from heat, and set aside.
In a medium bowl, whisk the egg yolks until smooth. Using a ladle, pour 1 cup of the hot half-and-half mixture in a slow, steady stream into the beaten egg yolks, whisking constantly.  Remove the tea bags from the half-and-half, and then add the egg-yolk mixture to the remaining half-and-half in the saucepan. Cook over medium-high heat, stirring constantly, until thick enough to coat the back of a wooden spoon, or until the custard reaches 180º on an instant-read thermometer.
Strain the custard through a fine-mesh sieve into a stainless-steel bowl set in an ice bath. Stir until the custard is very cold. Freeze the custard in an ice-cream maker according to the manufacturer's instructions.
Preheat oven to 350º. Cut each fig in half, and place each half, cut side up, in a well of a muffin pan.
In a small bowl, mix together the butter and reserved seeds from remaining vanilla bean. Brush the top of each fig with the butter mixture, and bake for 6 minutes.
Remove figs from oven, and evenly sprinkle the cut sides of the figs with the sugar. With a culinary torch, hold the flame about 2 inches above the surface of the figs. Direct the flame in an even back-and-forth motion so that the sugar melts and browns. Serve two prepared fig halves with a scoop of ice cream.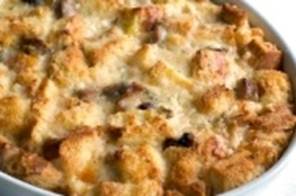 Ingredients:
14 Bigelow® Vanilla Caramel or Bigelow® Eggnogg'n Tea Bags
2 ¼ cups (560mL) whole milk
½ cup (125mL) unsalted butter
1 cup (250mL) sugar
5 large eggs, lightly beaten
1 teaspoon (5mL) cinnamon
1 teaspoon (5mL) vanilla extract
½ cup (125mL) raisins
16 slices of challah bread
Vanilla Caramel Sauce:
¼ cup (60mL) unsalted butter
½ pound (224g) powder sugar
Reserved tea infused milk
Yield: Serves 12 – Prep Time: 30 minutes – Cook Time: 40 minutes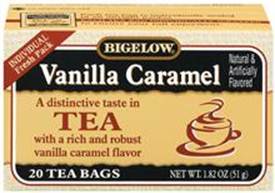 Instructions:
Preheat oven to 350ºF (180ºC).
Heat milk over medium heat, add Bigelow® Tea Bags (either Vanilla Caramel or Eggnogg'n) and raisins; remove from heat and let steep for 5 minutes. Remove tea bags, squeezing out all excess milk/tea. Strain tea infused milk; reserve raisins. Measure out 2 cups (500mL) and set aside the remaining tea infused milk for sauce.
In food processor, combine butter and sugar until well blended; add eggs, 2 cups (500mL) tea infused milk, cinnamon and vanilla. Continue processing until well blended.
Lightly butter a 9″ x 13″ baking dish. Break up the bread into 1″ cubes and layer in pan. Scatter the raisins over the top. Pour tea/milk mixture over the bread; soak for 5 to 10 minutes. Gently press down on the bread to make sure it is covered by the mixture.
Cover with foil and bake for 35-40 minutes. Remove foil and bake for additional 10 minutes to brown top. The pudding is ready when the custard is set, but still soft.
Make the Vanilla Caramel Sauce while bread pudding is baking, by melting butter over medium heat in a saucepan. Add powdered sugar to the melted butter and whisk to blend. Add reserved Vanilla Caramel or Eggnogg'n infused milk to taste.
Pour sauce over the baked bread pudding and allow to soak in 2-3 minutes. Serve warm.
Top Image by John Flanagan via Flickr.com