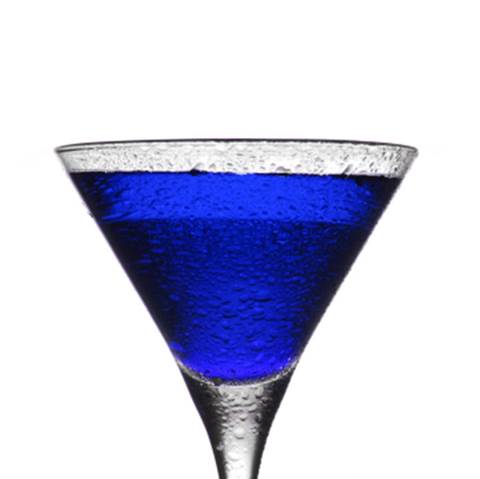 In the world of Bigelow Tea, blue is definitely the "it" color of July. Not just because of Independence Day, where blue joins red and white on the American flag, but also because it's National Blueberry Month!
Blueberries are not only deliciously versatile, they're so ridiculously healthy it's like a whopping, blue-tea-fulbonus—on pancakes, in yogurt, or by the handful! And for purists, the luscious flavor of blueberries can be enjoyed year-round in Bigelow Tea's delightful Green Tea with Wild Blueberry & Acai or Wild Blueberry with Acai brewed hot or poured over ice. @Fitness_Ron calls Bigelow's Green Tea with Wild Blueberry & Acai "amazing stuff!" Thanks, Ron!
If you can't get enough of blueberries, here are two recipes for a blueberry tea-infused cocktail and a blueberry vinaigrette. Yum!
(Pictured above)
Ingredients
2 cups water
1 cup Blue Curacao
¼ cup Grand Marnier
Ice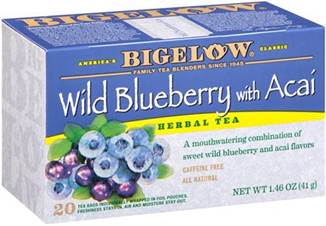 Instructions
Place tea bags into measuring cup and add boiling water. Let steep for 10 minutes. Remove tea bags. Refrigerate until cold. For one drink: Pour 2 ounces of the cooled tea, 1 ounce vodka, ¼ cup Blue Curacao and ½ ounce Grand Marnier into a shaker filled with ice. Shake and strain into serving glass.
For a hint of citrus in this delightful drink try this flavor combination: 3 Bigelow Lemon Ginger Herbal Plus Tea Bags and 3 Bigelow Wild Blueberry Acai Herb Plus Tea Bags
Looking for a twist on traditional salad dressing? Here's a tried and true-blue version of a classic:
Wild Blueberry Acai Vinagrette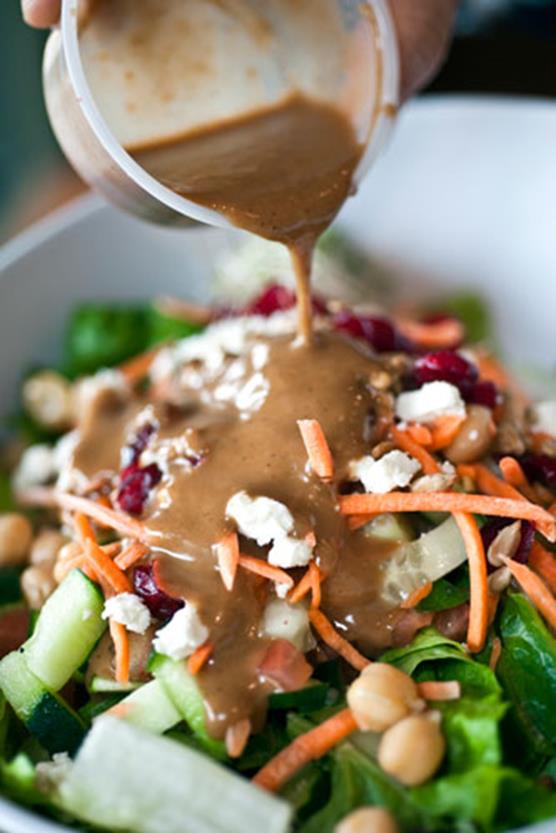 Ingredients
½ cup white wine vinegar (125mL)
1 tablespoon honey (15mL)
2 tablespoon Dijon Mustard (30mL)
1 small clove garlic
1 cup vegetable oil (250mL)
1 teaspoon salt (5mL)
A pinch of black pepper
*Optional – tarragon, fresh, chopped or dried
*Variations – Try using our Cranberry Hibiscus Herbal Tea or Green Tea with Wild Blueberry & Acai
Instructions
Pour the vinegar into a small microwave-safe bowl, and cook on high for 1 minute, or cook in a saucepan on medium heat, until bubbles are visible. Remove, add the teabags, and steep for 5 minutes. Remove the teabags to a small strainer and, using the back of a spoon, press as much liquid as possible back into the bowl. Stir in the honey and mustard, then pour the mixture into an electric blender or a food processor. Add garlic and salt. Slowly drizzle the oil while the machine is running until it is smooth and creamy. Cover and refrigerate if not using right away.
May we suggest Green Tea with Wild Blueberry and Acai to pair with this recipe?