Pour yourself a cold one—a tall glass of Bigelow Tea on ice—and fire up the grill because it's National Barbeque Month! The grill gurus at Bigelow Tea have cooked up some mouth-watering recipes for you to try this May, and here are two favorites: lamb kebabs marinated in "Constant Comment"® for meat lovers and lemon Portobello mushrooms for the veggie fans out there. Be sure to post selfies by the grill on Facebook and, like @JoySlavens who posted that she loves "brats and onions," tell us what you're grilling!
Lamb Kebabs With Mashed Sweet Potatoes
Ingredients:
6 Bigelow Constant Comment® Tea Bags

¾ cup (180mL) hot water
½ cup (125mL) honey
2 tsp. (10mL) cumin
½ tsp. (2.5mL) ground cloves
20 – 1½ inch (4.5cm) cubes boneless leg of lamb
3 medium sweet potatoes
4 metal or wooden skewers (wooden skewers must be soaked for at least 1 hour)
Dash of salt
¼ cup (60mL) butter
Yield: Serves 4 – Prep Time: 20 minutes – Cook Time: 15-20 minutes.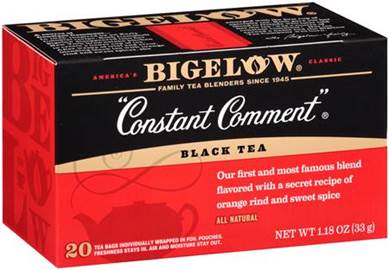 Instructions:
Brew Constant Comment® tea bags in ¾-cup (180mL) hot water. Remove tea bags and discard, squeezing to extract as much liquid as possible; add honey, cumin and ground cloves and mix well.
Place lamb cubes in large glass casserole and pour tea mixture over lamb. Mix well and set aside.
Pierce sweet potatoes and microwave on high until tender 10-12 minutes, turning once (time will vary according to microwave).
Meanwhile, thread 5 pieces of lamb onto each skewer. Sprinkle with a little salt and brush with marinade. Preheat broiler; broil lamb, brushing with marinade, 3-4 minutes per side or until cooked to medium.
Remove pulp from sweet potatoes and mash with butter. Keep warm on low in microwave. To serve, divide sweet potatoes into four servings, top with skewers of lamb.
Grilled Lemon Portobello Mushrooms
Ingredients:
6 large Portobello mushrooms
8 Bigelow® I Love Lemon Herbal Tea Bags

1 cup (250mL) boiling water
3 tablespoons (45mL) fresh coriander, chopped
Salt and pepper to taste
1 cup (250mL) extra-virgin olive oil
Yield: Serves 6 – Prep Time 10 mins. – Marinating Time 24 hrs – Cook Time 8-10 min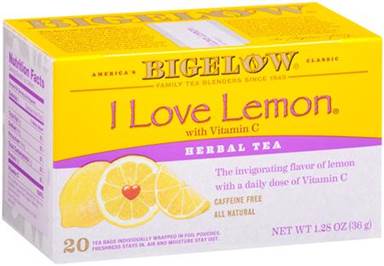 Instructions:
Clean mushrooms with a soft brush and remove stems. Set aside.
Place 8 Bigelow® I Love Lemon Herbal Tea Bags into a measuring cup and pour boiling water over tea bags. Let steep for 5 minutes. Remove tea bags.
Mix together tea, coriander, pepper and salt and gradually whisk in olive oil.
Place mushrooms in a zip lock bag and pour marinade over mushrooms. In refrigerator, let marinade for up to 24 hours.
When ready to grill, place mushrooms on preheated grill and cook 8 to 10 minutes per side or until tender, basting frequently with reserved marinade.
Slice mushrooms and place on salad greens, or serve as an appetizer. They also go very well with steak.