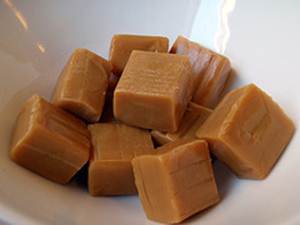 October is National Caramel Month, and we at Bigelow Tea are firm believers that apples go amazingly well with this deliciously gooey candy. We've found two tasty ways to enjoy this pairing without getting sticky hands! Thanks to Heather Kennedy, winner of our 2011 Bigelow Recipe Contest, our Caramel Apple Crunch Muffins combine apples with our Vanilla Caramel Tea for a delicious treat worth biting into! And if pie is your thing, another sweet option is our Apple Cider and Caramel Silk Mini Pies. These smooth, bite-size pies get their apple flavor from our Bigelow Spiced Apple Cider Herb Tea. Yum!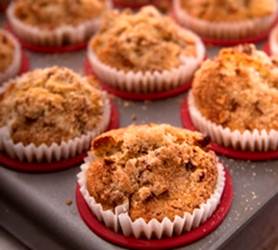 Ingredients:
6 Bigelow Vanilla Caramel Tea Bags
1 cup boiling water
1¾ cups unbleached all-purpose flour
½ cup sugar
3 tsp. baking powder
½ tsp. salt
½ tsp. freshly grated nutmeg
1 cup grated tart apple
½ cup melted butter
1 egg (beaten)
½ cup apple sauce or apple butter
Light or dark brown sugar
Instructions:
Preheat oven to 375˚F. Grease muffin tin or line with paper cups.
Place 6 Bigelow Vanilla Caramel Tea Bags in a heat proof measuring cup. Add freshly boiled water to the 1 cup line. Place a lid or plate on top of the cup to hold in the heat while the tea steeps for 3 minutes. Remove lid and tea bags – resist urge to squeeze the bags! Set aside the tea concentrate to cool.
Combine in large bowl flour, sugar, baking powder, salt and nutmeg. Peel and grate 1 large firm tart apple to make one cup of grated apple. Add to flour mixture and stir to break up clusters of apple.  Set aside.
Combine melted butter, egg, tea concentrate and apple sauce OR apple butter. Make a well in the dry ingredients and add wet ingredients. Stir just until everything is moistened but don't over mix.  Fill muffin cups ¾ full. Sprinkle each muffin before baking with a pinch of light or dark brown sugar for the "crunch."
Bake for 20-22 minutes. Remove to rack and allow to cool for a few minutes before removing from pan.
Apple Cider and Caramel Silk Mini Pies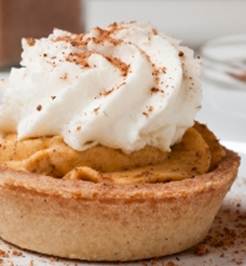 Ingredients:
2 ¼ cups milk
6 bags Bigelow Spiced Apple Cider Herb Tea
6 bags Bigelow Vanilla Caramel Tea
1 (3.4-ounce) box French Vanilla instant pudding and pie filling
1/3 cup white chocolate chips
8 mini graham cracker crusts
Sweetened Whipped Cream
Additional white chocolate chips
*Substitution options: For less sweet overall taste you may replace French Vanilla pudding with plain Vanilla and cinnamon chips may replace white chocolate chip
Makes 6 servings
Instructions:
In 2-quart saucepan, over medium heat, bring milk to a simmer. Remove from heat and add tea bags; steep for 8 to 10 minutes. Remove tea bags and squeeze to remove liquid; discard bags.
Cool tea milk completely.
In medium mixing bowl stir together tea milk, and pudding mix. Using wire whisk, stir for 2 to 3 minutes or until filling becomes thick.
Stir in 1/3 cup cinnamon chips. Spoon about ¼ cup filling into each mini graham cracker crust.
When ready to serve garnish each mini pie with whipped cream and additional chips.
Refrigerate leftovers. 
Image 1 by joyosity via Flickr.com