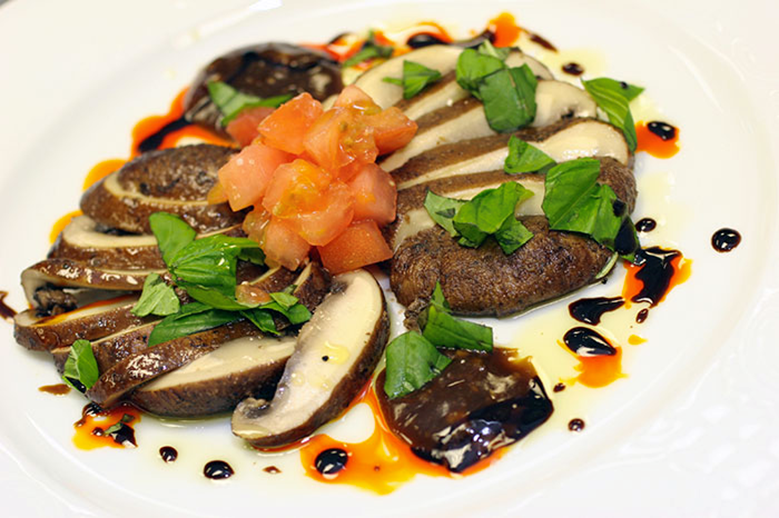 Ready for your next Bigelow Tea-inspired pairing? How about Bigelow Tea Oolong tea paired with dinner?
Although there's just one ingredient in this tea, it took the Bigelow family years to select the perfect Oolong from a special region in Asia. A tea with the consistent mellow notes that go well with almost any meal, Oolong tea comes from Camellia sinensis leaves that are exposed to air for only a few hours—only half the amount of time as black tea. Its smooth, distinctively satisfying taste makes it a tea to be enjoyed any time of day (@LKHamilton loves it in the morning), or particularly alongside meals consisting of grilled veggies with roasted or grilled chicken.
Try pairing it with these flavorful recipes for Grilled Lemon Portobello Mushrooms and Roasted Chicken with "Constant Comment®" Glaze—you won't be disappointed!
Ingredients
6 large Portobello mushrooms
1 cup (250mL) boiling water
3 tablespoons (45mL) fresh coriander, chopped
Salt and pepper to taste
1 cup (250mL) extra-virgin olive oil
Instructions
Clean mushrooms with a soft brush and remove stems. Set aside. Place 8 Bigelow® I Love Lemon Herbal Tea Bags into a measuring cup and pour boiling water over tea bags. Let steep for 5 minutes. Remove tea bags. Mix together tea, coriander, pepper and salt and gradually whisk in olive oil. Place mushrooms in a zip lock bag and pour marinade over mushrooms. In refrigerator, let marinade for up to 24 hours. When ready to grill, place mushrooms on preheated grill and cook 8 to 10 minutes per side or until tender, basting frequently with reserved marinade. Slice mushrooms and place on salad greens, or serve as an appetizer. They also go very well with steak.
Ingredients
Glaze:
1 cup boiling water
⅔ cup brown sugar
2 tablespoons butter
½ cup cranberry juice
Chicken Roaster and Gravy:
1 8 pound Roasting Chicken
1 lemon, cut into four pieces
1 onion, peeled and cut into four pieces
1 cup chicken stock
2 tablespoons cornstarch
Salt and pepper to taste
When preparing this recipe please be sure to check all labels on all products you use to insure that all items are gluten free.
Instructions
Preheat the oven to 375º. Cook time: 2 ½ -3 hours or as per directions on Roasting Chicken Package Steep tea bags in 1 cup boiling water for 5 minutes. Squeeze excess liquid out of tea bags and discard. Reserve tea. Meanwhile, prepare a glaze by heating butter, brown sugar and cranberry juice into a saucepan over medium heat until butter is melted and sugar is dissolved. Add tea and reduce mixture by cooking over medium high heat for 15 minutes. Set aside. To prepare Chicken, remove giblets and neck rinse inside and out and pat dry. Place a cut lemon and a cut-up onion into the cavity and truss. Place in an open roasting pan breast side up. Brush skin with glaze. Bake chicken in preheated oven. Keep glaze warm on stove and continue basting with glaze every 20 minutes. Remove chicken from oven and let stand for at least 15 minutes. Discard any unused glaze. To make gravy, dissolve cornstarch in chicken stock. Place roasting pan on burner over medium heat, scraping browned bits. Add stock whisking constantly until thickened; about 1 minute. Strain gravy and serve with chicken. As a nice alternative, use a 10-15 pound Turkey in place of the Chicken Roaster. For the glaze increase the number of tea bags from 8-12.