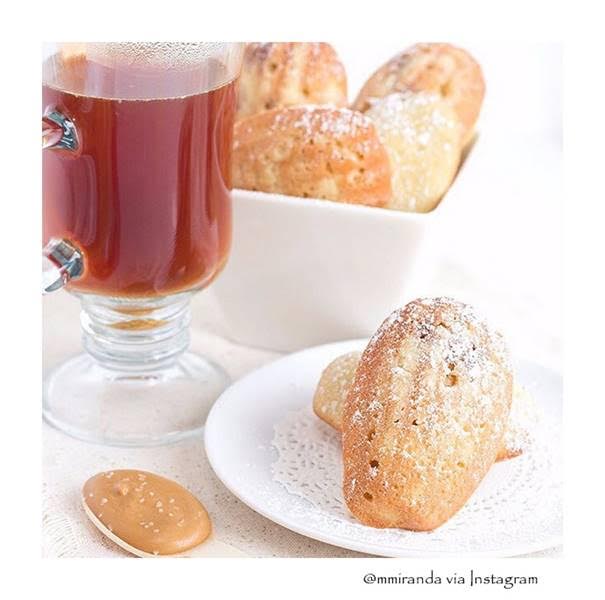 Did you know the vast range of fragrant, flavorful tea ingredients found in the Bigelow family of teas makes for not only a great drink, but a natural, aromatic and rich addition to sweet and savory recipes? While Asian countries have been using tea in recipes for centuries, the Western world is finally catching on. Tea-infused recipes are all the rage in the culinary world and now even home cooks are trying their hand at incorporating tea flavor sensations into their own recipes.
We recently shared two excellent examples by #TeaProudly community members, Jennifer, the blogger behind 'Engineer Mommy' and Natalie of the minimalist cooking blog, 'Just a Little Bite.'
Natalie developed a recipe for London Fog cupcakes, an ode to her London Fog Latte obsession. The tea tie-in?  Bigelow Earl Gray Tea, mixed into the frosting to add a heady bergamot and black tea note which evokes the latte experience.
Lemon, ginger and a healthy dose of wellness were the inspiration for Jennifer's perky and potent Lemon Ginger Bars.  The Bigelow Lemon Ginger Herbal Tea fan created the recipe to pair with mugs of the tea itself to battle a cold. The bars feature a lemon-ginger combo traditionally known to sooth all that ails you, including the need for a tasty treat!
Ok, #TeaProudly tribe, the challenge is on!  How can you take your favorite Bigelow Tea flavors and transform them into awesome recipes?  With Bigelow's traditional and modern new flavor families like fruity (peach, orange), sweet (caramel, chocolate) and savory (pumpkin, cinnamon), Bigelow offers plenty of inspiration for your next culinary creation.
Check out Natalie and Jennifer's recipes below and we invite you to join the fun by sharing your favorite tea enhanced recipes. Be sure to tag #TeaProudly, we can't wait to try them!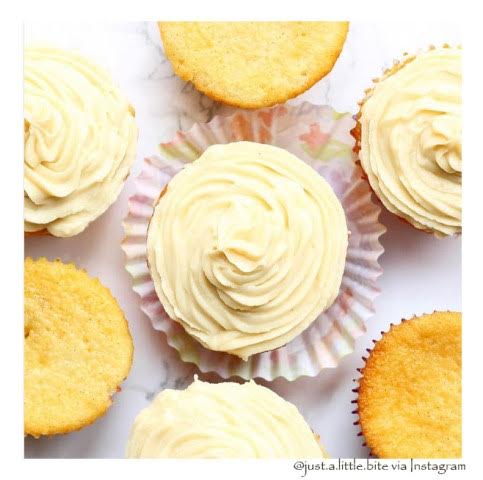 Ingredients
1/2 cup milk
3 egg whites
1 tsp vanilla
1 vanilla bean
1 cup flour
1/4 cup & 2 tbsp sugar
2 tsp baking soda
1/2 tsp salt
4 tbsp butter
2 tbsp vegetable oil
3 cup powdered sugar
1 cup butter
1 earl grey tea bag
1 tsp vanilla extract
2 tbsp earl grey tea
Instructions
Preheat oven to 350 degrees.
In a small bowl, combine the milk, egg whites, vanilla, and the scraped insides of the vanilla bean.
In a larger bowl, mix together the flour, sugar, baking soda and salt.
On low speed, add the butter and oil and mix until you have a crumb texture. On medium speed, add the milk mixture and mix for two minutes until light and fluffy. Scoop the mixture in to a muffin tin and fill each cup 3/4 of the way.
Bake for 12-15 minutes until a toothpick comes out clean.
While the cupcakes are baking, melt the butter in a small sauce pan. Add the Earl Grey tea bag and steep over low heat for five minutes.
Put the butter in the fridge for 20 minutes. When the butter has solidified, take it back out and mix it together on medium speed with the powdered sugar, and vanilla. Add the Earl Grey tea a little bit at a time until you have the consistency you like.
When the cupcakes are cool, frost them!
May we suggest Lemon Lift® to pair with this recipe?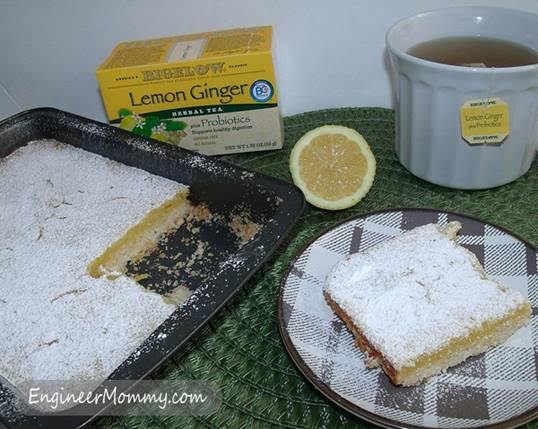 Ingredients
For the crust
1 cups Flour
1/4 cup Sugar
1/2 cup Butter
For the filling
3/4 cup Sugar
1/3 cup Flour
3 Eggs
3 tbsp. Steeped Tea: Bigelow Tea Lemon Ginger
1/4 tsp. Ginger Powder
Zest And Juice Of 2 Lemons
Powdered Sugar, For Topping
Instructions
For the crust

Preheat the oven to 350 degrees F. Grease a pan with butter. Combine the flour and sugar. Add the butter and stir until it resembles small crumbs.. Bake for 20 minutes. Let cool.
For the filling
Combine the sugar, ginger powder and flour in a mixing bowl. Add the eggs and use a whisk to combine.
Add the lemon zest & lemon juice and combine. Steep 1 Bigelow Tea Lemon Ginger teabag in a 1/2 cup boiling water. Let cool. Add 3 tbsp of the steeped tea to the lemon filling mixture. Pour over crust. Bake 20 minutes. Let cool and top with some powdered sugar. Cut into squares.
For step by step instructions visit EngineerMommy.com
May we suggest Lemon Ginger Herbal Tea to pair with this recipe?