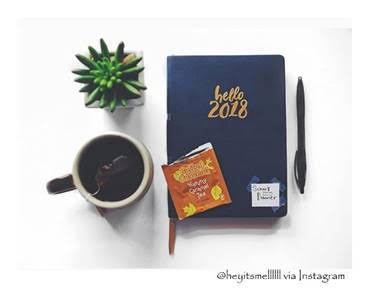 So you've already tackled the same ol' New Year's resolutions like vowing to eat healthy and saving more of your heard-earned dough, but you still want to explore new challenges when the clock strikes midnight on December 31st……(Well, maybe the morning of January 2nd!) Changing your ways doesn't have to be boring—these fun and fulfilling New Year's resolutions will keep you on your toes and add some spice to your life!
Try a New Food or Drink Every Week
If there's one New Year's resolution that's more "breakable" than all the others, it's changing your diet. Rather than beating yourself up and cutting out foods you love, get adventurous and try something new to eat or drink every week. If you're looking to live a healthier lifestyle AND indulge in something new, check out this recipe for Tea Marinated Grilled Tofu, which incorporates the refreshing flavor of Bigelow Green Tea with Pomegranate and aromatic Earl Grey! Can you say healthy and yummy?
Learn Something New At Work
In today's ever-changing world, it's more important than ever to keep learning at work. Regardless of the field you're in, staying up-to-date with evolving trends in your industry can not only keep you intellectually stimulated, but provide opportunities for career advancement as well. Professional development in the form of in-house training, workshops, seminars, and continuing education can help you learn valuable new skills that may give your career (and your self-esteem) a boost! (Yay, you!) Just remember to grab a mug of Bigelow Tea and take a break for self-care when you get super busy!
Give Back
Many resolutions are inwardly focused, but as you know, there's a whole wide world of other humans out there. (Really, there is!) Little things mean a lot—take the time to do something nice for someone every day, even if it's only saying hello or smiling at a stranger on the street. If you have bigger goals in mind for saving the world, get involved in an event like Bigelow Tea's Annual Community Challenge! There are countless organizations all over the U.S. that hold 5k walks or runs to benefit many different types of charities. By giving back you not only help others, you may find that your own sense of well-being and accomplishment improves! (Hip-hip-hooray!)
Do you have any of your own creative New Year's resolutions in mind? Tag #TeaProudly to share what motivates and inspires you!