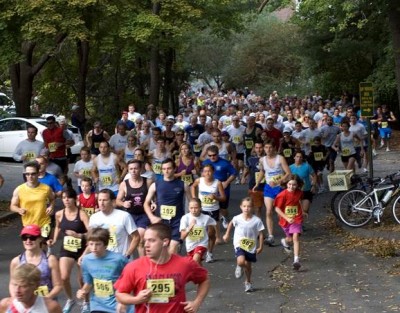 Fun, fellowship, fitness and philanthropy … all in one event!  Yes, it must be our annual Bigelow Tea Community Challenge road race and associated activities, coming up on Sunday, September 25th! It's a wonderful opportunity for members of the community to see friends, enjoy early fall weather and help benefit a number of local organizations, including the Burroughs Community Center, the Center for Women & Families and the YMCA of Fairfield.
This year's event takes place at the Wakeman Boys & Girls Club in Southport, Connecticut.  The kid's "Scamper" (100 yard dash) begins at 9 a.m., followed by a ½ mile race for children at 9:10 a.m. and a 2-mile fitness walk at 9:30 a.m. Then the 5K road race will start at 10:10 a.m. Food and drinks will be provided for all participants, and childcare is available as well. There's also an exciting raffle with prizes, ranging from our tasty Bigelow teas to two plane tickets to anywhere (!) in the U.S., donated by Warren Travel Agency.
This family-friendly event has become a true community tradition, and it's one that Bigelow Tea is so proud to organize and sponsor. The participation over the years by our neighbors and friends has made an incredible difference in the lives of many people in Fairfield, Bridgeport and the surrounding communities. We can't thank you enough!
So let's make this year—our 24th!—the biggest and best one ever. Register now, and join Cindi Bigelow and the rest of the Bigelow Tea team on September 25th. We can't wait to see you there!