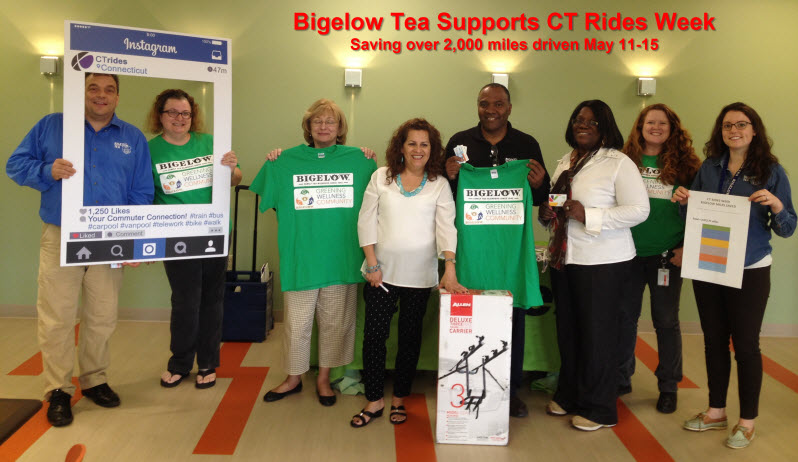 Bigelow Tea is proud to finish CT Rides Week with a total of 2,040 miles saved from being driven by employees who found greener ways to travel. Governor Dannel Malloy declared May 11 – May 15 CT Rides Week to encourage all solitary drivers to try alternate methods of transportation when traveling or working within the state of Connecticut. As a company dedicated to sustainability, Bigelow Tea was excited to be a part of this important initiative.
Several Bigelow Tea team members rose to the challenge by biking, ride sharing or using public transportation to get to and from work, or to get around on their own time. Throughout the week, CT Plant Manager Jim Gildea and his team kept a running log of miles saved from being driven and noted that the tally rose steadily each day.
"Sharing a ride can have a huge impact on Connecticut's air quality. An individual switching a 20-mile roundtrip commute to public transportation can decrease annual CO2 emissions by 4,800 pounds per year," said Gildea. "Additionally, sharing a ride can afford a variety of benefits to commuters, including saving money on the cost of maintaining personal vehicles and the cost of parking, providing some protection from the rising cost of fuel and a less stressful commute."
Thank you to all employees who participated. Well done, team!