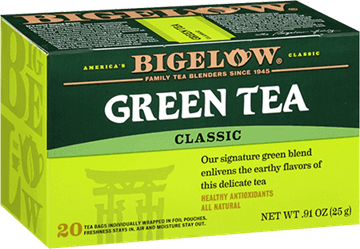 You can bet that green is one of Bigelow Tea's favorite colors. From the outstanding family of Green Teas to the Bigelow Tea company's Energy Conservation efforts, green is the color of the Bigelow family's culture!  Efforts go beyond the factory doors, from the ethical and conservational practices of suppliers to your own kitchen and Bigelow Tea's packaging – because the box, strings, tags and tea bags are completely recyclable!
So it's no surprise that Bigelow Tea is into Go Green Week. Their Green Team has  planned an event that will be geared to refresh and heighten employees awareness of what items should be composted and recycled.  So how will you be "green" this week? Bigelow Tea fan Marcia Del Greco Posted on Facebook that she always composts her tea bags. You can even recycle the foils and tags into decorative art,as seen on Pinterest!

Bigelow Tea's green conscience and principled environmental business practices are a huge part of the family business—which is marking its 70th year this year!—and is rooted in the company culture.  Bigelow Tea can now make the claim that across all 3 manufacturing facilities they are a Zero Waste to Landfill Company.
Says Cindi Bigelow, third-generation president and CEO: "Do the right thing and good things will follow." So brew a mug of Bigelow Green Tea and embrace the power of green!