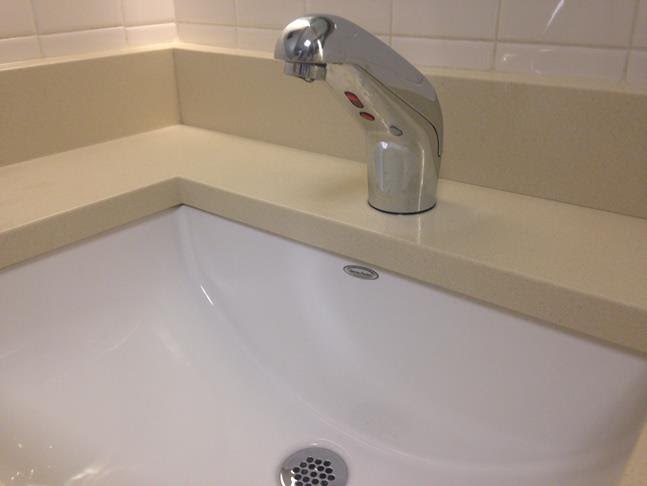 Bigelow Tea knows that quality water is essential in making a good cup of tea, and that this key ingredient must not go to waste! In giving H20 some TLC, the family-owned company, led by third generation President and CEO Cindi Bigelow, has installed devices at their Connecticut, Idaho, and Kentucky locations to cut down on any unnecessary water usage.
Bigelow Tea's HQ in Fairfield implemented water-saving techniques that range from putting a rain sensor on an outside irrigation system to placing low flow aerators on every sink. Restrooms have been equipped with automatic shut off faucets (like the one shown above), waterless urinals and automatic valves on toilets and urinals.
With the Boise plant being in a region with very light rainfall, Bigelow Tea employees installed more energy efficient faucets and appliances to stop drips and leaks. And they sound icky, but new waterless urinals will save over 60,000 gallons per year.
At Bigelow's Louisville site, water-saving devices similar to Fairfield's have been placed in just about every area, including the kitchen sinks!
Bigelow Tea also likes hearing how tea fans act sustainably and how they get good water for their tea. Facebook fan Sheryl Gowen uses filtered water from her fridge dispenser, never bottled water, for her tea. Thanks for sharing!