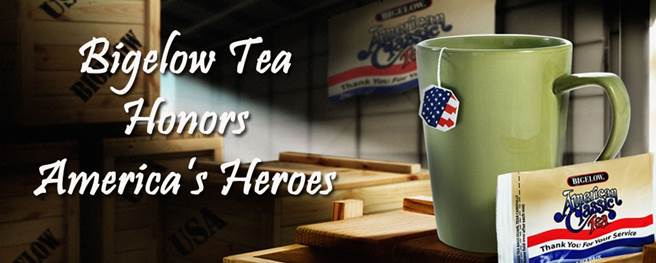 July 4th is one of those special days that just make us smile at Bigelow Tea. Smiles for the family reunions and picnics; thefireworks, parades and baseball games, and a special smile for the cherished freedoms that the day represents. Independence Day brings out patriotic displays all over the country, drawing us back to 1776 and the birth of our nation. And not just a new nation separating from oppressive British rule, but a new philosophy of freedom and powerful ideals, penned so eloquently by Thomas Jefferson in the Declaration of Independence.

It was in the spirit of that freedom and independence that Bigelow Tea introduced the Tea for the Troops program, our specially packaged American Classic Tea which is proudly made right here in the USA at our Charleston Tea Plantation. Adorned in the image of old glory, our Tea for the Troops is one way that we say "thanks!" to all of those who guard our freedoms.
By the way, the term "Independence Day" was not in use until 1791. But even before John Hancock put his signature on the Declaration of Independence, founding father John Adams described what the new nation's holiday should be like. In a letter to his wife Abigail Adams dated July 3rd 1776, he wrote that there should be celebration throughout history with "…pomp and parade … games, sports, guns, bells, bonfires and illuminations from one end of this continent to the other …!" An apt description, but of course we would add everything Iced Tea to that prescription!
We all remember that tea played an important role in the struggle for independence, and today—brewed and poured over ice—it's the perfect beverage to keep us cool and hydrated on a busy July 4th!  A happy and safe holiday to all!