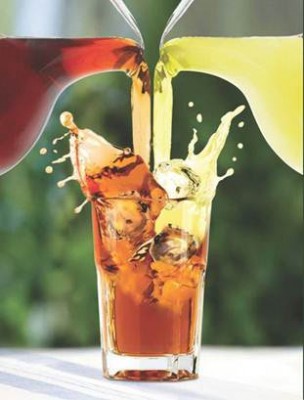 Bigelow Tea proudly introduces our Half & Half Iced Tea and Lemonade … and we're excited to announce that there's nothing half-way about the flavor! Our new masterfully blended and naturally sweetened tea combos deliver double the taste and refreshment for a whole new way to enjoy fresh brewed iced tea with its natural flavor complement: lemonade. Plus, each serving has just 10 to 15 calories!  We know you'll want to try them both: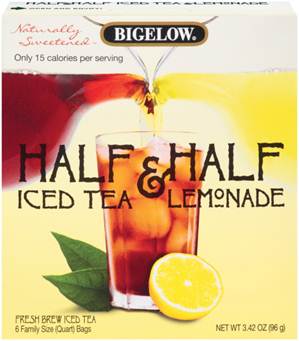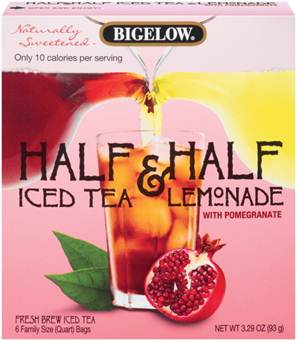 As an added convenience, these half-and-half tea bags – the first of their kind on the market – come in family, quart-size tea bags, so a generous pitcher of a thirst-quenching beverage is easily brewed in minutes. Each variety features black tea balanced with natural lemon or pomegranate flavors, lemon peel and herbs.
"It is just the right combination of smooth black tea and lemonade, sweetened to perfection all for pennies a glass," says Bigelow Tea President Cindi Bigelow. "The product is so delicious, and all made at your convenience in your home." And, because consumers are not buying multiple glass bottles or aluminum cans, Cindi likes that "it is a win from an environmental standpoint as well as economical."
With so many bottled tea beverages on the market, we know you have plenty of choices. But we think our Half & Half Iced Tea and Lemonade blends are altogether different because they offer great flavor, convenience and all the health benefits of freshly brewed tea. As we recently shared on our blog, one study suggests that when it comes to iced tea, brewed is the better choice over bottled if you want to preserve all the antioxidants in your tea. And we know you do!
So go all out with Half & Half Iced Tea and Lemonade!
To see the formal press release, please link here.