Bigelow Tea was recognized by the Business Council of Fairfield County at its annual Healthy Workplace Employer Recognition Program. The event was held on Valentine's Day to celebrate the efforts of area employers "who understand the competitive advantage of a healthy workforce and who have implemented cutting edge programs to promote a healthy workplace and assist their employees to live healthier lives."
Bigelow Tea is thrilled to be one of the organizations recognized in this arena, and we are proud to note that it is our third time receiving this accolade! As we've said before, the health and wellness of our employees is a top priority at our company. Our efforts in this area include hosting a Health & Wellness Fair, where we all had the opportunity to learn more about topics such as healthy eating, natural remedies and zinc deficiency.  It's wonderful to see so many members of our Bigelow team living healthy lifestyles—lifestyles that, of course, include drinking lots of antioxidant-rich tea!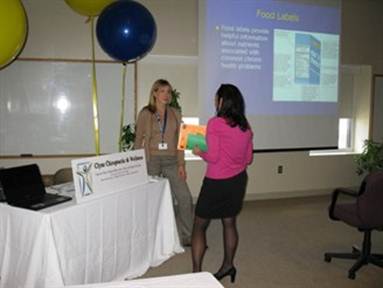 At our Health and Wellness Fair
 "We applaud the hard work and resourcefulness of these individuals, as they have made [the] wellness mission critical in their organizations," said Robert K. Janes, Jr., Director, New Sales, Anthem Blue Cross and Blue Shield (one of the event's sponsors).
The Business Council of Fairfield County, a private, not-for profit corporation, is committed to strengthening the economic vitality of the region and the performance of its member firms, through research-based public policy initiatives, information services and network building programs. Bigelow Tea will continue to promote our healthy work environment for our employees, good for all our families, both at work and at home!
Image via hrbenefitslert.com