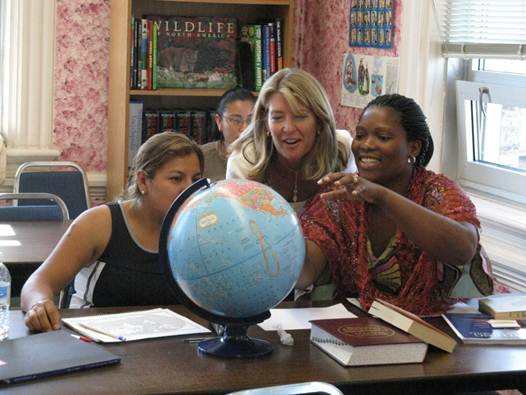 Giving back to the community is a longstanding Bigelow Tea tradition. So it is with immense pride that we celebrate the 25th anniversary of the annual Bigelow Tea Community Challenge Road Race, Fitness Walk and Kids' Fun Run that has grown steadily over the years to benefit 16 non-profit organizations in communities that neighbor our Fairfield, CT headquarters. What started as a "little race," as Cindi Bigelow recalled recently, is now a major community event with over 1,000 people expected where we hope to raise more than $100,000 in donations this year – 100% of which will be distributed. (Cindi is pictured above on a recent visit to the Mercy Learning Center that provides basic literacy and life skills to low-income women in the greater Bridgeport area. To date, the event has earned over $800,000! What a tribute to our community!
Since all of the proceeds go to charities, we wanted to take a minute to highlight the list of beneficiaries and the wonderful work they do for people in need:
We encourage you to learn more about these charities … and to join us on September 30 at the Wakeman Boys & Girls Club for a morning filled with family fun. The 2012 Bigelow Tea Community Challenge offers something for everyone, including a 5K Road Race, non-competitive Fitness Walk and a Kids' Fun Run. There's still time to register! You can help make a difference!