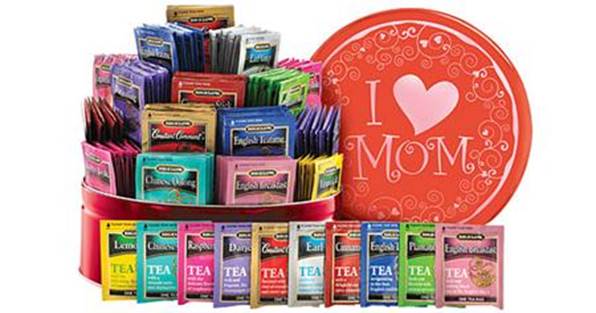 It's never too early to start planning a party … especially one for Mom! Yes, Mother's Day is coming soon, and Bigelow Tea wants to help you make it a great day for the mothers in your life.
Starting the day with a decadent brunch is one way to go, and we've got a recipe (below) for Vanilla & Cinnamon Baked Challah French Toast—featuring our Cinnamon Stick and French Vanilla teas!—that is unbelievably tastyand easy for the other family members to put together. No, Mom, you're not allowed in the kitchen today!
After breakfast, pamper Mom with a few thoughtful cards and gifts. Handmade items from young children will turn into treasured keepsakes, and a tin full of Bigelow Tea will keep her heart warm for months! Our I Love Mom Tin of Tea (pictured at top) filled with 128 tea bags is a great way to go!
So don't wait till the last minute; start preparing for your Mother's Day extravaganza now. With a little advance planning, the day will go off without a hitch! By the end of the day, she'll be sipping her favorite Bigelow Tea and thinking about just how lucky she is!
Vanilla & Cinnamon Baked Challah French Toast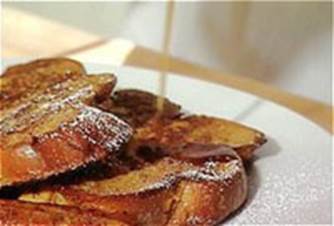 Ingredients:
12 slices of Challah bread, cut in half on the diagonal
½ cup of hot water
3 Bigelow® Cinnamon Stick Tea Bags and 2 Bigelow® French Vanilla Tea Bags

6 eggs
1 cup skim milk
1 teaspoon salt
1 – 8 oz package cream cheese, cut into small cubes
Non-stick cooking spray (preferably plain or butter flavor)
Yield: Serves 6-8
Instructions:
This do-ahead dish makes a perfect breakfast for overnight guests. It can be completely assembled the night before, and will bake while you're brewing the morning tea. Serve with a fresh fruit salad for a delicious start to your day.
Lightly coat the bottom and sides of a 9 x 13 inch baking dish with non-stick cooking spray.
Steep 5 tea bags in ½ cup of water for 5 minutes, and allow to cool slightly.
In a medium bowl, whisk together the milk, eggs and salt. Add cooled tea and whisk to combine.
Arrange a layer of Challah bread in the prepared baking dish, and evenly distribute half of the cream cheese cubes on top.
Add a second layer of Challah bread, and slowly pour egg mixture over the top, allowing it to completely soak all the bread.
Top with remaining cream cheese cubes, cover with aluminum foil and refrigerate overnight (or at least 2 hours).
The next morning, remove from refrigerator and preheat oven to 350 degrees.
Bake for 45-50 minutes, until the dish is completely set and lightly browned.
Cut into squares and serve with maple syrup if desired.