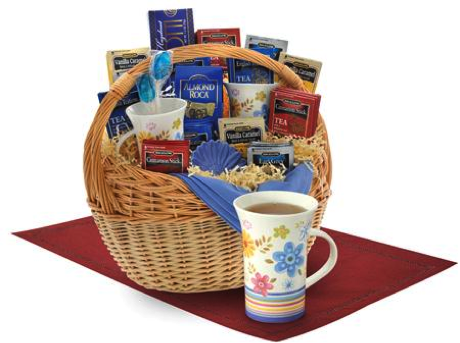 The warmer weather has not only brought beach days and fun in the sun, but it typically has taken us on a journey or two. Sometimes the trip is to a remote locale, but other times we find ourselves visiting friends or relatives who live just far enough away which allows for a perfect weekend getaway. How can we thank the host or hostess who goes out of their way to make us feel?  We at Bigelow Tea have the answer and the perfect gift: our Hospitality Basket! This pretty arrangement of teas and gifts is full of warmth and cheer … and it has just become available this summer! It's a traveler's best companion.
Not only is it simply proper etiquette to bring a gift if you are visiting with someone on your travels, but giving tea is actually a tradition with a long history. The word hospitality comes from the word hospital, which originally was a place of shelter and rest. Likewise, tea and the serving of tea are often associated with the spirit of hospitality.
Whether you are visiting for a night, or maybe just stopping by a friend's pool for the day, nothing says thank you for welcoming us like a basket full of tea. Your host and hostess will know that you appreciate all of their efforts in making you feel welcome. And there's one other upside of bringing this wonderful basket as a gracious guest: we can almost guarantee that you'll be invited back … maybe for tea next time!