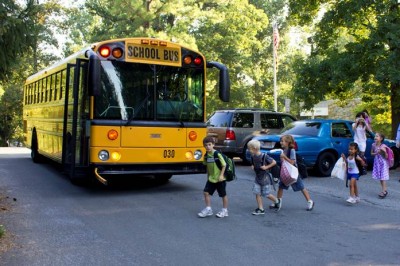 It's hard to believe, but much of summer has whizzed by, and pretty soon it will be back-to-school time for everyone, including parents!  As the fall approaches, and back-to-school stress starts up, Bigelow Tea recommends a strong cup of an apple cider or pumpkin spice tea for relaxation!
We know that back-to-school isn't only a busy time for kids, but it's also very demanding for parents.  It can be so stressful that almost half of the mothers polled in one survey wished for a housekeeper to help out with the workload, and over half said they were likely to cry on the first day of school!
So as the school year approaches, along with mountains of paperwork, lunches to prepare and kids to shuttle around, make sure to keep the stress in hand! Brew a cup of herbal tea and plan ahead for those hectic mornings. Get inspired with ideas to make fun school lunches, and get the kiddies excited with back-to-school crafts!
Remember: it's okay to take a deep breath and relax! School time should be a fun time! So don't forget to sit back and enjoy the first day of school photo-shoot or walk to the bus! And once the little ones are out the door, cradle a mug of your favorite Bigelow Tea and say "ahhh."
Image by woodleywonderworks via Flickr.com