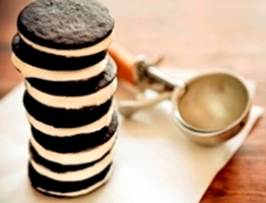 Tea lovers will be excited to hear that you can make ice cream sandwiches with tea! Who knew? Well, we at Bigelow Tea did … and we want to share this fantastic family-friendly recipe with you just in time for National Ice Cream Sandwich Day which is tomorrow! Our Vanilla Caramel Tea infuses just the right amount of sweetness and richness into the ice cream you'll make with this recipe. If you give it a try, we think ice cream sandwiches will take on new meaning in your household, and your kids might start asking for tea-licious ice cream all the time!
Vanilla Caramel Tea-licious Ice Cream Sandwiches
Ingredients:
1 ¾ cups (409mL) whole milk
6 Bigelow® Vanilla Caramel Tea Bags*
2 cups (500mL) heavy cream
2 eggs, beaten
2/3 cup (160mL) sugar
48 chocolate or vanilla wafers – 2 ½ inches in diameter
Yield: Makes 1 quart (1L) = 24 ice cream sandwiches 
*Delicious alternatives—any of our Bigelow® Teas—suggested flavors are Constant Comment®,Vanilla Chai, Plantation Mint®, French Vanilla or Spiced Chai.

Instructions:
Requires Ice Cream Maker
In a small saucepan, combine ½ cup milk (reserve remaining milk for later use) and 6 Vanilla Caramel tea bags over medium heat until bubbles are visible. Remove from heat and let steep for 6 minutes. Squeeze tea bags, remove and discard.
In a small mixing bowl, beat the eggs, add the tea/milk mixture, remaining milk, cream and sugar. Pour back into saucepan and heat over low heat until the custard thickens but does not boil. Remove from heat and strain; chill.
Pour into ice cream maker and follow manufacturer instructions. Place in a plastic container and store in freezer until ready to make sandwiches.
To make sandwich:
Let ice cream soften slightly, then place a small scoop on flat side of cookie, top with another cookie and press gently. If desired, roll the sides of the sandwiches through rainbow or chocolate sprinkles to coat ice cream. Freeze on a baking sheet for 1 hour; wrap each sandwich in plastic. They will keep in freezer for up to one week.
Prep Time: 15 minutes – Cook Time: 45 minutes.