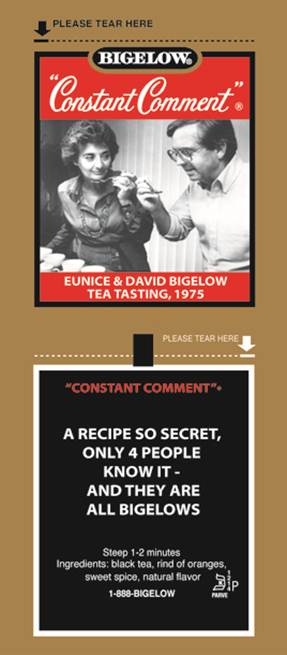 The story of Bigelow Tea begins with "Constant Comment"®, the iconic blend of orange and sweet spice created by Ruth Campbell Bigelow in her kitchen in 1945. That's why all of us at Bigelow Tea are filled with nostalgia and a deep sense of pride as we anticipate a major milestone: the 70th birthday of Bigelow Tea and "Constant Comment" in 2015! We're giving you a hint of what's to come with this special sampling program designed to share "Constant Comment," along with a bit of company lore, with tea fans of all ages.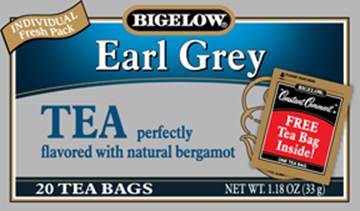 Beginning this fall, look for a free "Constant Comment" sample tea bag in specially marked boxes of the following Bigelow Teas: Vanilla Chai, Green Tea and Earl Grey. The foil overwraps of the "Constant Comment" samples have been redesigned to feature one of about a dozen vintage photos from the Bigelow Tea archives.
"Constant Comment tea drinkers tell us the unmistakable taste of rich, black tea with rind of orange and sweet spice conjures up the warmest memories," says Cindi Bigelow, third-generation president. "We thought it would be fun to share a cup of "Constant Comment" Tea—and treasured photos—with them as we prepare to celebrate our 70th year."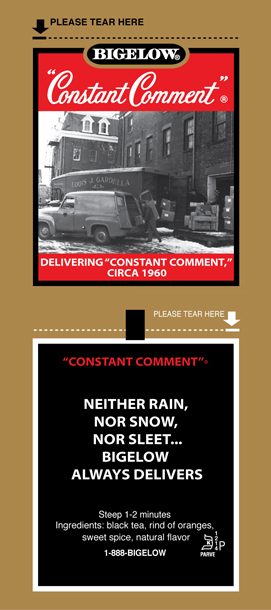 It's amazing that while Bigelow Tea has grown to include 120 varieties, "Constant Comment" is still a top seller. The tea is based on a Colonial-era recipe that Ruth perfected until she hit on a winning version. As the story goes, a friend who served the tea to guests raved that it received "constant comments." The rest, of course, is history!
Thank you to all who have shared their own heart-warming "Constant Comment" stories with us over the years. We love reading them!  If you've never tried "Constant Comment" Tea or have forgotten just how good a tea can be, our new sampling program is an ideal way to experience a great American tea tradition!