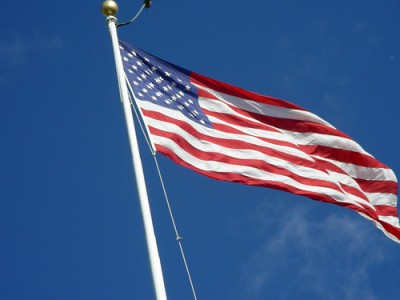 Bernard John Cigrand's passion for the American flag and the freedoms it represents still resonates, more than 100 years after he began his quest for official recognition of National Flag Day on June 14. His story is quintessentially American – and inspires our admiration here at Bigelow Tea, where Old Glory is near and dear to our hearts!
As a 19-year-old teacher in Waubeka, Wisconsin in 1885, Bernard placed a 10-inch, 38-star flag in a bottle on his desk and asked his students to write essays on what the flag meant to them. Thus began his commitment to commemorating the adoption of the Stars and Stripes as the flag of the United States on June 14, 1777. In 1916, when Bernard was 50, President Woodrow Wilson issued a proclamation calling for a nationwide observance of Flag Day. But it wasn't until 1949 that President Harry S. Truman signed an Act of Congress designating the 14th day of June each year as National Flag Day.

Today, the National Flag Day Foundation continues the tradition started by Bernard with an annual children's essay contest on "what the flag means to me." We salute all the children who have submitted entries this year and also take a moment to recognize the men and women in uniform. They are the reason Bigelow Tea created Tea for the Troops, 100 percent American-grown tea from our own Charleston Tea Garden, packaged in a special box resplendent with the red, white and blue! It's our way of thanking all those in the armed forces for their sacrifice and service.
So on June 14th, let's all sip some tea and thank our troops along with Bernard John Cigrand for ensuring the U.S. flag's enduring symbolism for all Americans!
Photo by brittanylynae via Flickr.com