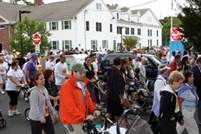 We're all excited here at Bigelow Tea about the 25th Anniversary Bigelow Tea Community Challenge, coming Sunday, September 30th. The annual Community Challenge features a 5k Road Race, Non-Competitive Fitness Walk and Kids' Fun Run —all of which promise to be great family fun for all.  The event attracts a crowd of 1000+ and is expected to raise $100k – 100% of which goes to 16 local charities which includes the Fairfield Senior Center, the Connecticut Food Bank and the Norma Pfriem Breast Care Center….all such important causes!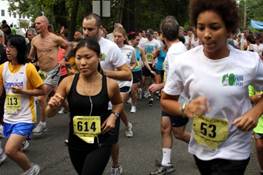 The event takes place at the Wakeman Boys & Girls Club, located in historic Southport, Connecticut. There will be several events including:
5K Road Race (begins at 10:10am).
2-Mile Fitness Walk (begins at 9:30am).
Kids' Fun Run (which includes the 100-yard Scamper, that dashes off at 9:00am., the 1/2 Mile Jog that starts at 9:10am, and the Kids' Mile Run that begins after completion of 1/2 mile jog).
Click here to register, and check out this page for more information on directions to the event, donations and division sponsorships. Free T-Shirts, Goody Bags, Food, Drinks and Childcare and will be provided for all registrants.  Plus: don't miss out on the exciting raffle with great prizes that range from our tasty and delicious Bigelow teas to the fantastic grand prize of two plane tickets to anywhere in the continental U.S., donated by Warren Travel Agency!
The Bigelow Tea Community Challenge is a family-friendly tradition that Bigelow Tea is proud to organize and sponsor for 25 years. Participation has grown and the proceeds make an incredible difference in the lives of many people in Fairfield, Bridgeport and surrounding communities. We can't thank you enough your support and we hope you make plans to attend on September 30th!