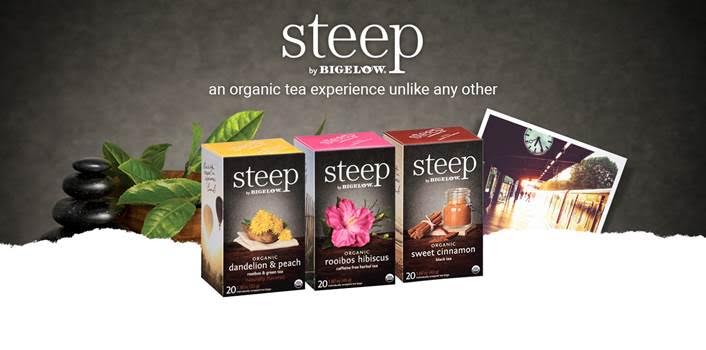 In keeping with the revolutionary spirit of founder Ruth Campbell Bigelow, Bigelow Tea is once again adding to its vast repertoire of 130+ varieties with the launch of a new line of craft teas named "steep by Bigelow." This premium line of 13 USDA Certified organic teas creatively blends exotic ingredients in unexpected and uniquely pleasing ways. These teas are also non-GMO and gluten free!
"Our new line of hand-crafted teas was created to engage all the senses, from shelf to cup, beginning with the serenely visual appeal of the packaging to the wonderful aromas and tantalizing flavors that follow," says Cindi Bigelow, third-generation president & CEO.  "Made with exceptional care under the careful watch of Bigelow family tea blenders, this is our 'microbrew,' rich-in-flavor teas that will enhance life's everyday moments. I invite you to come with us on this journey to live a life steeped in experiences."
The introduction of steep by Bigelow continues a cherished family tradition of innovation that began over 70 years ago when Ruth developed her iconic "Constant Comment"® blend and created specialty tea in America. Just as Ruth knew America was ready for a more flavorful tea, Bigelow Tea believes tea lovers will embrace the steep by Bigelow tea experience!
Inspired by the popularity of the craft beer movement, steep by Bigelow teas cater to individual palate preferences. Each of the 13 teas delivers a unique flavor experience by combining such taste counterparts as sweet peachy notes with earthy dandelion, smoky and nutty oolong with delicate floral jasmine and smooth, malty teas with flowery top notes. Check out these choices:
Sweet Cinnamon
Chai
Lemon Ginger caffeine free Herbal Tea
Dandelion & Peach Rooibos & Green Pure Green Tea Green Tea with Pomegranate Pure Green Decaffeinated Tea
Earl Grey
Oolong & Jasmine Green Tea
English Breakfast Certified Fair Trade Tea
Mint caffeine free Herbal Tea
Rooibos caffeine free Hibiscus Herbal Tea
Chamomile Citrus caffeine free Herbal Tea
Look for these enticing new teas in stores near you, on the steep by Bigelow website (http://www.steepbybigelow.com) or Amazon.com. And be sure to share your thoughts in the comments!