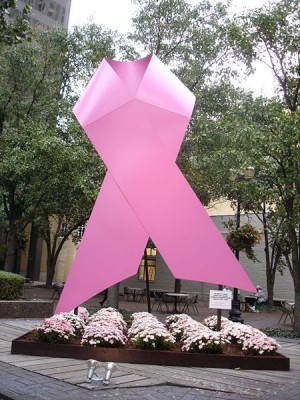 Photo via Wikimedia.org
Every year at this time Bigelow Tea takes the opportunity to recognize October as Breast Cancer Awareness Month. This year marks the 26th year that the National Breast Cancer Awareness Month (NBCAM) organization will have promoted breast cancer education, awareness and empowerment.
There are some sobering statistics about breast cancer; the chance of developing invasive breast cancer at some time in a woman's life is about one in eight (or 12%). The American Cancer Society's most recent estimates for breast cancer in the United States show about 207,090 new cases of invasive breast cancer will be diagnosed this year – and approximately 39,840 women will die from breast cancer in 2010. It is clear that breast cancer touches everyone, including our friends and family at Bigelow Tea.
This month – and all year long really – we are proud to help raise awareness of breast cancer and to promote the benefits of early detection. According to the National Breast Cancer Foundation, the best way to fight breast cancer is to have a plan that helps you detect the disease in its early stages.
We have shared studies that reported that drinking tea can reduce the risk of breast cancer. We take great pride in producing a product that can be so beneficial to our customers' health and so delicious. On that note, we hope you will join Bigelow Tea this month and spread the word about the importance of early detection of breast cancer. Raising awareness will help save lives, and we all can take a part.