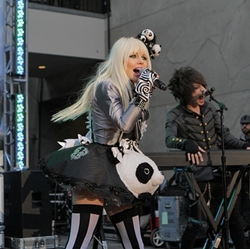 Image via islanddefjam.com
We already know that a good cup of tea is enjoyed around the globe, everywhere from China to England. Perhaps not as well known in the tea drinking world is Estonia, which recently came to our attention at Bigelow Tea because of the rising new star Kerli.
Born in 1987 when Estonia was a part of the Soviet Union, Kerli always knew that she wanted to sing.  Even after being discouraged numerous times, she never let her dreams dwindle. Her hit album, "Love is Dead," which hit the Billboard 200 chart fast, is proof that anyone can accomplish what they want when they work hard.
Watch Kerli's latest video Tea Party, from the album "Almost Alice;" it's the most exotic and colorful tea party display since the Tim Burton film "Alice in Wonderland."  Kerli's Tea Party advises listeners to drink their tea with "elbows down and pinkies up." Traditional or new age, you've never seen a tea party like this!
So even though Estonia might not be the first country one thinks of when it comes to tea, Kerli reminds us that a cup of tea really is a universal experience. As she sings in Tea Party; "Down to the last cup, we keep it boiling hot!" It's true that all across the world we all share in the simple pleasure of a cup of hot Bigelow Tea!