You know we love our Sweepstakes events here at Bigelow Tea! It's always thrilling for us to see lucky winners walk away with our tea and other exciting giveaways. Recently we gave away an opportunity to meet Daryl Johnston, former NFL fullback and current broadcaster, at a VIP suite at the Dallas Cowboys' Valley Ranch Practice Facility. Ten tea drinkers and their guests were lucky enough to win this amazing opportunity … and we heard back from them that it was an experience of a lifetime!
The winners were treated to lunch, a chance to watch the Dallas Cowboys practice and a meet and greet with Mr. Johnston, who just so happens to be a fan of Bigelow Tea! Here's what some of them had to say.
"Thank you so much for the wonderful contest. Never in my life would I believe I would be eating lunch with Daryl Johnston, but watching the Cowboys practice was a dream come true. We had a blast. Thank you so much."  Patricia, Sweepstakes winner
"Thank you. My husband and son (Don and Bronco) had an awesome time yesterday as a guest for the Bigelow Tea Sweepstakes winners at Valley Ranch. Meeting and talking with Mr. Johnston was the highlight. I just wanted you to know how much I appreciated it as the wife and mother. You gave my BOYS a very special memory. Please pass my gratitude to your company."  Kitty, Sweepstakes winner
"Thanks, we had a very memorable, wonderful time."  Alissa, Sweepstakes winner
We're so happy that all of our winners enjoyed their time with Mr. Johnston and the Dallas Cowboys. We have another big Sweepstakes event running right now on our Facebook page where you can win a trip or our fantastic Charleston Tea Garden, so check it out and enter today. Good luck!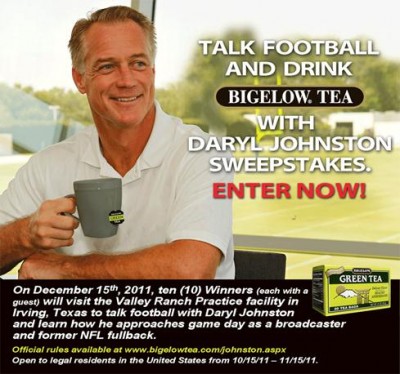 Image by CityOfFortWorth, via Flickr.com