Holiday Punch, Hot Holiday Tea, Hotty Toddy French Vanilla
Bigelow Tea wants to spread the holiday spirit with three of our flavorful libations, both Naugh-TEA and nice!  Enjoy our classic Constant Comment® tea blend featured in our tasty Holiday Punch, also perfect for the kids! And then, when you want to warm yourself up (even Florida gets nippy in December!), sip a Hotty Toddy French Vanilla or kick it up a notch with some Hot Holiday Tea.  And please remember:  if you drink, don't drive.  Bigelow Tea wants you to have a safe and happy holiday.  Cheers!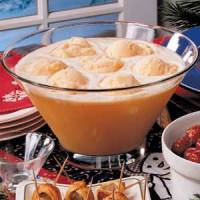 Bigelow Constant Comment® Tea Holiday Punch
Ingredients:
4 cups water
4 Bigelow "Constant Comment"® Tea bags
2 quarts ginger ale
2 6-oz. cans frozen lemonade concentrate
2 6-oz. cans frozen orange juice concentrate
1 8-oz. can crushed pineapple with juice
1 10-oz. jar cherries (optional)
2 pints orange sherbet
Mint leaves
Yield: 25 4-oz. servings
Instructions:
In a saucepan, bring water to boil, add tea bags, cover and steep for 5 minutes.
Remove tea bags.  Allow tea to cool; then chill.
Just before serving time, combine tea, ginger ale, juice concentrates, pineapple and cherries in a large punch bowl.  Float scoops of sherbet on top.
Garnish with mint leaves (optional).
Ingredients:
6 Bigelow® French Vanilla tea bags
2 cups heavy cream
2 cups whole milk
¼ teaspoon salt
1 cup sugar
1 teaspoon cinnamon
1 teaspoon rum extract
Yield: Serves 4
Instructions:
Place tea bags, heavy cream, whole milk in a microwave safe bowl and place in the microwave. 
Heat the tea bags, cream and milk on high for 4 minutes, stirring at 1 minute intervals. 
Carefully remove from the microwave and allow the tea bags to steep for 10 minutes. 
Remove the tea bags and press with the back of a spoon to release all flavors; discard used tea bags. 
Add remaining ingredients and stir until the sugar has dissolved. 
Pour into 4 heat proof cups/mugs, top with whipped cream and cinnamon.
Ingredients:
1 ⅓ (340mL) water
8 Bigelow® Apple Cider Herbal tea bags
1 ⅓ cups (340mL) cranberry juice
1 cup (250mL) burgundy wine
Cinnamon sticks as a garnish
Yield: Serves 4
Prep Time: 5 minutes
Cook Time: 5 minutes.
Instructions:
In a medium saucepan, bring water to boil, add tea, cover and let steep for 5 minutes.
Remove teabags. Stir in cranberry juice and wine. Return to medium heat. Heat thoroughly.
Serve in a large pottery mug.
Garnish each cup with a cinnamon stick.