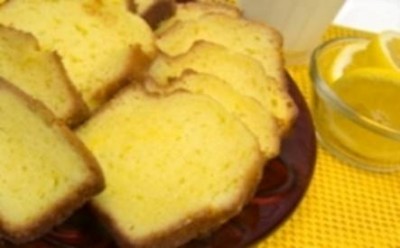 Spring is here and families gather … and whether you take part in an Easter breakfast, a Passover Seder or any springtime custom, food and drink are sure to be part of the festivities. Bigelow Tea takes great pleasure in fine food and family, especially dishes that are prepared with the flavors of our tea!
So as you and your loved ones celebrate the spring, here are a few recipes that your guests will appreciate: I Love Lemon Quick Bread for Easter morning; Peach Chai Iced Tea, made with Kosher tea for Passover; and Chamomile-braised Chicken for a beautiful spring dinner.
Enjoy!
I Love Lemon Quick Bread
Ingredients:
½ cup milk
5 Bigelow I Love Lemon® Herb Tea Bags
1-1/2 cups all purpose flour
1 teaspoon baking powder
½ teaspoon salt
1 cup granulated sugar
½ cup butter (1 stick), at room temperature
2 large eggs
1 teaspoon lemon rind, grated
½ tablespoon poppy seeds (optional)
Yield: Yields one 4″ x 9″ loaf.
Instructions:
Combine milk and tea bags in a small saucepan. Heat over medium/low heat until bubbles form around the edge, stirring occasionally. (DO NOT BOIL.) Remove from heat and let cool (15-20 minutes); remove tea bags, squeezing out liquid. Set aside.
Preheat oven to 325° F. Grease 4″ x 9″ loaf pan.
In a large bowl, combine flour, baking powder and salt. In a separate bowl, cream together sugar and butter. Add eggs and mix until smooth. Alternate adding tea-infused milk and flour mixture; stir after each addition. Add lemon rind and stir until well blended.
Pour batter into saucepan. Sprinkle poppy seeds evenly on top. Bake 45-60 minutes until a toothpick inserted in center comes out clean. Cool on wire rack before removing from pan.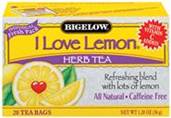 Peach Chai Iced Tea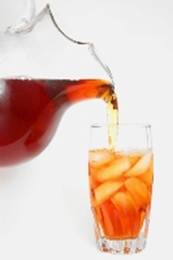 Ingredients:
1½ cups cold water
3 Bigelow® Perfect Peach® Herbal Tea Bags
3 Bigelow® Spiced Chai Tea Bags
7 cups of cold water
Instructions:
Place 1½ cups boiling water over tea bags in a 4-cup glass measuring cup. Let steep for 10 minutes. Squeeze and remove tea bags, let the concentrated tea cool. Pour concentrate into a 3-quart pitcher. Add the cold water and stir. Pour into ice-filled glasses and serve.
Recipe created by Dorinda of Covington GA
3rd place winner 2007 Iced Tea Recipe Contest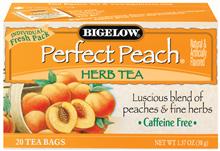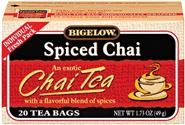 Chamomile-braised Chicken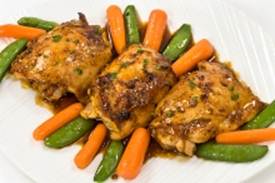 Ingredients:
8 Bigelow ® Cozy Chamomile Herb Tea Bags
1 cup chicken broth
1 tablespoon agave nectar or honey
8 chicken thighs, bone in, skin on
2 teaspoon salt
2 teaspoon pepper
1 tablespoon olive oil
1 cup baby carrots diced
1 medium onion diced
1 celery rib diced
¼ cup chives diced
Yield: Serves 4
Instructions:
Preheat oven to 350° F.
Using a small saucepan, bring chicken broth to a boil. Turn off heat and allow tea bags to steep in broth for 5 min. Discard tea bags. Add agave nectar and stir to dissolve. Season both sides of chicken with salt and pepper.
Heat a large, oven proof sauté pan on med-high. Add olive oil. Once oil is heated, add chicken thighs, skin side down. Once skin is golden brown (5 min), turn chicken over and allow to cook for an additional 5 min. Remove chicken from pan and place on a plate. Using the same pan, reduce heat to medium and add carrots, onion and celery. Sauté vegetables for 3 minutes. Add ½ cup of the Chamomile Tea broth to deglaze the pan and allow liquid to reduce by ½ (5 min). Place reserved chicken back in pan over the sautéed vegetables. Pour remainder of reserved broth over chicken. Place uncovered pan in oven. Bake 25 minutes. Remove from oven. Serve on warm plates. Garnish with chives.