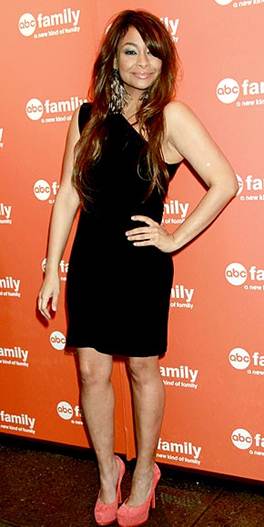 Here at Bigelow Tea, it's great fun to keep track of all the ways to use tea outside the kitchen: as a mouthwash, an eye compress, and a hair conditioner to name just a few. So when we heard that actress Raven-Symoné uses tea to dye her tights the perfect shade for red carpet appearances, we just had to share her ingenious idea – passed down by her mom!
You may remember Raven as adorable Olivia on "The Cosby Show" and later as star of "That's So Raven" on the Disney Channel, but she's all grown up and now starring in a new ABC Family show called "State of Georgia." She's still got that spunky smile and lots of attitude!
She revealed her tea-and-tights trick on the CBS show "The Talk," explaining that she places sheer stockings in a tub with tea bags to darken them to match her skin tone (we can only imagine that Bigelow Tea bags are her top choice)! Raven says the stockings cover what she calls her "strawberry legs" caused by dark pores. Flesh-colored tights allow her to forego body makeup when wearing a short dress or skirt. Raven's approach certainly gives new meaning to the term "tea-stained"!
We say bravo to Raven for being so open with her fans about her beauty regimen, and for reminding us of tea's amazing versatility. Do you have a creative way to use tea? Tweet us or give us a shout on Facebook!
Image via People.com