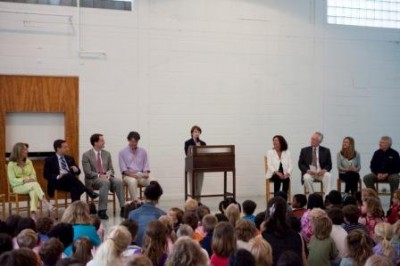 I have to share with you the most amazing morning I had this week. Bigelow was very fortunate to be able to help sponsor solar panels for a school in Wilton. Thanks to Connecticut state funding for programs like this (unfortunately the funding might end soon), Bigelow was able to donate $25,000 and receive a tax rebate from the Neighborhood Assistance Act.
The process was pretty simple: first the town of Fairfield had to get state approval for the funds. Once they got the approval, the town looked for businesses to sponsor. We quickly lined up to support such a worthy cause. We then gave out the money to non-profit organizations that wanted to "go green."
Well thanks to that process, we now have an elementary school with 50 solar panels on its roof. Those panels will reduce the school's CO2 emissions by 15,500 pounds over the next 25 years. It is the equivalent to planting 175 trees a year over that same time frame!
This week I was invited to the school's ribbon cutting for the panels, and the event was so heartwarming. I walked in to the school to be greeted by 5 young boys in ties and jackets (too cute for words), they then escorted me into the main room where hundreds of little faces were staring up at me as they moved me to the front. Each one was more precious than the next. I was all smiles. Our congressman, Jim Himes, got up and spoke and did the most amazing job talking to these young kids about their role in taking care of our one world. He was brilliant in his approach-just the right level but talked about all the things they are doing in the school to help  planet earth!
It was such an outstanding event that I have since called our Governor, Jodi Rell, to share with her how fantastic the experience was. I know she is looking at a bill right now that will extend or end the funds available to continue these kinds of programs. She has much to consider with the state of Connecticut in serious financial turmoil, but I felt like she should at least hear how effective the funds have been and how they are helping our state and our world for the future.
Who knows, maybe my little ribbon cutting experience might make a big impact on her! Either way, it was a morning to remember. I am still all smiles…..
Cindi Bigelow