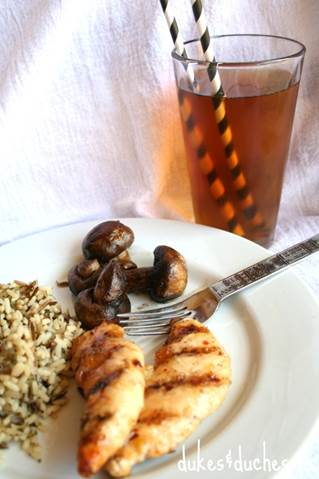 If you sometimes feel like you're living the joke about the amateur chef who had "101 ways to remove all the flavor from a chicken," you'll be thrilled to discover this delish Fig Preserve Tea Glaze, made with Bigelow Tea!
Tea fan Randi Dukes, who blogs at DukesandDuchesses loves to get her grill on … and she came up with this glaze that uses Bigelow Tea's Earl Grey tea as a key ingredient which is totally delicious.
A staple of the American diet, chicken is something that people like @ATasteOfMadness (a fan of Randi's)—who commented that she's always looking for new chicken recipes—eats … a lot! In fact, studies show that people in the U.S. consume more than 60 pounds per person per year! That's more than a pound per week.
Here's Randi's recipe that couldn't be simpler, tastier and healthier! And with only four ingredients—you'll be diggin' (make that figgin') in and enjoying this for years to come.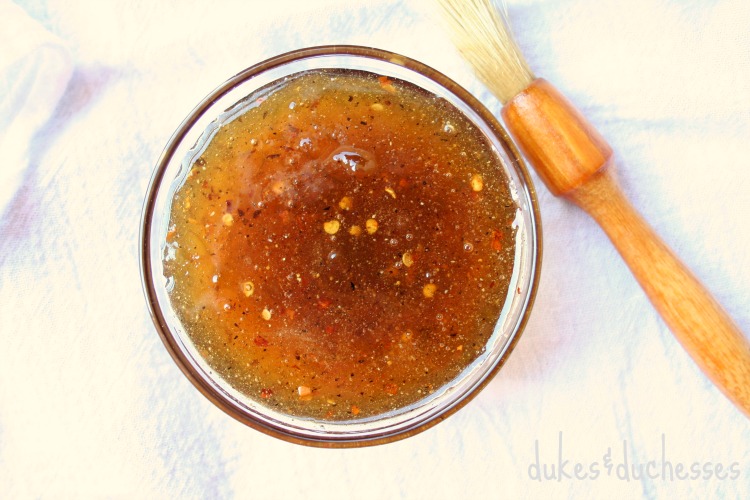 Ingredients:
Fig preserves (1 jar, 11 ounces) *Note: Look for low/no sugar or organic varieties if preferred
Earl Grey Bigelow Tea bags (4)
Red Pepper Flakes (1/4 teaspoon)
Black Pepper (1/2 teaspoon)
Chicken breasts, trimmed
Instructions:
Combine Fig preserves and Bigelow Tea bags in a saucepan and stir on a low simmer for about 20 minutes until the tea has infused the preserves.  Remove from heat, remove the tea bags, and stir in the red pepper flakes and the black pepper. Place chicken on the grill, sprinkle with salt and pepper, and cook for a few minutes.  Flip the chicken over and apply the glaze liberally then continue to grill until the chicken is cooked through.
This glazed chicken has a delicious, slightly sweet flavor and pairs perfectly with wild rice and a fresh vegetable.
And, as Ms. Duke blogged, "every meal is better with an iced cold glass of tea." Try her favorite Bigelow iced tea combination: "Boil 12 cups of water and steep six Earl Grey tea bags with three Perfect Peach tea bags.  Let steep until the tea is dark, remove the tea bags, add 1/4 cup of sugar, and fill your pitcher with ice cubes.  You'll have a refreshing beverage that pairs perfectly with this chicken dish."
Images via DukesandDuchesses.com