It's Earth Day, and at Bigelow Tea we welcomed spring this month with an ongoing celebration of all things green! We adore the color green, and on Earth Day we especially love green living through Sustainabili-TEA, our initiative to reduce our environmental impact on the Earth. Of course, any discussion of "greening" puts us in the right mood for a cup of Bigelow Green Tea.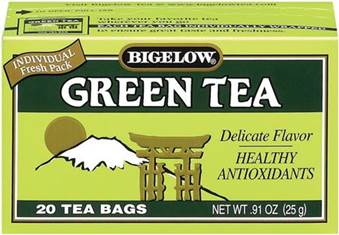 With Earth Day upon us, we're encouraging everyone to up their "green game." Since its inception in 1970, Earth Day has mobilized citizens across the globe to embrace and advocate for sustainable environmental change. As a grassroots movement, Earth Day rallies individuals to commit to making a difference in their own homes, businesses and communities. For us at Bigelow Tea, this includes everything from composting to land preservation to adopting eco-friendly shipping methods.  We've even appointed a dedicated Green Team to manage our production, warehouse and recycling efforts.
So this Earth Day, take a moment to think about what you can do to live more gently during your time on our planet. Recycle. Compost waste. Plant a tree. Walk to work. And when you're finished, take a moment to reward your body and soul for the effort with some delicious hot or iced Bigelow Tea. Choose from more than 35 varieties, every one infused with finest flavors Mother Earth has to offer.
Top image by bterrycompton via Flickr.com