From famous sayings to first impressions, eyes get a lot of attention. So, during Save Your Vision Month, Bigelow Tea is taking many glances at different measures to take for protecting your sight. Here's a closer look.
Wearing contact lenses? Make sure that they're kept clean with the right solution your doctor recommends. While applying eye makeup, keep a close eye on your cosmetics.It's best to switch out your mascara after three months and always keep your brushes tidy. Throw away any products that look rancid ASAP. And always don a pair of sunglasses when heading outdoors.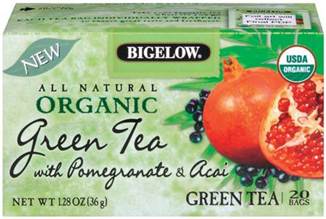 Of course, watching what you eat and drink is important, and green tea can be a great part of a balanced diet. Bigelow Tea has many green tea varieties including Organic Green Tea with Pomegranate & Acai. In fact, @naturallysavvy tweeted a photo of this very tea recently!
Which #BigelowTea goes in your #dailycup? Post a pic on Twitter, Facebook or Instagram!
 Top image by Sam DeLong via Flickr.com