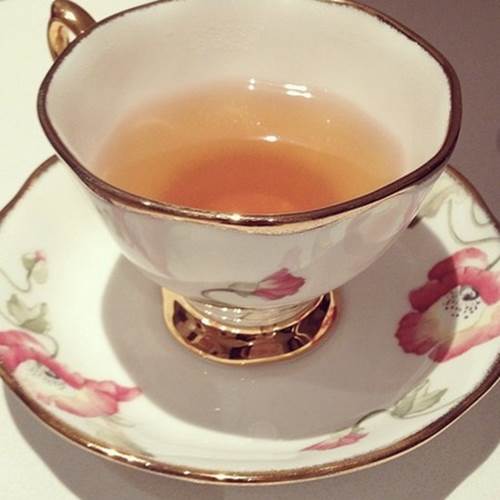 What does world-class super-model, author, skincare entrepreneur and yoga-loving mom Miranda Kerr have in common with Bigelow Tea? Well, two things actually: 1) loving tea of course; and 2) caring about the harmonious connection between people and the planet!
Bigelow Tea spied this charming tea cup belonging to Miranda Kerr which she posted on Instagram with the simple words "Tea time" and the suggestion #takeamomentforyourself.  Yes, she's a green tea lover, folks. So Miranda would certainly enjoy some of Bigelow Tea's Green Tea varieties like Decaf Green Tea, Green Tea With Mango, Green Tea Chai, and the Bigelow family's first blend (but the "green" version), Constant Comment. Or she can try the fave of fan @marscaparida, who tweets "Bigelow Green tea with pomegranate & acai tastes great!" Because Miranda is so environmentally conscious, she might want to sample some of Bigelow Tea's certified organic Green Tea, and she'll be happy to know about the company's participation in the Ethical Tea Partnership!
We say, drink up beauty! How do you #takeamomentforyourself? Share your thoughts with the Bigelow family!
Image by Miranda Kerr via Instagram