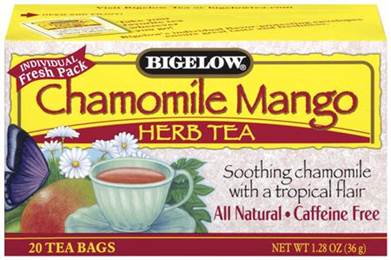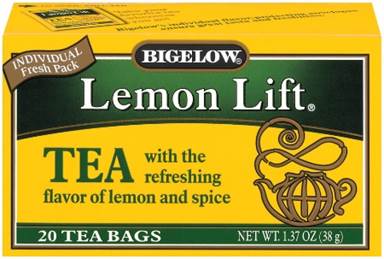 You know we love flavor here at Bigelow Tea, and this month we're excited to feature two of our favorite fruits: lemon and mango! Yes, it's Lemon & Mango Month, and we think that's simply sweet!
Lemon is the perfect complement to any tea, and many people squeeze a little into their cup every day (or place a pretty slice on the edge of their iced tea glass). Because tea and lemon make such a perfect combination, we've developed a wonderful assortment of lemony-flavored teas! From our black tea Lemon Lift to our Green Tea with Lemon and our herbal I Love Lemon blend, there's something for every tea and lemon lover!
And when it comes to Mango … we're also huge fans! The tropical flavor pairs brilliantly with chamomile in our Chamomile Mango Herbal Tea and shines brightly in our Green Tea with Mango. We've also put it into our Bigelow Tea Coconut Water with Mango Green Tea mix! So many ways to enjoy the fabulous flavor of mango!
Both flavors are amazing in tea, and can even be used in cooking your favorite dish. As you know, we've created many tea-infused recipes at Bigelow Tea, and we thought we'd share one that features Green Tea and mango today. Enjoy Lemon & Mango Month!
Green Tea and Mango Pasta Salad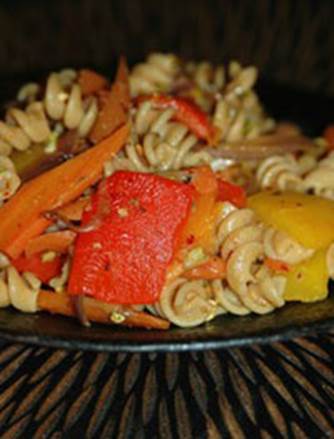 Ingredients:
2 quarts (2 litres) water
16 Bigelow® Green Tea Bags

½ teaspoon (2.5mL) salt
12 ounces (336g) Fusilli pasta
1 avocado , peeled, seeded and cubed
½ cucumber, peeled and diced
1 cup (250mL) red pepper, diced
2 large mangos, cut into cubes
Black sesame seeds for garnish, optional
Dressing:
1/3 cup (80ml) olive oil
2 tablespoons (30mL) fresh lime juice
1 clove garlic, minced
1 teaspoon (5mL) grainy mustard
Salt and pepper taste
Yield: Serves 8 – Prep Time: 15 minutes – Cook Time: N/A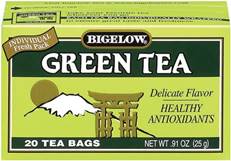 Instructions:
Bring 2 quarts (2 litres) of water to a boil, add tea bags and steep for 5 minutes. Remove tea bags, add salt and pasta; cook according to package directions. Drain.
In small bowl combine dressing ingredients and mix well.
Toss pasta with dressing. Cool.
Add avocado, cucumbers, red pepper and mango and garnish with sesame seeds, if desired.