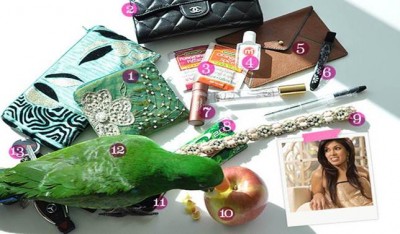 When fashionistas empty the contents of their super-chic handbags, we love to take a peek – and we're excited when Bigelow Tea is found among the beauty booty! Witness up-and-coming Dallas designer Prashe Shah, who recently spilled her purse for the ShopTalk blog, revealing two packets of Bigelow Tea (check out item #3 in the photo above!) along with a quilted Chanel wallet and a vintage silk cosmetic bag, of her own design, no less. We say this collection reflects Prashe's all-around good taste!
Prashe's tea of choice? She had Pomegranate Pizzazz and Orange & Spice herbal teas in her Prada bag. Coffee, she says, has never passed her lips. She's our kind of gal, for sure! Prashe, who uses gorgeous vintage saris in her clothing designs, isn't the only tastemaker who has shown her appreciation for Bigelow Tea. A while back, we also captured the contents of Kimora Lee Simmons' purse, which included Bigelow Green Tea. In fact, Kimora Lee says she "can't go a day" without tea and the other staples in her bag!

As these ladies know, the foil-wrapped tea pouches keep Bigelow Tea fresh and make it easy to have a cup anytime. What could be more soothing during a fashion emergency? We'd love to know – do you carry Bigelow Tea in your handbag? Tell us what you're toting via Facebook or Twitter!
Image via shoptalk.dmagazine.com