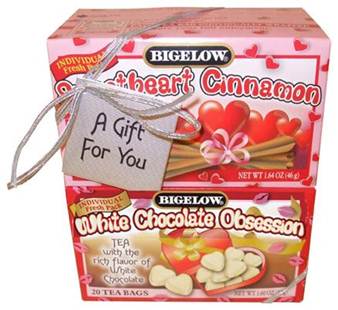 Valentine's Day is right around the corner, and Bigelow Tea wants to share the love with a great sweepstakes – starting today! You have until Feb. 16th to enter for your chance to win our Valentine Gift Duet featuring two heartwarming teas: White Chocolate Obsession Tea and Sweetheart Cinnamon Herb Tea. Talk about a dynamic flavor duo!
We know you'll enjoy drinking them both, either during some precious "alone" time or with someone special. White Chocolate Obsession is a heavenly blend of decadent chocolate and robust black tea, and Sweetheart Cinnamon Herb Tea is a tantalizing cinnamon and sweet apple herb tea. Yum! A total of 14 lucky winners will get two boxes (one box of each flavor). Each box contains 20 tea bags, for a total of 40 tea bags. Total value: $6.95.
To enter, simply "like" our Facebook page (if you haven't already!), then click the sweepstakes tab under our profile picture and enter your name. Easy, right? The 14 winners will be chosen by random drawing on Feb. 16th!
Enter today! Good luck … and remember, all of us at Bigelow Tea wish you a very happy Valentine's Day!