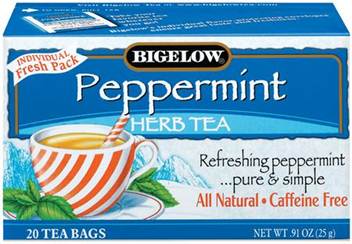 Bigelow Tea has some refreshing news for all you Peppermint Herb Tea lovers! A recent Health.com report on "home remedies doctors swear by" highlights peppermint tea for its ability to help relieve indigestion and stomachaches. Here's the scoop:
Dr. Philip Hagen, preventive medicine specialist at the Mayo Clinic, says oil from the peppermint leaves and stems calms the muscles of the digestive tract. This allows gas to pass more easily, relieving indigestion. He recommends brewing a cup of tea with peppermint leaf when a stomachache hits. Hagen cautions however, that if stomach pain is due to reflux (that comes with an acidic, burning feeling in the chest), peppermint tea can actually aggravate the problem by allowing acids to flow back into the esophagus.
But for occasional tummy trouble, it's certainly nice to know that Peppermint Herb Tea is a deliciously soothing option! In fact, mint in its different varieties is known for its healing properties. Another 100 percent peppermint tea to try is Egyptian Mint Herb Tea. If you find these two teas a bit too intense, consider other Bigelow Teas that blend peppermint with spearmint or other herbs and natural flavors:
Mint Medley Herb Tea – peppermint leaves, spearmint leaves, rose hips, lemon peel and hibiscus.
Sweet Dreams Herb Tea – chamomile, hibiscus, peppermint leaves, rose blossoms, spearmint leaves, spice, orange blossoms.
Chamomile Mint Herb Tea – chamomile, peppermint leaves, rose hips, lemongrass, natural flavor (soy lecithin), lemon peel, lemon verbena, hibiscus.
Organic Moroccan Mint Caffeine Free Herb Tea – organic spearmint, organic peppermint, organic rose hips, organic hibiscus, organic lemon peel, natural flavor.
Whichever is your favorite, be sure to keep a box handy for digestive emergencies – as well as cool refreshment anytime!