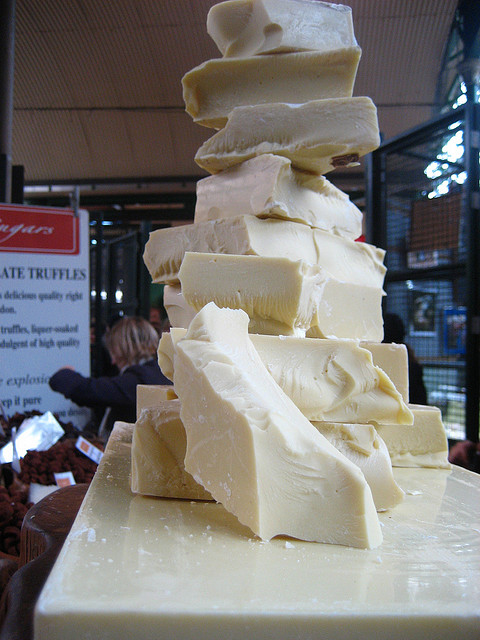 At Bigelow Tea, we simply love chocolate … and we can't wait to celebrate National White Chocolate Day tomorrow (September 22nd)!  Bigelow Tea recommends having fun with either our White Chocolate Mint Mousse Tea Cups or White Chocolate Pound Cake. These recipes offer a twist on white chocolate and will cause all tea-drinking chocolate lovers to celebrate big-time on National White Chocolate Day!
White Chocolate Mint Mousse Tea Cups
The Winning Bigelow Tea Contest Recipe by Diane Halferty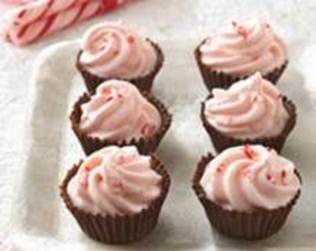 Ingredients:
1-1/2 cups bittersweet or semisweet chocolate chips
6 ounces white chocolate baking chips
2 cups whipping cream, divided
6 Bigelow Tea Plantation Mint or Mint Medley tea bags
3 large egg yolks
Scant ½ cup granulated sugar
1/8 teaspoon salt
1 teaspoon pure vanilla extract
2 drops red food color
2 tablespoons crushed candy canes (about 6 miniature candy canes)
Yield: 24 mini cups 
Instructions:
Line 24 mini muffin cups with petit four paper cups. In 1-quart saucepan, melt bittersweet or semisweet chocolate chips over low heat, stirring frequently. Spoon about 2 teaspoons of the chocolate into each paper cup. With back of small measuring spoon, spread chocolate up sides to within 1/8 inch of the top. Chocolate should be warm enough to spread. Refrigerate about 20 minutes or until completely set.
Carefully remove paper cups from chocolate cups.
Meanwhile, melt the white chocolate chips in a double boiler over simmering water. Heat ¾ cup of the whipping cream and the tea bags in a saucepan just until it begins to boil. Carefully remove tea bags and squeeze excess moisture from them into the pan.
Whisk together the egg yolks, sugar and salt until pale yellow. Add the hot cream-tea mixture to the eggs, a little at a time, to temper, whisking constantly. Pour the custard into the melted chocolate while still over the double boiler and whisk until smooth. Stir in the vanilla and remove from the heat; cool mixture.
Beat 1-1/4 cups of the cream to whipped cream consistency. Whip half the cream into the tea mixture and then fold in the remaining cream.
Spoon or pipe whipped cream mixture into chocolate cups. Refrigerate until serving. Just before serving, sprinkle with candy.
Recipe submitted by Lori Peardon,
 Bigelow Recipe Contest 2011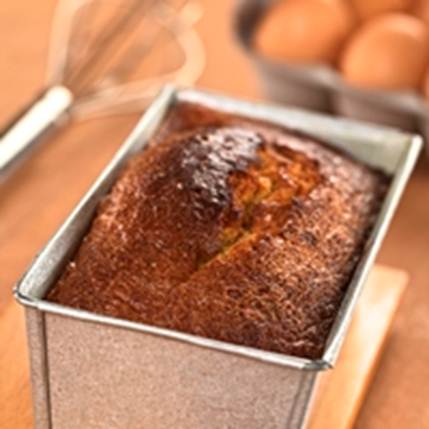 Ingredients:
1 cup butter
4 eggs
2½ cups self-rising flour
1 cup sugar
1 cup Bigelow White Chocolate Obsession Tea, brewed and cooled
Instructions:
Grease and flour 9x5x3 inch baking pan.  Combine butter, eggs, sugar and brewed tea.  Add flour and mix thoroughly.
Turn batter into pan and bake for one hour at 325˚F.  Cool 15 minutes before turning cake onto a wire rack.
First image via Adactio via Flickr