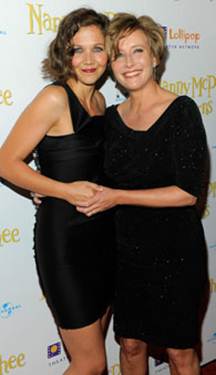 Tea for two, and two for tea.  A familiar notion that makes all the sense in the world, especially when we're talking about sharing a cup with your best friend. Bigelow Tea wasn't surprised to learn that the sentiment holds true even for some of the most famous celebrity BFFs like Maggie Gyllenhaal and Emma Thompson!
When the two met on a movie set they said, in an interview with Good Housekeeping, that they couldn't wait to have "proper conversation." Then, "over teas and lunches," they quickly became the best of friends. At first glance Maggie and Emma might not seem likely candidates to be best friends … Emma was born in West London, Maggie in US, and Emma is a just a few years older than Maggie. It really was their ponderings over the potion that brought them close. Emma was helping Maggie adjust to a new culture in England and they ended up talking about everything under the sun.  Bonding moments while tipping the teapot? Just the thought makes us a little tea-ry. The two got so close that Emma even wrote the part of the harried young mother in Nanny McPhee Returns with Maggie in mind!
We think Maggie and Emma were onto something when they began their friendship over tea. Whether it was a comforting Cozy Chamomile or a lovely Lemon Lift they were sipping, when it's tea for two, the flavor just might not matter.
We at Bigelow Tea feel there is no better way to get to know a person than with captivating conversation and a spot of tea. No wonder a sense of genuine fondness exudes from Maggie and Emma when they talk about each other!
Image by Jemal Countess via USA Today/Getty Images