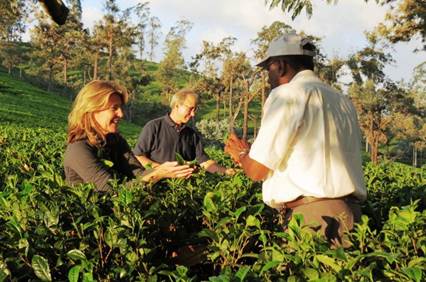 In case you were wondering what's in your daily cup, Bigelow Tea wanted to take this opportunity to give you a quick Tea 101 lesson!
If you're sipping a cup of "tea," you are sipping the brew of the steeped leaves of the Camellia sinensis plant! All true teas come from the Camellia sinensis plant. It's the varying amounts of time the freshly-plucked Camellia sinensis leaves are exposed to air (oxidation) that determines whether the leaves become black, oolong, green or white tea.
Black Tea, or just plain "tea" as it is often called, comes from Camellia sinensisleaves that are first crushed, then exposed to air for several hours. The amount of oxidation produces a brew that is robust in flavor and rich in color that can be enjoyed as you start your day, or as a pick-me-up any time of day.
It is the Bigelow family recipes, lovingly passed down from generation to generation, that make Bigelow Tea particularly special for so many loyal consumers. Ingredients like orange rind in Bigelow "Constant Comment"® Tea, real oil of citrus bergamot fruit  in Bigelow Earl Grey and refreshing spearmint in Bigelow Plantation Mint® Tea are used to create some of the Bigelow Tea family's most-loved blends. But the Camellia sinesis plant is the foundation for all Bigelow black teas.
So whether it's from the top of the Sri Lankan mountains—where some of the finest teas in the world which are grown and carefully hand-picked—or the southern part of Italy where the Bigelow family buys real oil of bergamot (carefully crafted by families that have been performing this delicate process for generations), Bigelow Tea has never and will never compromise on its ingredients—or on its family recipes.
So, when you drink a cup of tea, you're really sipping the brew of a plant and all the goodness that goes with it. Bigelow Tea uses only the best because it's what our consumers expect and is at the centerpiece of a three-generations-old family tradition.
(Picture features third generation CEO Cindi Bigelow visiting tea fields in Sri Lanka)