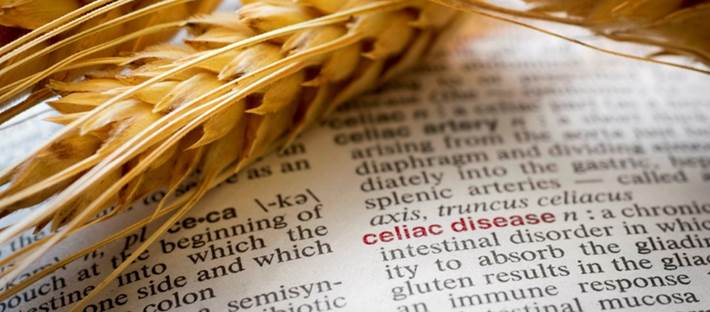 To mark Celiac Awareness Month, Bigelow Tea is sharing two scrumptious recipes for you to make and savor! Either will pair perfectly with your favorite mug of Bigelow Tea, most of which are naturally gluten free! And if you love vanilla like @SoniaMarieXoXo, who tweeted about vanilla chai, you're going to love, LOVE the Spice-y Chai Apples with Crispy Oats! Want more? Bigelow Tea's got a whole list of Gluten Free Recipes—made with Bigelow Tea of course! Here's to your continued gluten-free good health … enjoy!
Gluten-free Ginger Oatmeal Muffins
Ingredients:
Tea Concentrate:
10 bags Bigelow Ginger Snappish  Herb Tea with Lemon
1 cup boiling water
Muffins:
⅔ cup firmly packed dark brown sugar
½ cup vegetable oil
2 tablespoons molasses
2 eggs
½ cup tea concentrate
1 tablespoon freshly grated ginger
1 ½  cups gluten-free flour
½  cup old-fashioned rolled oats*
1 tablespoon baking powder
1 teaspoon baking soda
¾ teaspoon Xanthan Gum**
½ teaspoon salt
½ cup dried currants
2 tablespoons sugar
*Use gluten-free certified oats to be totally gluten-free when making this recipe
Yield:
Makes 12 muffins
Prep Time:
10 minutes
Baking Time:
14-18 minutes
Variations:
Try using  Bigelow Cinnamon Stick Tea, Sweetheart Cinnamon Herb Tea or Bigelow Constant Comment Tea
**Definition of Xanthan Gum – Produced from the fermentation of corn sugar, xanthan gum is used as a thickener, EMULSIFIER and STABILIZER in foods such as dairy products and salad dressings.
Instructions:
Place tea bags in a 1-cup glass measure.  Add water to equal 1 cup.  Steep tea for 10 minutes.
Squeeze all liquid from tea bags into cup.  Discard tea bags.
Heat oven to 350 F.  Spray 12-cup muffin tins with baking spray; set aside.
In large mixing bowl add brown sugar, vegetable oil, molasses, and eggs.  Mix at high speed, scraping bowl often, until creamy (1 to 2 minutes).
Add tea concentrate and ginger.  Continue mixing at medium speed, scraping bowl often, until well mixed (1 minute).
In medium bowl stir together gluten-free flour, rolled oats, baking powder, baking soda, Xanthan Gum,  and salt.  Add to tea mixture.  Mix just until moistened.
Stir in currants.  Fill muffin tins about 2/3 full.  Sprinkle top of each muffin with about ½ teaspoon sugar.
Bake until very light brown (14 to 18 minutes) or until wooden pick inserted in center of muffin comes out clean.  Remove from oven.  Cool.
Spice-y Chai Apples with Crispy Oats
Ingredients:
Tea Concentrate:
1 cup boiling water
4 Bigelow Spiced Chai Tea bags *
Filling:
3-4 medium apples (try Granny Smith, Gala or John Gold), sliced in thin wedges (approx. 3½ cups)
1 cup tea concentrate
¼ teaspoon ground cardamom
½ teaspoon ground black pepper
1 teaspoon vanilla extract
2 tablespoons corn starch
¼ cup firmly-packed light brown sugar
Topping:
1 cup instant cooking gluten-free oats
½ cup firmly-packed light brown sugar
¼ cup unsalted butter, cold (may use salted with good results)
¼ teaspoon ground black pepper
¼ teaspoon ground cardamom
¼ teaspoon ground cinnamon
Yield:
8-10 servings
Prep Time:
20 minutes
Baking Time: 
30-35 minutes
Instructions: 
Heat oven to 400 F.
Place tea bags in boiling water; steep for 5-8 minutes.  Remove tea bags and squeeze to remove liquid; discard bags. Add the black pepper, cardamom, and vanilla to tea concentrate. Set aside while you slice apples.
Place apples in a bowl large enough to hold all the filling ingredients, pour tea concentrate over apples and toss well. Let the apples sit with the tea concentrate for a minimum of 5 minutes and up to 10 minutes.
Once your apples have soaked, add brown sugar and corn starch to the bowl-stir well. Pour filling into prepared (buttered or oiled) 8 x 8 pan and place the pan uncovered in the oven for approx. 20 minutes. Stir the apples after 10 minutes. Continue cooking another 10 minutes -until apples are tender and the tea sauce is bubbling before you add the topping.
While apples cook make your topping; gather the brown sugar, oats & spices together in a small bowl. Chop the cold butter fine, add to the topping ingredients. Toss well; it will be lumpy with large crumbs. Set aside.
When apples are ready, spread the topping over the apples. Return to the oven for another 10-12 minutes or until the topping is well browned and crunchy looking.
Cool slightly before serving. Serve plain or with a dollop of Greek yogurt, whipped cream, heavy cream or vanilla ice cream.