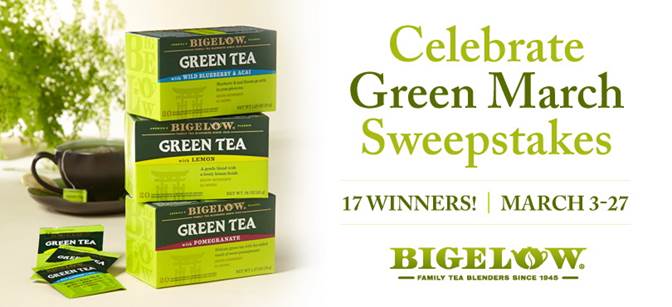 Don't let the clock run out on your chance to win a Green Tea Triple Pack from Bigelow Tea! That's right, the Celebrate Green March Sweepstakes ends at midnight EST on March 27! A total of 17 lucky winners will grab this awesome tea prize!
Bigelow Tea is celebrating sustainabili-Tea and all things green this month, and that means you get a shot at taking home these popular Green Tea flavors—Green Tea with Wild Blueberry & Acai, Green Tea with Lemon and Green Tea with Pomegranate. All three are delish and reflect Bigelow Tea's steadfast commitment to quality, purity and sustainable practices. Here are just a few "green" facts to note:
1.     880 solar panels were installed in 2007 on the roof of Bigelow Tea's headquarters, which has allowed Bigelow Tea to generate 900,000 kWh—enough to power 70 homes for year!
2.     The cases that carry Bigelow Tea's precious tea bags are made from 100% recycled materials!
3.     The Bigelow tea bag filter is 100% compostable!
So if you haven't already, head over to the Bigelow Tea Facebook page, hit "Like" and then follow the entry instructions once you click the Sweepstakes  icon at the top of the page under the large cover photo. Want to improve your chances of winning? Share the sweeps on Facebook and Twitter to get bonus entries! The winners will be announced on the Constant Comments blog.
Good luck, everyone!