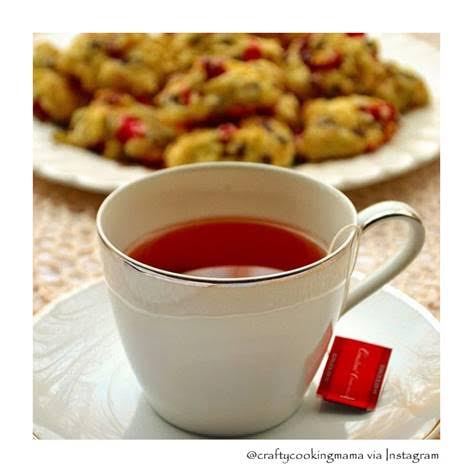 While tea is wonderful to sip, it's just as delightful when used in the kitchen. The Farmer's Almanac website encourages their readers to "eat your tea" and we couldn't agree more! Tea is tasty in desserts, dinners, side dishes… the list goes on. We find that tea enhances just about any meal!
Luckily, cooking with Bigelow Tea doesn't require professional chef expertise. For instance, The Farmer's Almanac suggests substituting brewed tea for water or broth in recipes, or brazing meat with brewed black tea. Plus, marinating seafood in tea may help dampen the "fishy" smell. As @Sabersenshi says, "Cooking with tea adds so much flavor to things." So if you haven't started using tea in your recipes, now is the time!
Bigelow Tea had its beginnings in the kitchen, after all. It's where in 1945 Ruth Campbell Bigelow worked tirelessly in her New York brownstone to create "Constant Comment," the first of many delicious teas from Bigelow.
Wondering how to take Farmer's Almanac's advice? Check out these mouthwatering recipes which are perfect for spicing up late season grilling. We especially love grilled meats marinated in tea – it's easy to do and the results are yummy. Let us know below how you are inspired to add tea to your cooking!
Ingredients
Dressing Ingredients:
1/4 cup brewed Bigelow English Teatime Black Tea (or brew more and then use some for the dressing and some for the marinade)
1/4 cup extra virgin olive oil
1/4 cup red wine vinegar
1 tablespoon honey
3 tablespoons sugar
1 teaspoon lemon juice
1/2 teaspoon Kosher salt
1 1/2 cups raspberries
2 tablespoons blueberries
Marinade Ingredients:
1 cup brewed Bigelow English Teatime Tea
2 tablespoons honey
1/4 cup extra virgin olive oil
Salad Ingredients:
4 boneless skinless chicken breasts
4 cups spinach and Arugula lettuce leaves (these are easy to find already mixed together in the pre-made salad containers)
1 cup raspberries
1 cup blueberries
1 cup chopped walnuts, toasted in 1 teaspoon of butter
1/2 cup blue cheese crumbles
Instructions
For the dressing:
Add tea, olive oil, red wine vinegar, honey, lemon juice, and kosher salt to a food processor or blender. Give it one spin to start mixing ingredients. Add raspberries and blueberries and process on high until it's completely mixed and the fruit is pureed all the way. Refrigerate overnight.
For the marinade and chicken:
Combine remainder of brewed tea (about a cup), olive oil, and honey in a large dish with a secure lid. Shake and mix well. Uncover and add chicken. Cover and flip container to ensure that chicken is coated in marinade. Refrigerate overnight.
To assemble salad:
Toast walnuts in butter and allow to cool. Remove chicken from marinade and discard marinade. Grill chicken until done. Allow to cool for ten minutes before thinly slicing into strips. Lay out your salad and top with raspberries, blueberries, walnuts, blue cheese and chicken strips. Drizzle with salad dressing.
May we suggest Iced Tea and Lemonade to pair with this recipe?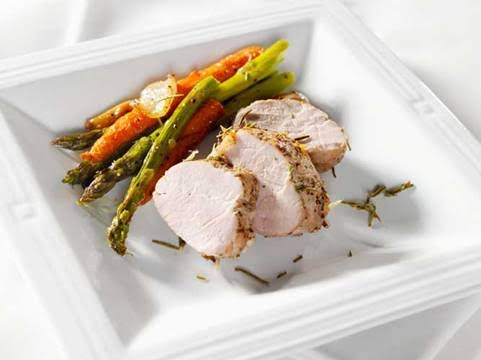 Ingredients
5 cups boiling water
4 Bigelow Green Tea with Mango Tea bags
4 Bigelow Green Tea with Peach Tea bags
4 Bigelow Green Tea with Pomegranate Tea bags
1.2-1.5 lb. Pork Tenderloin whole
1 clove garlic, smashed
½ small yellow onion cut into in wedges
1 tablespoon vegetable oil (use only if oven baking tenderloin)
2 tablespoons Balsamic Vinegar (can substitute cider vinegar)
1 tablespoon honey (can substitute brown sugar)
1 tablespoon veg. oil
¼ teaspoon dried thyme
¼ teaspoons of both Salt and pepper
Instructions
Bring 5 cups of water to a boil and add the Bigelow Tea bags, the clove of garlic and the onion wedges. Remove from heat and cover – let steep for 20-30 minutes. Remove tea bags squeezing well and discard, along with the garlic and onion. Divide the tea mixture -set aside 2 cups for the glaze to the remaining 3 cups add the vinegar, honey, oil, thyme and salt and pepper- stir. This will be the marinade for the pork. Once the marinade tea has cooled down somewhat, pour into a large plastic bag; add pork tenderloin and marinate for 5 hours or overnight in refrigerator. While pork marinates make the glaze and ready your vegetables both can be set aside or refrigerated covered overnight. Heat your grill to medium; while grill is heating drain tenderloin from marinade -discard marinade- and wipe loin dry, set aside. Pour ½ cup of the reserved tea glaze into a small vessel you can work out of. Place pork on grill. Cook for 8-10 minutes on medium. Open grill and brush liberally with tea glaze. Reduce grill to low, continue to cook pork over the next 8-10 minutes, turning pork and coating well with glaze, 2 or 3 more times, until thermometer reads 160′. Remove from heat and let rest for 8-10 minutes. Slice into medallions and serve with glazed vegetables.
Instructions for Oven Baking Pork
Prep time: approx. 10 minutes Oven time: 20 minutes
Preheat oven to 325°F. Heat oil in a large oven-proof skillet over medium-high heat. While pan is heating, drain tenderloin from marinade -discard marinade- and wipe loin dry. Carefully add tenderloin to hot pan and cook, turning until brown on all sides, 5-6 minutes. Baste liberally with tea glaze and place skillet with pork in oven and bake for 8 minutes. Open oven and baste liberally with tea glaze again. Continue to cook until thermometer reads 160′, about 12-15 minutes, basting pork again when you remove it from the oven. Transfer pork tenderloin to platter and let rest for 8-10 minutes. Slice into medallions and serve with glazed vegetables. Yield: Serves 4 
Tea Glaze:
2 cups reserved Bigelow Tea mixture
3 tablespoons honey
½ teaspoon black pepper
Pinch of salt
Bring remaining 2 cups of tea mixture to a simmer over med-high heat and cook to reduce. After 45 minutes or so, check it you want to have about 1 cup no less. Add honey, salt and pepper and set aside for later or refrigerate overnight.
Seasonal Vegetables with Bigelow Tea Glaze:
1 medium Acorn squash
2 medium carrots, peeled
2 medium Parsnips peeled (can substitute yellow onions)
2 tablespoons butter, salted
½ cup reserved tea glaze
Heat the oven to 400 degrees. Place the butter in an oven proof pan and put in oven to melt while oven pre- heats. Cut the carrots and parsnips on the diagonal into 2 inch pieces. Slice the acorn squash into rings 1 inch thick rings-then cut in half. Remove the pan from the oven – place all the vegetables in pan and carefully toss with butter to coat. Bake for 10 minutes. Open oven and pour the tea glaze over the vegetables, stirring well to coat. Continue to bake until vegetable are tender and can be pierced by a small knife point, approximately 15-20 minutes.
May we suggest English Teatime to pair with this recipe?