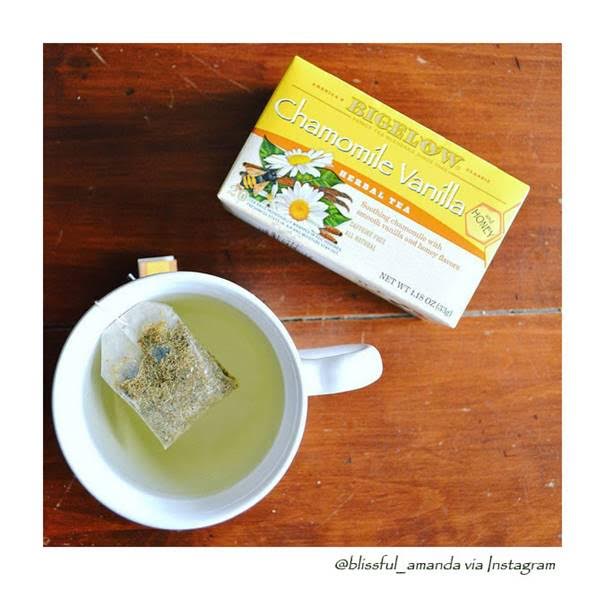 Busy day after busy day after busy daaay… do you ever feel like you just want to press "pause" on your to-do list? Here's the thing: you deserve a break, especially on the craziest days! And that's where a mug of soothing Bigelow Chamomile Vanilla Honey Herbal Tea comes in. You can almost taste each ingredient as you read them on the box: Chamomile. Vanilla. Honey. Yup—quality in every silky-smooth-sweet sip. Because that's our promise at Bigelow Tea.
So, let's start with chamomile. What exactly is chamomile, anyway? Well, it's a dried daisy-like plant, and for centuries, has been commonly used to make herbal infusions to serve various medicinal purposes. It's used for its soothing and relaxing qualities, and folklore claims that it goes all the way back to Ancient Egypt where it was used in teas and grown for dedication to the sun god, Ra. Ooh, fancy, fancy!
Vanilla, on the other hand, came later to the party, but it's been busy since it leapt onto the culinary scene. A member of the orchid family, it's native to South and Central America, and the Caribbean. That said, the first people to have cultivated it were the Totonacs of Mexico's east coast. And the first American recipe (for vanilla ice cream) was published in 1824. Today, vanilla is a hot commodity!
And, honey. Oh, honey… exactly how long honey has been in existence is hard to say. Cave paintings in Spain from 7000BC show the earliest records of beekeeping, however, fossils of honey bees date back about 150 million years!
Combined, you can see how this tea flavor really brings the "wow" factor. Donald from San Antonio had his own "wow" moment when he added Chamomile Vanilla Honey to his arsenal of home remedies: "I was a little under the weather and thought some hot tea would make me feel a little better. I tried the Chamomile Vanilla with Honey. WOW, this is really a wonderful tea! if you haven't tried it, put it on your list of teas to try. You won't be disappointed." We couldn't agree more, Donald.
So, when you need to slow things down, here's a suggestion:
Take 10 minutes for yourself.
Put on the kettle.
Brew a mug of Chamomile Vanilla Honey tea.
Relax.
And then get back to work (or play, or just enjoy that relaxation).
It's your day, and it's your tea. Drink up and #TeaProudly, everyone. And when you do, don't forget to tag your chill sesh with the world!