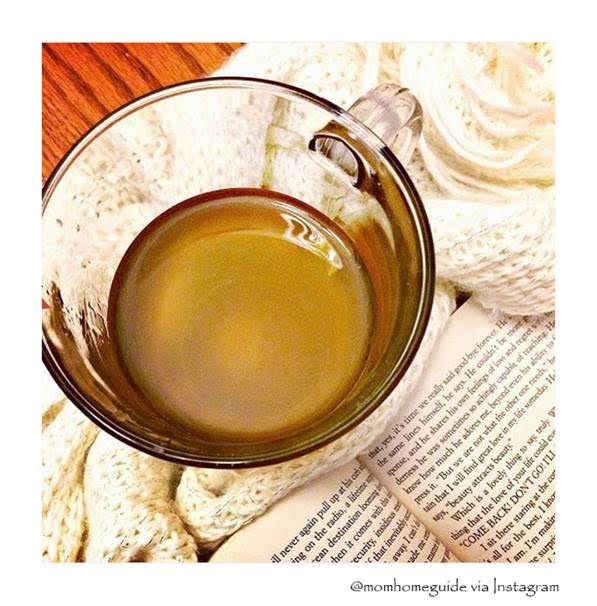 Every day is filled with any number of busy moments that call for a bite to eat whether you are hanging on the coach or jamming away during a workout class. No matter what foodie style you are (and btw, which are you? One or all??), you might just be in need of sustenance inspiration so STOP before grabbing that candy bar—Bigelow Tea is here to the rescue! Check out these easy-to-make go-to's that will rock your day (and don't worry, if you fall under foodie style "the soulful cyclist" but can't resist this amazing bread pudding recipe the "book-loving homebody" will be into, go for it…..there are no rules!!)
Are You The Book-loving Homebody?
Is your ideal afternoon spent curled up on the couch with a novel, a steaming mug, and a comforting treat? Then this super yummy dessert is perfect for feeling cozy inside and out. Put down the book for a minute to bake this awesome bread pudding!
Sautéed Bigelow Cinnamon Stick Brioche Bread Pudding with Vanilla Chai Sauce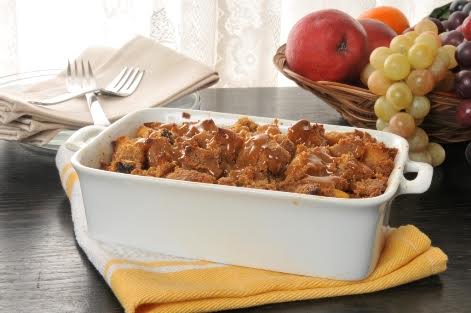 Ingredients
Bread Pudding:
Vanilla Chai Sauce:
Instructions
Cube bread and let dry over night or in low oven (200 degrees) till crisp, but not brown.
Heat milk and steep cinnamon stick tea for about ten minutes.
Remove tea bags and add sugar and melted butter.
Crack eggs into separate bowl and add 1 cup warm milk mixture to eggs and stir. Add egg and milk mixture to milk and sugar and stir to completely incorporate.
Toss bread with apple and pour in egg and milk mixture.
Allow bread to absorb milk mixture for thirty minutes or overnight.
Bake at 350 for 45 minutes or until center springs back when touched.
Let cool completely and slice into one inch slices.
Bring cream to simmer and add vanilla chai tea bags and let steep ten minutes.
Remove tea bags and add sugar, egg and starch mixture and bring to a simmer and cook till thick.
Remove from heat and cool.
Preheat thick bottom sauté pan and melt butter.
Lightly dredge bread pudding slice in flour and place in hot butter and sauté till brown.
Turn over and cook other side till brown and immediately serve on warm plate with vanilla chai sauce.
Are You The Soulful Cyclist?
After an intense spin on the bike to popping beats, it's time to fuel up with something fast, filling and chock-full of healthful ingredients. Whip up this sweet smoothie and make it a new post-spin class must-have.
Blueberry Green Tea Protein Smoothie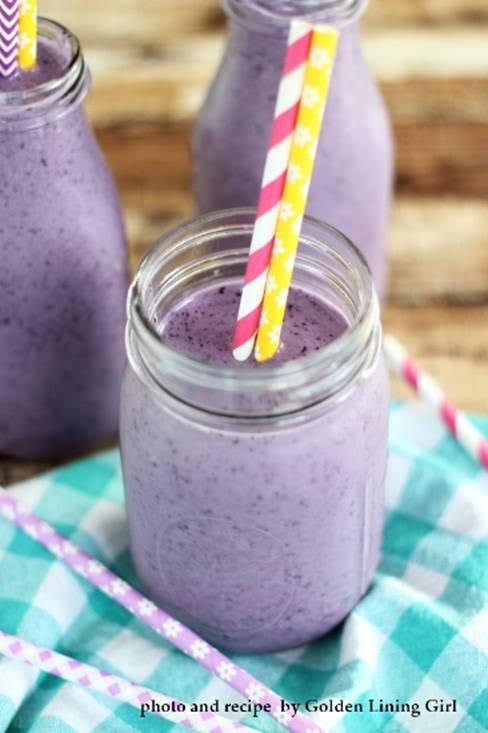 Ingredients
Instructions
Combine all in a blender, and pulse until smooth. Pour into glasses, and enjoy!
Are You The Mom Making a Mad-Morning Dash?
The kids are dragging as they get dressed, you're late to work, and the dog still needs a walk- what can fill everybody's bellies fast? Be prepared for early morning crazy by keeping this tasty banana bread on hand – grab a slice and get going without giving up the day's most important meal!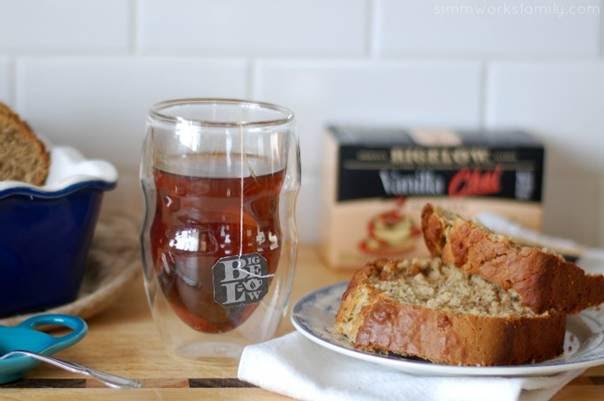 Ingredients
Instructions
Preheat oven to 350 degrees.
Add banana to stand mixer and beat until mashed. Add yogurt, butter, vanilla extract and eggs to stand mixer bowl and beat on medium speed just until blended. Add sugars and beat on medium just until blended.
In a separate bowl whisk flour, baking soda, salt, and contents of tea bag together. Add to banana mixture ½ cup at a time and beat just until blended.
Grease a 9 x 5-inch loaf pan with butter. Pour batter into pan and bake at 350° for 60-65 minutes or until a wooden pick inserted in center comes out clean. Cool 10 minutes in pan on wire rack. Remove from pan and cool completely before serving.
And hey, we want to hear from you!!  From what you love to do with your day to your favorite recipes, tag all with #TeaProudly so we can learn from you.  Mug for mug and day by day, we are in this together!  Cheers!!