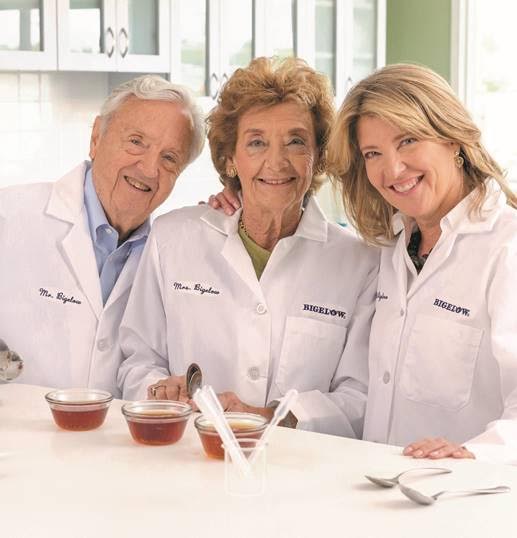 This time of year is all about creating that warm, cozy, welcome feeling that comes from being with loved ones.  Whether family, friends, neighbors or co-workers, your "fam" is those people with whom you feel most comfortable and love spending time with whenever possible.
Bigelow Tea is a big fan of the fam… the company history and its very existence is rooted in traditions and relationships within the immediate family and beyond. For 70 years family owned Bigelow Tea has shared milestones and moments with everyone involved in the company and its success.
As the holiday season draws near and calendars fill with impending activities and must-do's, scheduling family time is important and enjoyable.  For inspiration, take a rest, brew some Bigelow Tea and take this look into "fam-tastic" Bigelow family history…
The First Family of Tea – Ruth Campbell Bigelow created the first Bigelow tea recipe – the renowned "Constant Comment" of course – in 1945.  She proudly shared her new beverage with friends, family, neighbors and their "Constant Comment" about its deliciousness created a business.  Ruth's husband, David E. Bigelow Sr., switched from a career in publishing to the tea biz to ensure the fledgling Bigelow Tea company started and stayed on good footing for the benefit of his family and that of its employees.
It Takes a Village, and a Farm! – As the decades passed, the "tea" torch and role of leader of the Bigelow tea family was passed to Ruth's son, David Bigelow.  David, with the support and assistance of his wife Eunice, grew the company exponentially, bringing it to the mass market and creating the relationships and programs with the many growers, suppliers and tea industry leaders that continue to enhance the company today.  Today, Eunice and David are co-chairs of Bigelow Tea.
Modern (Tea) Family – Eunice and David's daughter Cindi, now president and CEO, grew up in the tea business, with all the history and ethos of her grandparents and parents, but also with her own modern sensibility.  Cindi Bigelow continues to grow the company as well as focus on community and sustainability issues – a passion for her and the family. Under the leadership of Cindi, technology and social media has made an impact on Bigelow Tea and the way the company works and communicates with customers.
So now you know, the #TeaProudly community is truly a tea lovin family experience from the Bigelow family to yours, we are all in this together.