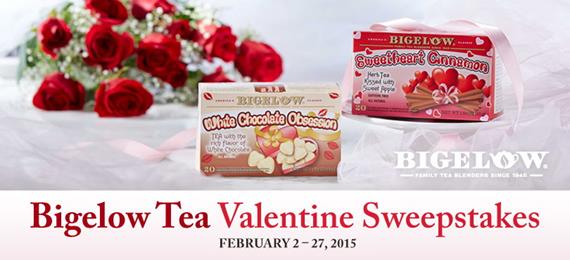 Valentine's Day has passed, but it's not too late to enter the Bigelow Tea Valentine Sweepstakes to win a Valentine Tea Duet!
Enter by midnight EST TODAY for your chance to be among the 14 winners of these two seasonal favorites … both are decadent, calorie-free and available year-round on the Bigelow Tea website! To enter, head right over to the Bigelow Tea Facebook page, click on the sweepstakes icon under the large cover photo or on the side of the page, and follow the entry instructions. On a mobile device? Please use this link instead: http://woobox.com/5j73k2
Each Valentine Tea Duet includes one box each of the following teas (40 tea bags in all):
Bigelow White Chocolate Obsession Tea – Blends the taste of rich, decadent chocolate and robust black tea. Add milk and your favorite sweetener, and then pucker up for this kiss in a cup!
Bigelow Sweetheart Cinnamon Herb Tea – All-natural and caffeine-free, this herbal tea is gently kissed with sweet apple and the warming flavor of everyone's favorite … cinnamon hearts!
Remember to check the Bigelow Tea blog to see if you're a winner!