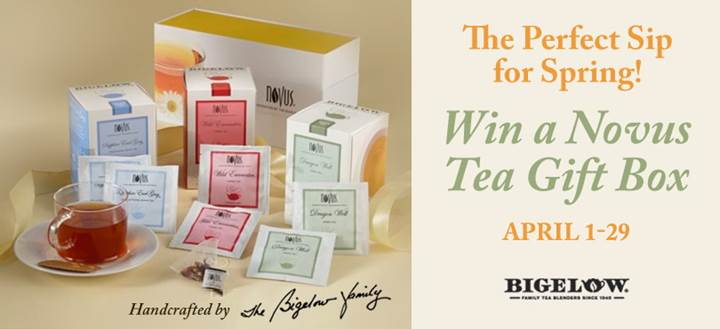 Spring is here and Bigelow Tea is celebrating with a sweepstakes featuring a trio of Novus Teas for 12 lucky winners. The Novus Tea line of handcrafted full-leaf teas are found in the finest restaurants and exemplify the Bigelow family's enduring passion for tea that began 70 years ago in Ruth Campbell Bigelow's kitchen. Indeed, each flavor in this Novus Tea Gift Box offers perfection in every sip!
One key to the exquisite flavor and aroma of Novus teas is the unique pyramid-shaped sachet that envelopes the delicate tea leaves, allowing them to unfurl completely during steeping. So you can enjoy full-leaf tea with the convenience of a tea bag. Perfect, right?
Each Novus Gift Box includes the following teas (36 tea sachets in all):
Novus Dragon Well Green Tea  – A favorite the world over, the tender top-grade green tea leaves from the Dragon Well province are renowned for mellow flavor and fragrant aroma.
Novus Sapphire Earl Grey Tea – Natural bergamot and blue malva flowers add an innovative twist to traditional Earl Grey black tea.
Novus Wild Encounter Herbal Tea – This caffeine-free herbal blend will send your taste buds reeling. One sip and you will encounter the sweet and tart sensations of fruit and berries.
To enter, go to the Bigelow Tea Facebook page, click on the sweepstakes icon under the large cover photo or on the side of the page. Share the sweepstakes on Facebook and Twitter to get more entries. You can enter once per day until the sweeps ends on April 29th. On a mobile device? Please use this link instead:  http://woobox.com/you5vw
Be sure to check the Bigelow Tea blog to see if you're one of the 12 lucky winners!  Good luck, and enjoy your favorite Bigelow Tea throughout the season!