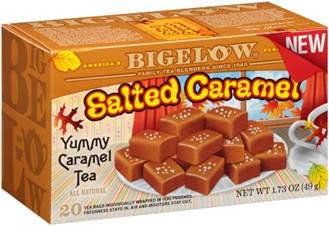 Caramel conjures cravings for something sweet and buttery-rich and just a bit toasty. Who can resist this decadent flavor? With Bigelow Tea's three caramel-kissed black teas to choose from, you'll never have to try!
Sure, a luscious dessert drizzled with caramel sauce is an occasional treat, but Bigelow Salted Caramel Tea, Caramel Chai Tea and Vanilla Caramel Tea are delicious alternatives that can be enjoyed anytime – guilt-free. Each blend captures the irresistible taste of caramelized sugar, as well as its distinctive aroma and amber-to-coppery hue. Try them all for National Caramel Month!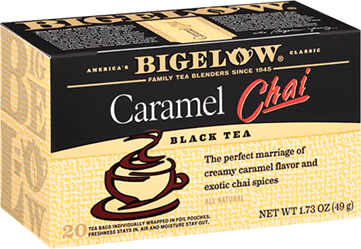 Salted Caramel, the newest addition to Bigelow's caramel lineup, is a perfect marriage of sweet and salty in an all-natural blend of black tea, chicory root and rose hips. (As Instagrammer @jenursa says, it's #instagood!) Caramel Chai takes chai to a new level with the addition of molasses crystals and spices, while Vanilla Caramel proves that vanilla and caramel are a heavenly combination. Add a splash of milk and sweetener to any of these yummy teas to make them even more indulgent.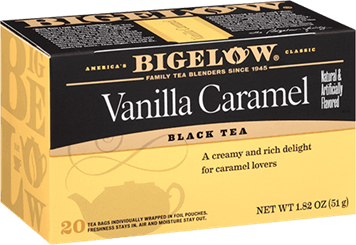 And if drinking these rich teas isn't enough for you, how about bringing out your inner baker and making a delightful snack with a caramel tea twist? For a perfect fall muffin that melts in your mouth, try Caramel Apple Crunch Muffins, created by Bigelow Tea Fan Heather Kennedy. These caramel tea-infused muffins—which won Bigelow Tea's recipe contest in 2011!—make a great snack or light breakfast. Give them a try!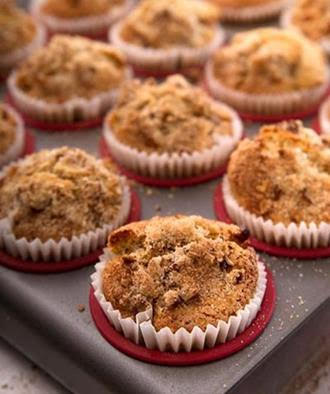 Enjoy!